This post contains Amazon Affiliate links.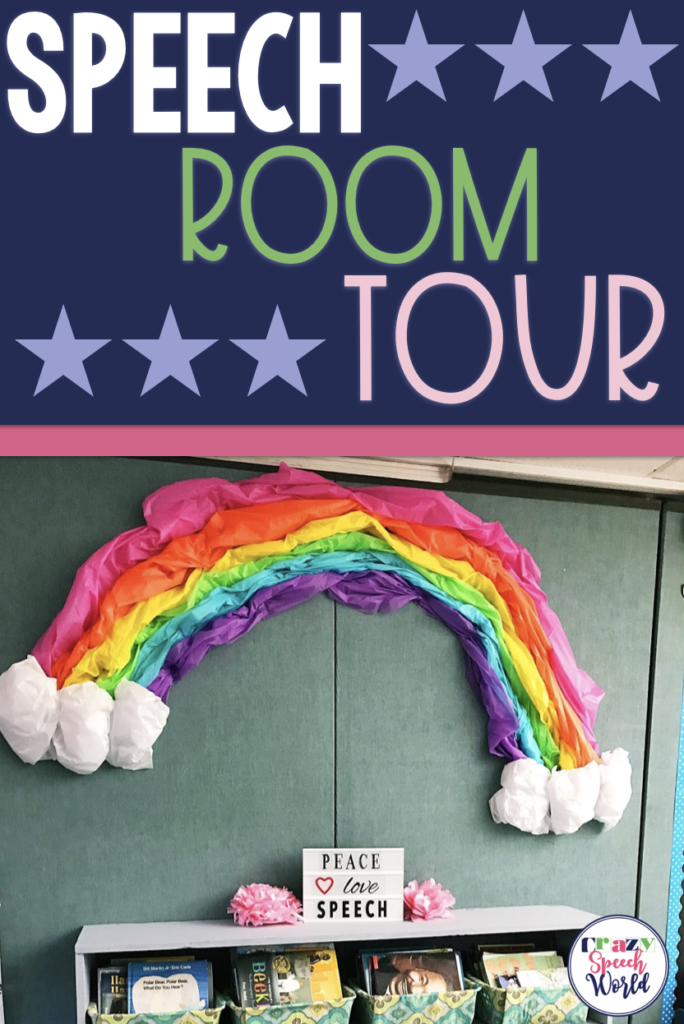 I'm so excited to give you a speech room tour!  I am so fortunate to have a pretty big classroom to work in, it is complete with a window, bathroom, AND a closet.  Crazy, I know!  Our school wide theme this year is "Peace, Love, & Learning", so I went with rainbows and flowers all the way!  Wanna see more?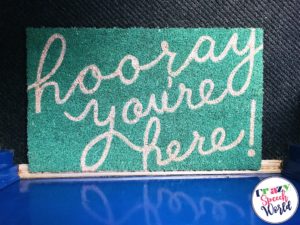 I saw this welcome mat at Target and knew I had to have it.  It's the perfect 'hey' to my students when they come in the room, and hopefully a reminder about how much I love them <3. I wanted to put it outside my door, but unfortunately the bottom of the door is too close to the ground, so I had to settle for putting it inside.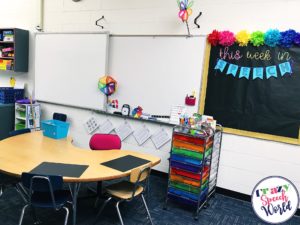 This is our main workspace.  I set up this bulletin board so that I can post things we are working on each week and avoid the question "What are we doing today?".  Cross your fingers for me that it works!
I use the rainbow rolling cart to organize my materials for the week…there is a drawer for each grade level so that when I am prepping, I can just throw what we are going to do in and it's ready for me when that group walks in the door.
Behind my table I have page protectors hanging on command hooks…these hold pages from the Webber Jumbo Articulation Book in them for easy access.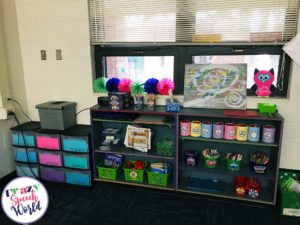 To the right of my table is a bookshelf that holds most of the student's supples, like pencils, markers, crayons, glue, etc.  I also have my Artic Buckets there!  I also have the three drawer rolling carts with more material storage.  Easy access for things I use frequently!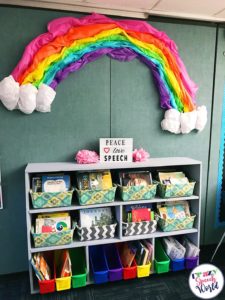 My library is forever growing and I have these book baskets filled to the rim with everything I have collected over the years!  I try to keep them somewhat organized, but usually they are a mess!  I don't mind too much, that just means my kids are rummaging through them 🙂 In the bottom rainbow boxes I keep bigger books for my younger students and all of my many interactive books.  I found this cute Lightbox at Walmart and made the rainbow with round, plastic tablecloths!  SO easy!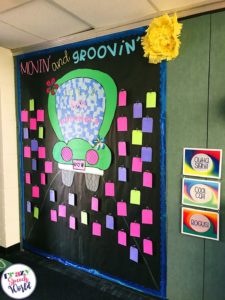 My movin' and groovin' wall is where my students keep their pockets…anyone who comes in my room for therapy has one of these.  Inside they hold their Goal Tags and any Brag Tags they have earned.  The pockets are just library pockets hung on a push pin with a binder ring.  When they come in, they grab their pocket before they have a seat.  This has been a great way for my students to know what they are working on each session because they can pull those goal tags out immediately!
Next to that is a behavior clip chart…I use this with my K-2 students and they clip a clothespin to the middle, "Cool Cat", and can move up or down depending on their behavior.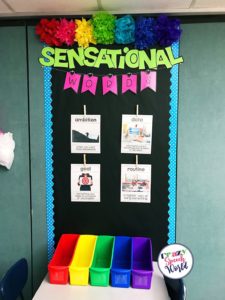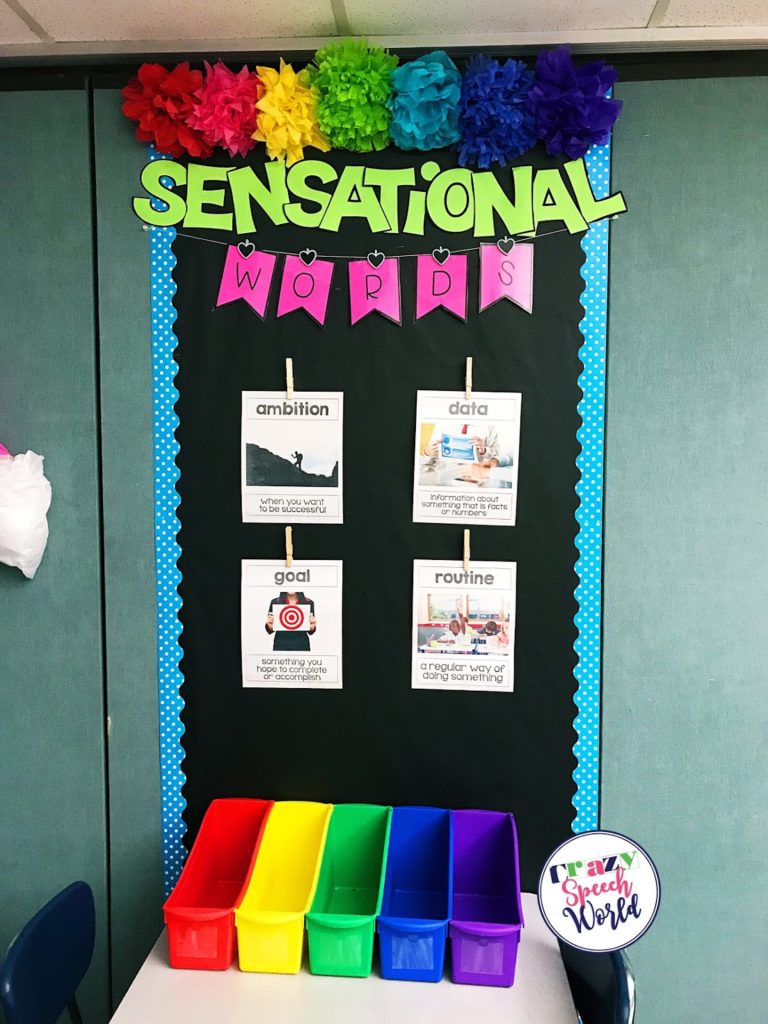 Last is my vocabulary wall.  This is where I post our thematic vocabulary for the month from my bulletin board set. The rainbow boxes will be for each grade level's folders/notebooks.  I use this table when I do centers (which is about every other week) and the students work independently while I work individually with a student.
That's about it!  What do you think?