This post includes Amazon Affiliate Links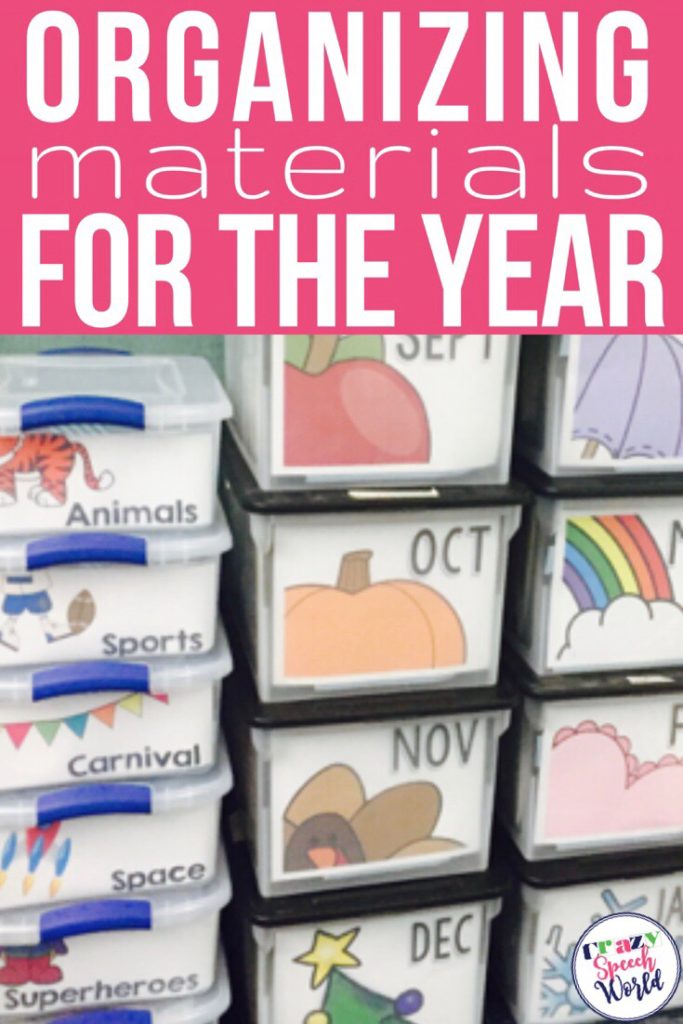 Organizing!  It's not really my strong suite…you know all those Type A SLPs that have everything in order?  Yeah, I'm not one of those.  I do my best, but usually just get overwhelmed…I don't find it fun to organize my stuff.  I had a system that worked for me for a few years, but since then it has stopped working and I needed something new.  So I spent a ridiculous amount hours reorganizing my speech life and I happy to say…I did it!  Check it out…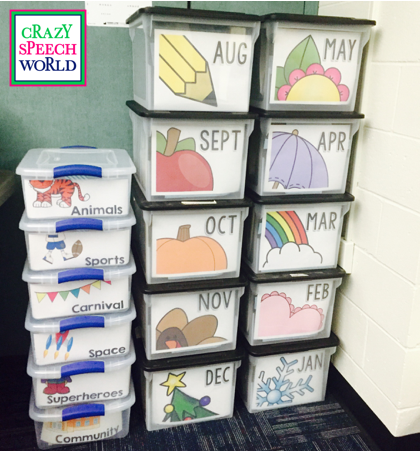 My friend Gabrielle over at Teaching Special Thinkers had these awesome monthly bin labels, which worked perfect with the file boxes I already had.  I converted from seasonal boxes to monthly with those.  Then I added some smaller boxes with general themes that I use throughout the year that don't necessarily align to a monthly theme.  I found both of these boxes at Walmart for not too big price tags, but you can also get them on Amazon.  Let's peek inside…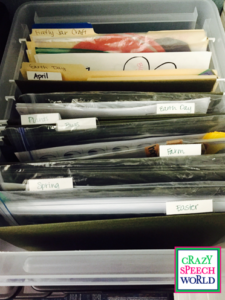 Inside my monthly boxes, I have everything that is seasonal…crafts, TPT products, worksheets, etc. in hanging file folders.  I hope to organize these further as I get to each month, but who knows #typeBforever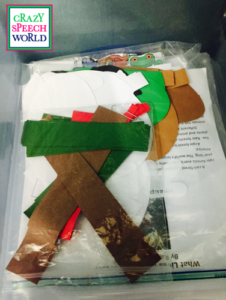 The smaller boxes have bags of whatever belongs.  I'm a big fan of Ziploc.  Or whatever store brand happens to be available that day.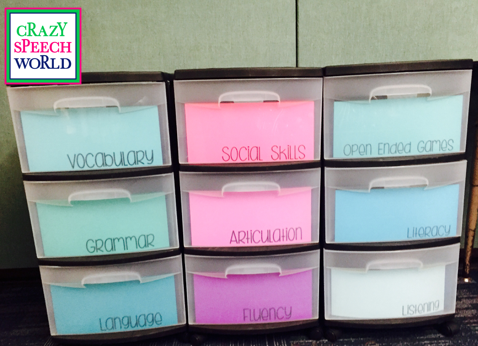 Of course not everything I have belongs in any other of those boxes, I have some general activities that I need quick access to, so I got three rolling carts and printed (on brightly colored paper) categories of materials.  This mostly TPT products or other random things.
Whew!  Not bad, if I do say so myself!  I'm pretty excited to have everything organized and ready for a new year.  I feel like I know more about what I have with this system too.
Be on the lookout, next on the blog will be my theme therapy calendar for the year and an updated SLP planner!  I know several of you are anxious for it and I promise I'm working hard for you 🙂
What do you do to help yourself get prepped for the next year?