This may just be the most popular question I get via email and Facebook.  How in the world do I keep track and organize all of my STUFF?!?!?  Well, I used to use binders to store everything, but it was NOT working for me…binders are not cheap and I was running out of places to store them.   I have implemented a new system which IS working for me, so I thought I would share it all of you!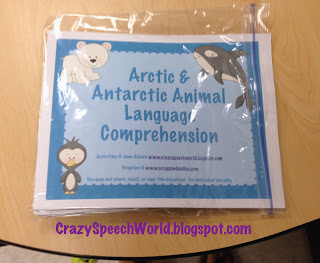 Let's start at the beginning, with packet of activities, like my Arctic & Antarctic Animals download.  I keep every packet together in one gallon size zip bag.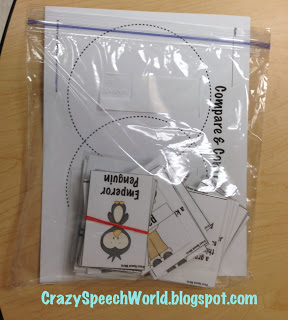 I like these because they are see through, so I know what I am working with, plus they don't cost much!  I put the cover page on one side and everything else behind it.  I rubberband the cards most of the time to keep myself organized within the bag.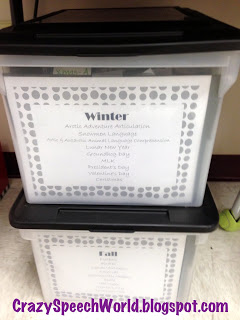 Next I invested in clear, plastic file boxes.  I got these at Walmart, but I am sure you can find these just about anywhere.  I got the kind that you can use hanging files in, and as you can see, I organize by season.  I also have one box that is for random stuff that doesn't belong in a season, and that box is organized by topic (articulation, fluency, vocab, etc).  I have a page at the front of the box telling me exactly what is in there.  This helps to keep me from having to open the box and look through stuff.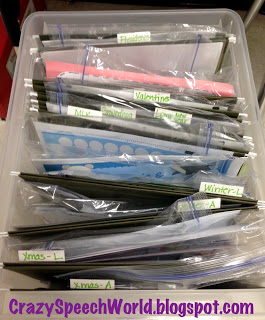 On the inside, I have the hanging files, with each theme labeled…L for language and A for artic.  I store the baggies sideways.  Most of the baggies do not zip, but I haven't had any issues with things falling out.  Whatever I am currently working with stays in a basket next to my table.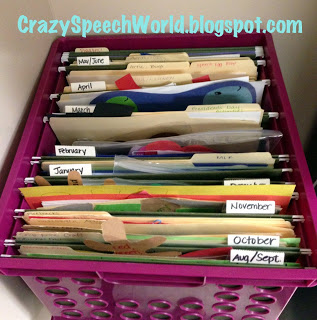 As for my craftivities, I organize by month, in similar fashion as above.  I put my examples in the appropriate month and pull them out each week, as necessary.  I keep in on rolling cart behind my desk.

Well, that is how I roll…I hope this helps some of you with the organizational piece of all those awesome TPT materials!  I would love to hear what else is working for you!