I am super thrilled to bring you something NEW and different in my app world!  I was recently contacted by the people at Merge Mobile, who create the awesome Clicky Sticky app series (which I love), and offered me something fabulous that I didn't even know existed… Storybook Maker!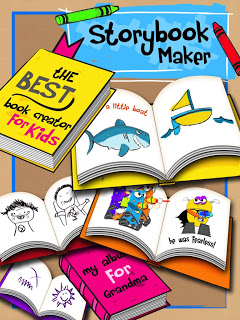 Storybook Maker is possibly the COOLEST app of it's kind.  And I promise I am not just saying that.  It is designed to create stories, picture books, collages, scrapbooks, and photo albums.  There are so many options in this app, it blows my mind.  I love options…what girl doesn't?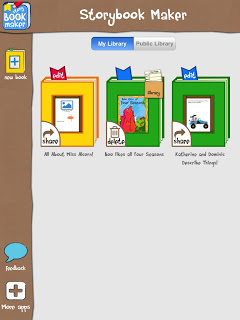 So, when you launch the app you are taken to your 'Library'.  Here you can see all of the books you have made and saved, as well as any you have downloaded from the 'Public Library'…what's that you ask?  Oh, let me show you…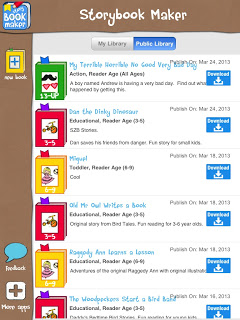 Storybook Maker has a an online database where other Storybook Maker users have uploaded their stories!  How cool is that?!  You also have the option to publish your own story to this 'library' if you want.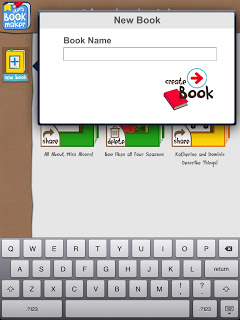 But first…back to the beginning.  If you want to create a new book, you just tap the New Book icon on the right side of the home screen.  Here you enter your title and get started….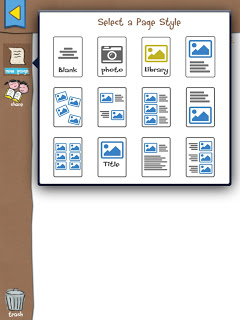 There are 12 different page styles to choose from, depending on what your goal with the book is.  You can choose just text, photos and text, or just photos.  For this review, I am going to walk you through making a book about spring, so I chose picture plus text.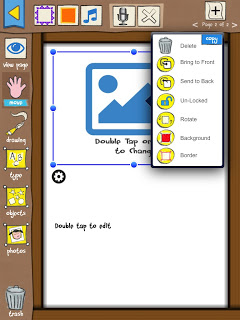 Once you choose your page style, you get a ton more OPTIONS!  What?!  It is incredible.  You can adjust the picture with different borders and backgrounds, as well as change the size and orientation.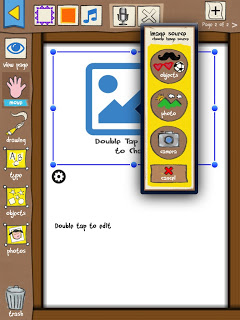 Then you get to pic your picture!  You can choose from the apps' library of pics (which is amazing), or your iPad's photos, or take a pic with your camera (if so equipped).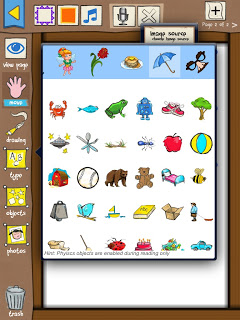 I don't even know how many pics are in this library, but I can tell you it is a whole lot.  There wasn't anything I or my students thought of that we couldn't find.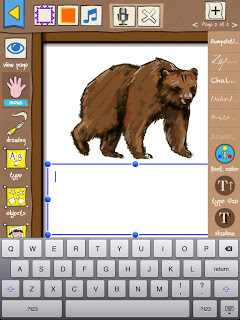 So I chose my brown bear picture, and now I am ready to add text.  I can change the font, color, size and shadow.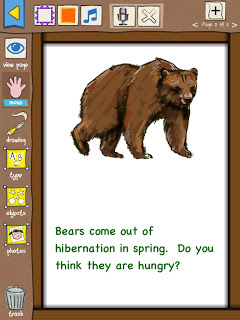 So now I have text…..BUT you wanna know something else amazing?!?!?  You can record yourself!  Just press the mic at the top of the page and you can record yourself or your students reading the page.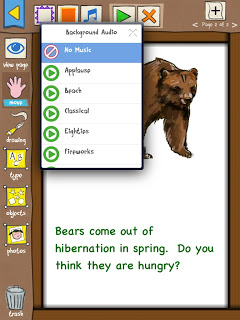 Wanna know what else?!?!?  You can add background music!  How cool is that?  Do you love it yet?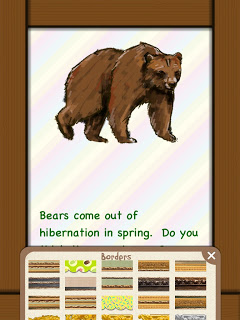 Ok, so I have text and fancy audio…but I think my page is sort of boring.  So now I can add backgrounds and borders for the whole thing!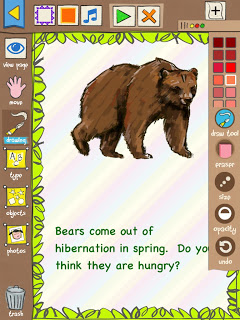 You also have the option to draw on the left side menu.  You can add doodles anywhere on the page, and you can choose the color, size, and opacity.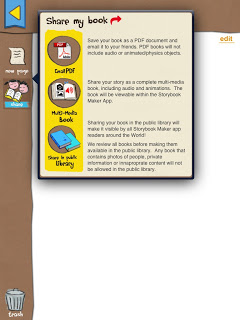 Once you have finished your story, you can share it!  You can email a PDF of the document, save in the app, and upload to the Storybook Maker Public Library.

Holy awesome, Batman!  I can tell you that my kids thought this was a really cool app for them to be creative with while targeting their speech & language goals.  Here are some things we worked on using Storybook Maker:
narratives (no brainer)
sentence structure
describing
vocabulary
story retell
comprehension
following directions
carryover for artic & fluency
auditory bombardment books for articulation
prepositions
verb tense
Really, I think you can target just about anything with this.  I have created a few different books already and I love that I can print them out to send home with the kids.  They had a great time learning with this app and I was able to target so many different goals.  I think this a great addition to any SLPs app collection…plus it is also so well priced at $3.99!  You can find it in the iTunes Store HERE.
BUT wait, there's more!  They want to give you guys a chance to win…not 1, not 2, but 5 copies are up for grabs!  Enter via the Rafflecopter and GOOD LUCK!  

a Rafflecopter giveaway

I was provided one copy to review and 5 to give away.  No other compensation was provided.  All opinions expressed are mine.