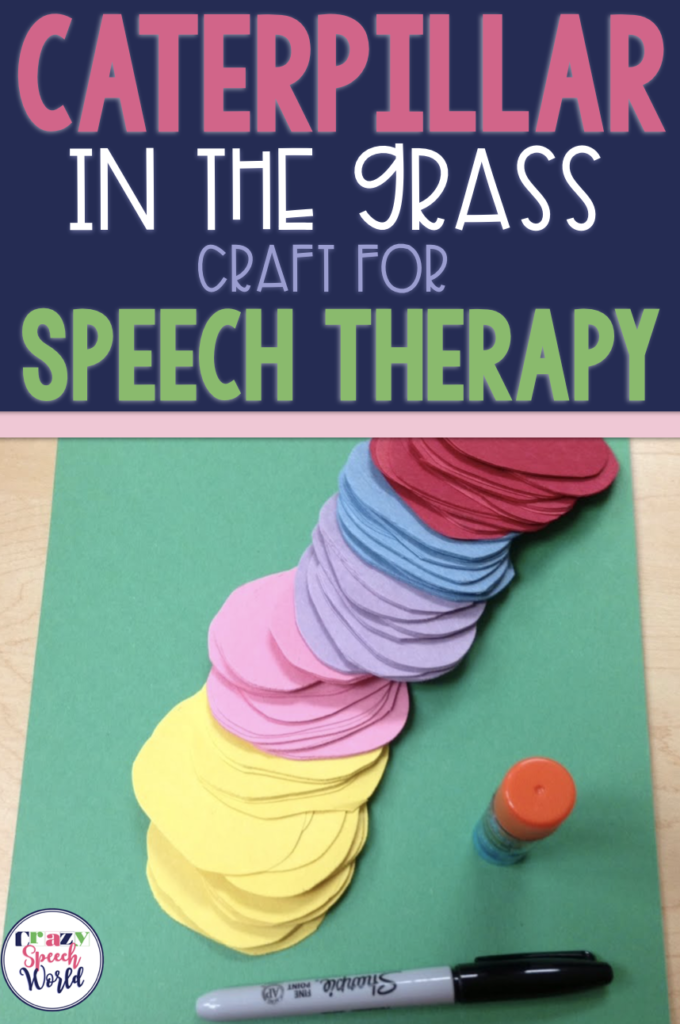 Well, I say caterpillar, but I have seen this one turn into snakes and butterflies today, so I guess it is a just an activity you can use to cover a variety of creatures 🙂  This week is all about outdoors and bugs…in between rounds with state standardized tests.  UGH.  This activity brings some fun and creativity to my afternoons that are much needed after dealing with testing all morning!  Last year I read this post from Jenna at SRN and I loved her craft idea using In the Tall, Tall Grass by Denise Fleming…so I kinda morphed that activity into one for my artic groups also!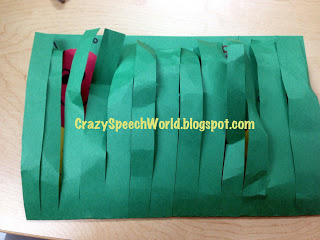 At first glance it looks like a cut up piece of paper…

But then you pull down the grass and voila!  Caterpillar!  Or other creature 🙂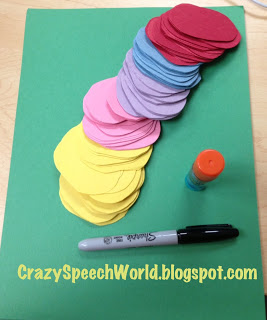 First, you will need a variety of circles…I did lots of spring colors, but you could also just stick to one.  And I know, these are technically not circles…more oval…I had an empty Crystal Light container hanging around and perfect for the job.  🙂  Also gather green construction paper, scissors, glue, and markers.  I used sharpie when I was making my example, but I don't recommend handing these out to little people.  It is like they know it is permanent and they draw themselves a mustache that mom is not so thrilled about when they get home.  Sigh.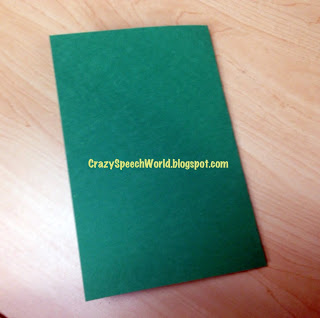 To start, you take the green paper and perform the hamburger fold (short way).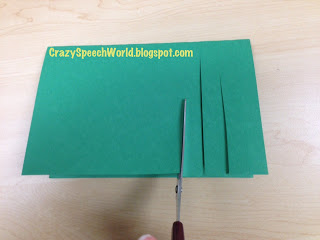 Then you cut strips up to the fold.  This is some great fine motor practice for my little friends who need to work on scissor skills.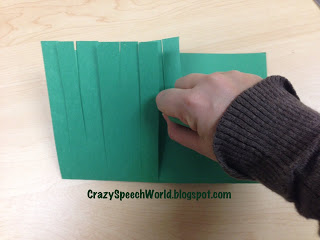 Then you get the 'crunch' the grass!
We wrote different bugs/creatures with their speech sounds on them and they took them home for practice!  They thought it was pretty cool 🙂  I'd love to hear what you think?!  Any other creatures you can think of to hide in the grass?