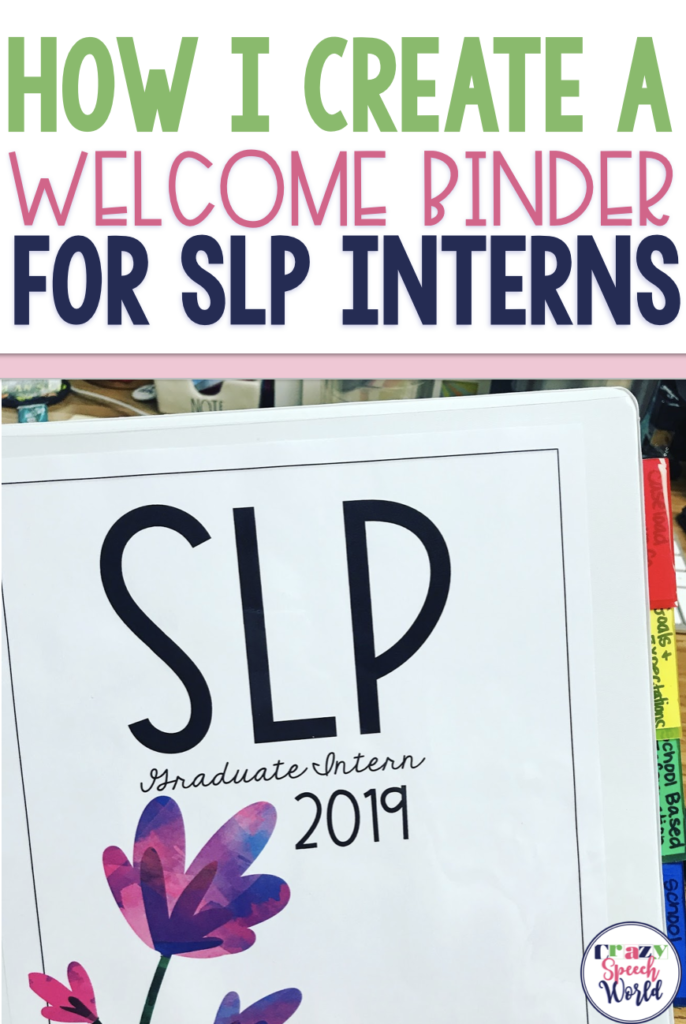 Supervising grad students has become one of my favorite things about being an SLP. I love how it challenges me in this season of my career, the relationships I get to build with up and coming SLPs, and all the new things I get to learn about myself and this field. With each student, I feel like I get better at supervising (Dear Tracie, my first SLP intern. I'm sorry I had no idea what I was doing. Glad it turned out fine and we're still friends 🙂 ). I've come to realize that I needed to front load a lot of information, so I just wanted to share with you about this binder that I've created with everything I'm giving students now.
Goals & Expectations
In this tab, I hope to give a clear picture of what my expectations are for the student, what they can expect of me, and a formal way for us to set goals for the student's growth over the course of the semester. Here's the pages I included:
Goals page, where she identifies at least three for the semester with a plan for how she will get there. This is her first 'assignment' from me.
Helpful information, this includes my phone number, ASHA number, school phone & address, grades & disabilities served
Expectations are clearly laid out, these include things like dress code, start and end times, privacy laws for the children, ASHA Code of Ethics, the activities I expect her to participate in that are not direct treatment, etc.
Semester Plan will outline week by week what she is responsible for. We usually start with one week of observation, then co-treatment, then slowly taking over the groups. The goal is a full takeover by 6 weeks in, but sometimes that depends on the student. I'm a huge proponent of just throwing them in there… I really don't think observation gets you very far at this point, the best practice is hands on!
Caseload Information
This tab is full of the good stuff!
My current schedule
Student roster, with minutes and disabilities listed
Goal Cheat Sheets, with each student by grade level and their current goals
Procedures
I really want grad students to feel prepared, but also to have something to reference when they get out in the real world.
IEPs procedures and required documents for every part of an IEP, from scheduling to making copies
Prompts/Cues reference pages
ASHA's Roles & Responsibilities for School SLPs
Observation Feedback forms
School Information
District Calendar
School Map
Phone List
Behavior Management Systems
Helpful Forms
I give my intern TONS of examples of forms for various things because I want her to know that my way, is not the only way. I want her to find things that work for her and her brain! A lot of these forms you can find in my blog or TPT store, so I've linked them in case you want to check those out too!
While it seems like a lot, I know it will be helpful to those anxious, young SLPs who walk in my door not sure of what to expect. I know that when I was in grad school, I would have loved something like this! It's such a crazy time, why not make it a little easier?
Do you make a welcome binder for your grad student interns? I'd love to hear what you include, or what you think I'm missing!
P.S. I've had lots of questions about whether or not I will share the contents of this binder and I've decided that since it is so specific to my school it doesn't make sense. BUT check out these from my friends, I own both of them and they definitely helped me:
SLP Graduate Intern Supervisor Forms from Jenna Kirk
Student & Supervisor SLP Organization Binders from The Speech Bubble SLP