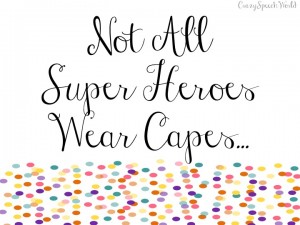 So you guys know I'm a mom, E is my favorite person ever, and I thank God for him every single day of my life…but let's be honest folks…parenting is hard.  How about we make it twins?  Oh, and let's throw in a rare and severe neuro-developmental disorder.  You still with me?  It's not my reality, but it is hers.  I met Tiffany and her boys through a mutual friend a few years ago.  Special doesn't even begin to cover it.  Her family and friends continually refer to her as Super Mom.  I concur.  I bet you will too, since she is sharing some insight about being this mom with us today.  It's a glimpse into the other side, into what the families we work with see and feel everyday…
Dear Sir staring at me as I attempt to open and maneuver 2 wheelchairs thru a door,    
I can see you. You're sitting there watching me, but not lifting a finger to help. You may even pity me, but please don't. You see, the two little boys in those wheelchairs have been my greatest blessing. They have taught me more about life than I could have ever hoped for or imagined.They have taught me how to be strong, how to overcome, and to trust my instincts. When the first pediatrician didn't listen when I told him something wasn't right I got a new one. When one specialist didn't have any answers I tried another. And when no specialist in town could tell me what was wrong with my babies I contacted the genetic research department at Harvard which eventually led to a diagnosis. Pitt Hopkins Syndrome. Never heard of it? Yea- neither had I, or anyone I knew, or any doctor I met in town. I didn't let any of that get the better of me, just like I won't let your rude staring get to me. I will, however, run over your toe with a wheelchair if possible and then perhaps the next time you see us coming you'll open the door for me.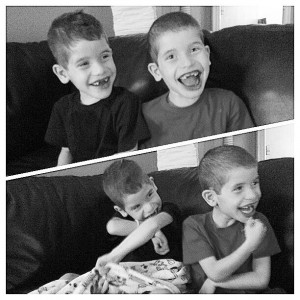 Dear Lady I snapped at in the parking lot,    
I'm sorry. I know you were concerned about the tiny tap I gave your bumper with mine. What you don't know is that I'm having a really horrible week and frankly, "ain't nobody got time for that". No harm, no foul – right? You see, my kids have a crazy rare syndrome that causes them to have these weird seizure and apnea episodes and I was up all night with one of them. I can only run errands when the kids are in school and I was planning on taking care of some things yesterday, but never got a chance to because I had a sick boy and his silly brother to take care of. I should be at home sleeping right now because I have to work at the hospital tonight, but since I didn't get all this stuff done yesterday I have to squeeze it in today and hopefully still be able to nap before my 12hr shift.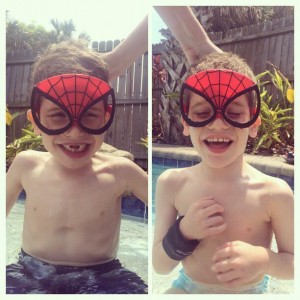 Dear Neighbors,    
I am not beating my children. They are nonverbal and as a way to let me know they are displeased with something they scream. Very, very loud. Car rides please them. When car rides end they become displeased. (They aren't fans of change either, so the end of a car ride is like a double whammy…or quadruplewhammy since they are twins.) They feed off of each other so if one starts yelling the other yells, too. Which makes them both just yell even louder. They also have a tendency to pinch, bite and pull hair when upset. And they flap and flail around like a fish out of water when they get upset. I swear they are not trying to escape from an abuser, but since they don't walk either I have to carry these screaming, biting, pinching, flailing kids. No need to be alarmed or to notify the authorities. Seriously…please don't.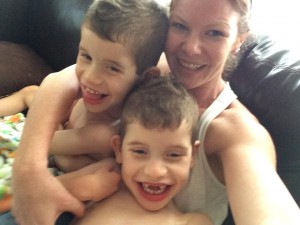 Dear Children and loves of my life,    
You may not be what I expected, but I honestly would not trade you for the world. The joy you bring and the love you give is incredible. I am honored to be your mother (especially since 'mom' is really the only word you can consistently say). To know you is to know true unconditional love. You have truly made me a better person and I thank God for blessing me with the two of you every day. You boys are my heart and my soul, I love you Seth & Carter!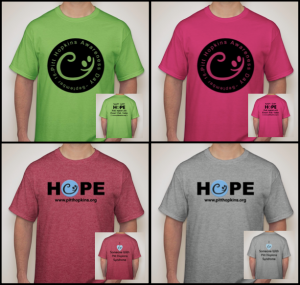 Pitt Hopkins Syndrome Awareness Day is coming up on September 18th and you can show your support with these awesome shirts…yes, you do need this to wear the day before Talk Like A Pirate Day!  Every single penny goes to research of Pitt Hopkins Syndrome and gives hope to families like Tiffany's and her precious boys.  Please join me in supporting them and order one!  I got  hot pink (duh!) 🙂
Click on the link below to read more about PTHS and order yours!
I wanna shout out my girl for sharing her boys with us…Thank you Tiff!!!   Seth and Carter are SO blessed to have you as their mom <3
Alright CSW peeps… Have you ever heard of Pitt Hopkins?  How cute are these guys?  Tiffany should start blogging about them, right?  Share the love!
xoxox,