Hey y'all!  I hope that all of you enjoyed your holiday weekend!!  July 4th is probably my favorite holiday because it always incorporates my peeps, a bathing suit, and something delicious on the grill…plus fireworks.  What's not to love?  🙂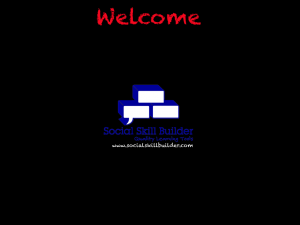 Anyways…I'm back with another app review for you guys!  This one is called Social Skill Builder.  The Full Version of the app includes:
My School Day – Elementary includes 13 modules
Preschool Playtime – PK through 1st grade includes 2 modules
School Rules – Middle to High School includes 2 modules
My Community – Elementary through High School includes 2 modules
There is also a Lite version, which includes one lesson in each module and you can choose to add different lessons through in app purchases if you don't need the Full Version.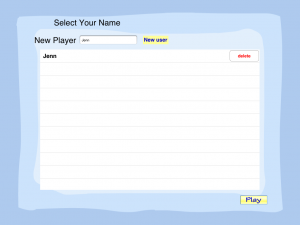 To get started, you will add your players, then hit Play at the bottom right corner.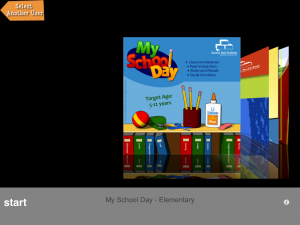 Depending on which modules  you have purchased, they will be here on the next page and you can flip through and choose the one you need.
Each module has an information page so you can read more about it when before you choose it (if necessary).  All you have to do is tap the little i in the bottom right corner and the card flips.  Once you are ready to go, just tap Start in the bottom left corner.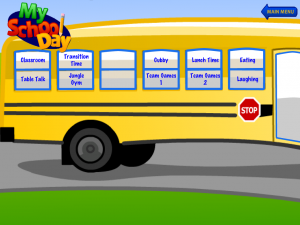 You will have different lessons to choose from within the module you chose.  Just tap the one you want to target and the corresponding video will pop up!  There are 10 questions for each of the lessons.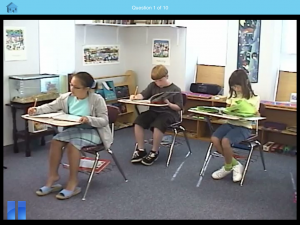 Each video is really short and depicts a scene that your students will probably encounter during their school day.  I love that these are real videos of real kids!!  There is also a pause button in the bottom right corner to stop playback at anytime during the video.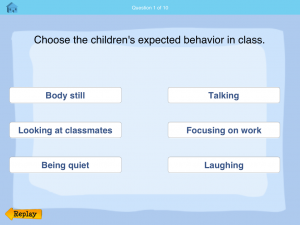 After each video, there will be a question that follows about something that happened.  The app reads each question and answer choice, then students make their selection.  The app uses similar language to other social skills materials I use and my students will be familiar with it, so that is a bonus.  Another thing I like is that you can't choose an answer until each answer is on display.
If correct, the student is given both verbal and visual praise.  If incorrect, the student is prompted to answer the question again.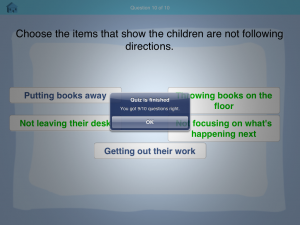 Once the student has answered all questions, a box comes up that tells them the  quiz is finished and gives a total number of correct.
What I love about it…
Real videos and situations
Simple and easy to use
Questions and answers are read aloud
Common social skills vocabulary used
Reinforcer included after each correct answer
Ability to pause the video and discuss the social situations
What I would love to see in an update…
Ability to have a group option and switch between students in each module
Data tracking to know which students have completed which modules and how they did on each lesson
Improved audio quality
Expanded to include more conversation and peer interaction skills
Ability to turn off the multiple choices and let students work on their expressive language to answer open ended questions
More focus on the PK, Middle and High School, and Community sections of the app.  There are so many more videos for My School Day.
Overall, I think this app has a great start!  I can definitely use it in my therapy sessions with many of my students who are working on social language skills!  You can find Social Skill Builder in the iTunes store, Lite Version for $2.99 and Full Version for $24.99.
What do you think?  Do you use this app?  I'd love to hear how 🙂
I was given a free copy of this app to review.  No other compensation was provided.  All opinions expressed are my own.