I'm so behind in bringing you guys some reviews, but I am hoping to get back on track these next couple of weeks so that you can see these awesome products!! Up first, we have Let's Use Langauge from Everyday Speech!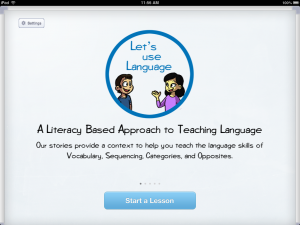 Let's Use Language was created by SLPs as a literacy based approach to teach vocabulary, sequencing, categories, and opposites.  It includes 10 different stories to address each skill and covers a variety of topics!  It uses the context of each story to target the language concepts in each of 40 lessons.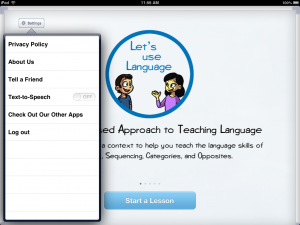 From the main page of the app you can access the Settings.  This is where you can toggle on/off text to speech, which is a great feature.  You can also read the privacy policy, information about Everyday Speech, social media links, and other apps.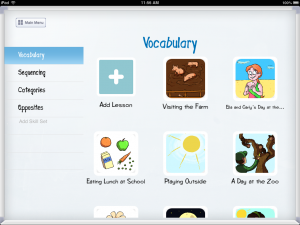 Once you enter the app you can see the targets on the left side column, and when you highlight the target, the stories available are up on the main part of the screen.  There is also a spot to add your own skill!  I love that you can add more into this app to meet your caseload's needs.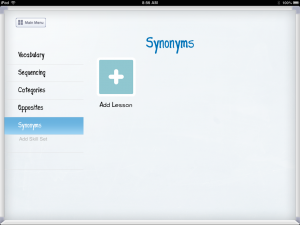 So I added Synonyms to my list, and now I can add a lesson!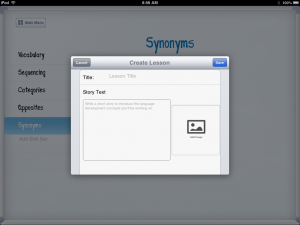 You can add a short story and the pictures to create your new lesson to target whatever skill you want!  So cool!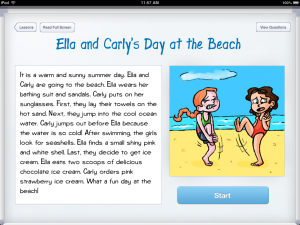 When you choose one of the other skills, up pops the narrative and a picture.  You also have the option to read it in a full screen.  Once you read the whole story, you hit Start to answer the questions.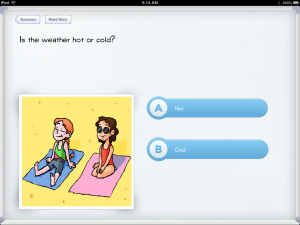 Here is an example of a question in the Opposites section.  For all of the skills, the questions are in multiple choice form with a picture.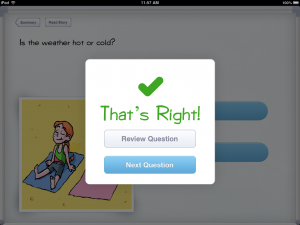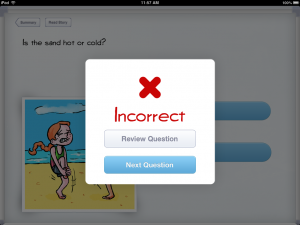 Students are prompted visually for correctness.  You can go back and review the question, or you can skip to the next one.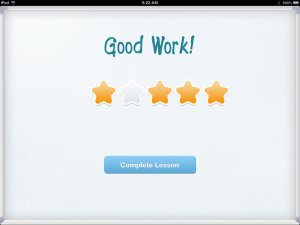 Once a lesson is completed, a star chart comes up that shows how many questions the student got right.  There is no other data collection included in this app.
Here's what I LOVE about this app…
We know that literacy and language go hand in hand, so I really like to incorporate literacy skills into my therapy sessions.
Options to customize for my students
Common language therapy skills included
Bright, engaging pictures to accompany each story
Variety of stories included
Here's what I would love to see in the app…
Student profiles and data collection
The option to turn the pictures off for the questions…but Everyday Speech is two steps ahead of me and has already submitted an update to Apple to include this feature, so it will be available in an update soon!!
The ability to choose the questioning type instead of just the multiple choice option, as some of my students are very good guessers!
Let's Use Language is available in the iTunes Store for $14.99  BUT you can enter to win one of TWO free copies in the Rafflecopter below!!  Good luck!
a Rafflecopter giveaway

Disclosure:  I was given a free copy of this app in exchange for an honest review.  All opinions expressed are my own.  No other compensation was provided.