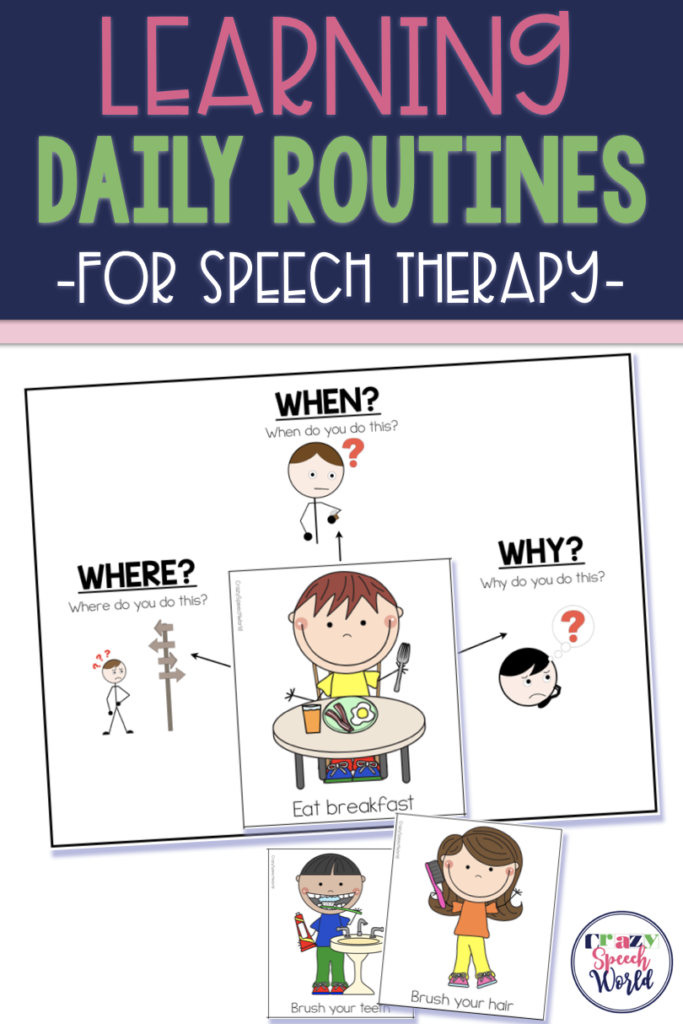 I have been super slacking this summer on getting new products out…the worst part is I have a to-do list that is still a mile long.  Oops.  I could blame lots of things… it's been an exciting summer.  😉  BUT, I'm coming back with a bang, cause this one is my new FAVE!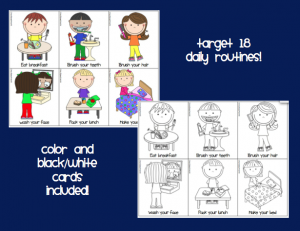 This packet targets 18 routines that students may encounter in their typical day.  I included both color and black/white cards for each routine.  You can use these for just about anything.  My suggestion would be to cut and laminate the color cards for repeated uses.  The black and white pages can be given to students without using all your ink!  Here are some ideas:
Use the cards with any of the Language Mats (pages 30-33) to build expressive language, WH questions, and sequencing skills.
Make two sets of the color cards for playing Go Fish, memory, or matching games!
Have students describe how they complete each routine.  They can describe the objects, location, people, etc. they use in their personal routines.  This is also great for targeting articulation/voice/fluency carryover!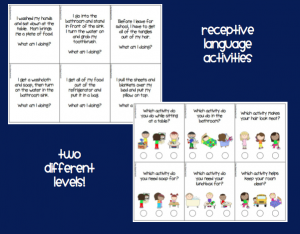 There are also two different receptive language activities…first, 18 scenario cards for your students to guess or match the routine.  Second, are question cards with 3 multiple choice picture answers.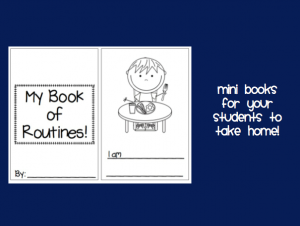 Now, y'all know how much I love a good mini book!  With this one, you can choose the pages your students will need to make their book, using the routines they are familiar with and actually complete on a regular basis.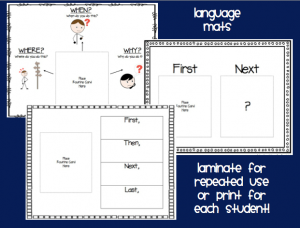 These language mats can be laminated for repeated use or given to each student.  I love the idea of using the sequencing mats to create one big book as you work through each routine.
WH Questions:  Place routine cards in the center and have students answer each WH question about that routine.
First/Next:  Place routine card on 'First' box and discuss what you would do after the routine was completed.
Sequencing (with transition words):  Place routine card in box and break down the steps to complete each activity.
Sequencing (without transition words):  Place routine card in box and break down the steps to complete each activity.
I really feel like the possibilities for this packet are ENDLESS.  I can even use it to target articulation carryover during conversation level practice.  YES.  I am allllll about multiple uses.  I hope you guys LOVE it too 🙂
You can find this product in my TPT Store!