Disclosure:  A copy of this book was provided to me in exchange for this review.  All opinions are mine.  Amazon Affiliate links are included for your convenience.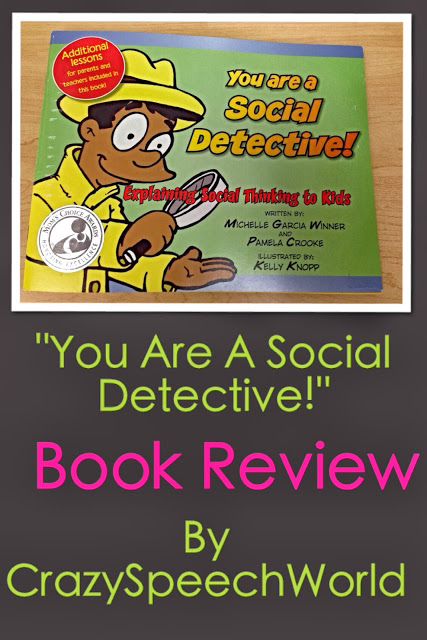 I am SO excited that I have been asked to join the Social ThinkingⓇ Blogging Team!  As a part of that team, I get to bring you reviews of some awesome Social Thinking Ⓡ products.  Up first…You are a Social Detective!  Explaining Social Thinking to Kids by Michelle Garcia Winner and Pamela Crooke and illustrated by Kelly Knopp.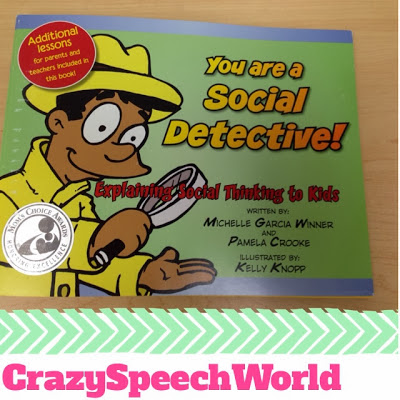 Last year I kept reading about Social ThinkingⓇ and all of its awesome resources.  I finally gathered up all my research and convinced my administration to purchase all the pieces of this intervention puzzle for our kids who desperately need a solid curriculum for learning how to navigate the social ropes.  You are a Social Detective! has been my go to for the start of the school year to introduce the important concepts and vocabulary that Social ThinkingⓇ uses.  I have used this with my 1st graders up to 6th graders!  It is broken into three parts, starting with the introduction of Social Smarts and various other kinds of Smarts, then Expected and Unexpected Behaviors, and last, being a Social Detective.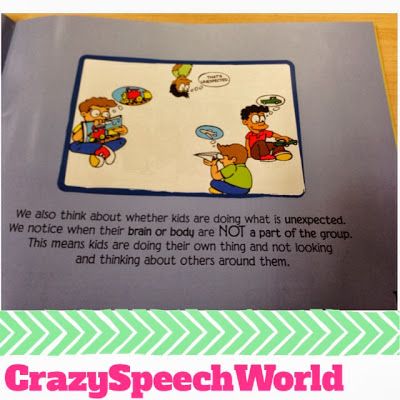 Each page has a comic illustration, which my students really like looking at.  We read the page and then discuss the picture and how it relates to the concepts on the page.  I actually keep the book on my whiteboard all the time, so even when we are not directly working on these skills (we may be focusing on other kinds of speech goals) my kids can see it is a visual reminder.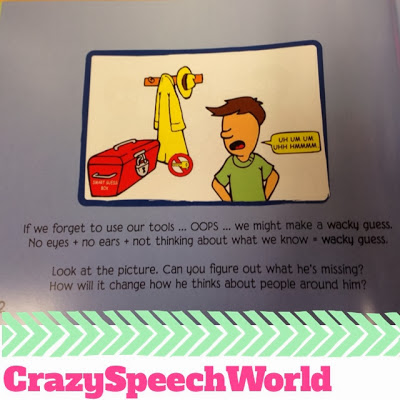 I have been able to use this book to introduce each concept, then I usually drive it home with various activities to follow up what we've read.  I love that the important concepts/vocabulary are BOLDED throughout the book.  That makes them easy for the students to see and recognize.  I have used this book in chunks…I focus on one concept at a time, make sure my kids 'get it'.
Why do I like it?
Engagement?  Check.  My kids LOVE it.  The illustrations are very good and spark a lot of discussion regarding the concepts introduced.  I think they do a great job of explaining the words through the pictures.
It just makes sense.  These concepts are solid…they are the foundations what EVERY kid needs to know to be successful.
Widespread use.  Like I said, I have been able to use this with kids from varying grade levels.  Please note, my students are all on the high functioning end of the Autism Spectrum.  
Perfect Introduction.  This is just the beginning of introducing Social ThinkingⓇ to my kids, but it is a great start and I know they are excited to keep learning!  I can also use it as a reference when we need to reference the concepts.
It has a few lesson ideas at the end of the book for you or the teachers to use.
If you want to learn more about Social ThinkingⓇ, I encourage you to visit their website HERE.

Want your own copy?  You can find You are a Social Detective!  Explaining Social Thinking to Kids on Amazon or on the Social ThinkingⓇ Website.

Now that I have shown you the book, be on the look out for the activities that I have paired with it!  Coming soon 🙂

Do you use Social Thinking in your speech world?  What do you like about it?