I really loved using my Artic & Antarctic Animals download over the winter months, that I knew I wanted to create another similar download for ocean animals, so finally…here it is!  I am doing an ocean theme for the next two weeks, do I got this one ready just in time!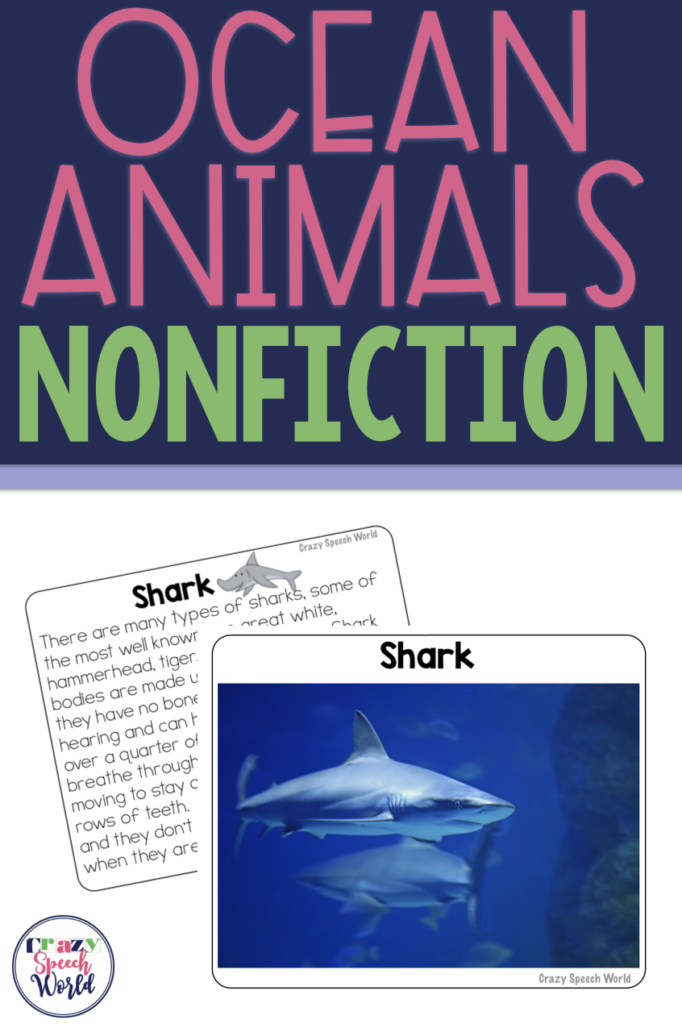 This download is full of animal facts about fun ocean creatures!  Check out what's included:
8 animals featured: shark, octopus, crab, seahorse, bottlenose dolphins, sea turtles, stingrays, and jellyfish,  each with their own non-fiction passage.  The passages just have interesting and fun facts about each.  You can use these to target listening and reading comprehension, depending on the students you work with and their goals.
 4 comprehension questions for each passage with the corresponding animal graphic.  I did different types of WH and How questions, all direct from the passage.
 20 vocabulary words from the story, with accompanying definitions.  You can use these for matching OR you can laminate them front to back.
 Graphic organizers!  One Venn diagram to compare and contrast, one word web for describing, and one for vocabulary that is perfect for using with the included vocabulary cards to further investigate the words or with other ocean words.
8 animal cards that you can use to build vocabulary, describing, or with the following student sheets…and 8 cards with REAL photos!
A mini book that you can use in different ways!  For your younger students they can color and label the animals and for older students can write down facts (exclude the poem page).  The cut all the pages apart and staple together to send home!
A barrier game!  I love using barrier games for following directions, vocabulary, and basic concepts!  All you have to do is print the scene for each student and the animals.  Then just tell them where to put them!  I included all 8 animals from the comprehension passages.  This offers so many opportunities to build language skills with comprehension AND expression!

I hope you guys are liking this as much as me!  I cant wait to put it to use 🙂  Leave me a comment and let me know what you think!  You can find it in my TPT Store!