I was introduced to this cute story about 5 years ago and I just love this book!  Knuffle Bunny:  A Cautionary Tale was written by Mo Willems and earned a Caldecott Honor.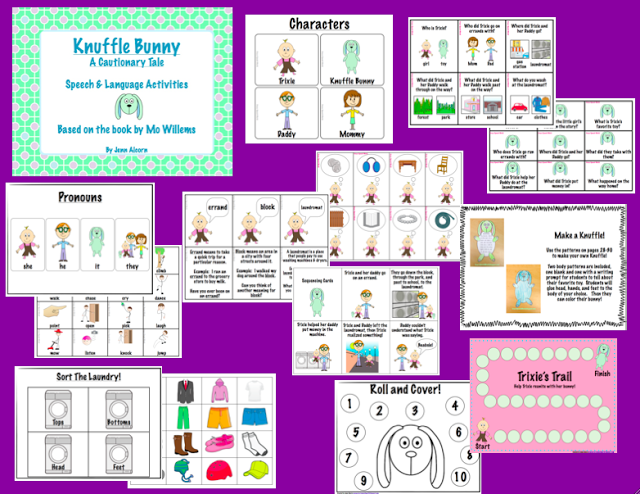 This post contains Google Affiliate links.
Knuffle Bunny is a cute tale about a girl and her favorite stuffed animal…you know the one that kids drag everywhere?  But then something terrible happens!  She loses her bunny while on errands with her dad…and Trixie's can't talk yet!  Great for vocabulary and inferencing!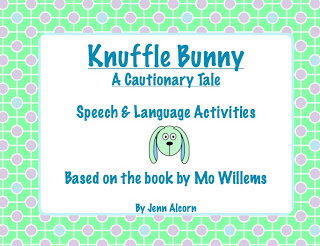 I have included lots of activities to address language skills PLUS my favorite….a craftivity!  Here is a peek…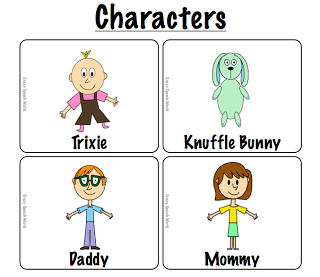 First I included 4 character cards, which you can use for retell, describing, character traits, etc.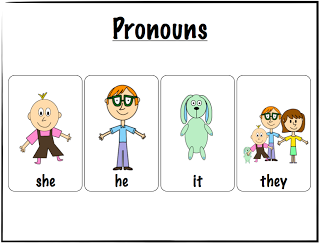 Pronouns & Verbs, which you can target both skills or just one.  There is the above pronouns mat, which student can use as a visual to prompt production of pronouns.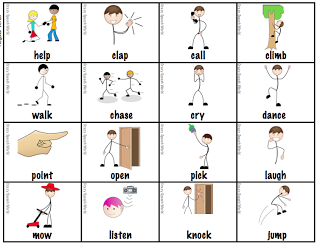 There are also 16 regular and 16 irregular verbs, so you can target what your students need.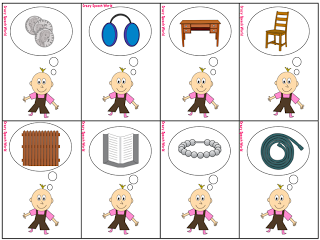 Object Functions, includes 32 cards with object pictures for identifying functions, which can also be used for describing.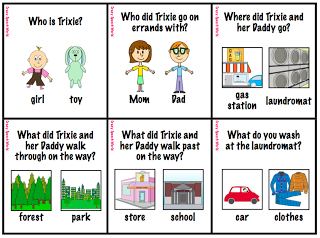 Comprehension Questions have two levels:  12 with two picture choices and 18 open ended questions.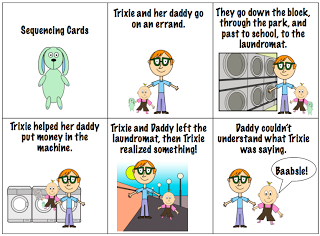 For sequencing there are 11 picture cards to sequence the story.



Next is a Category Sort,  which has a category page for clothing items and 12 pictures to sort.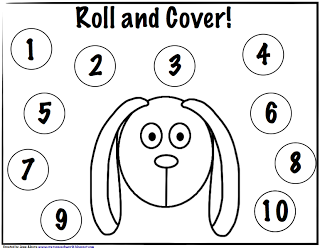 There are two open ended games, first Roll & Cover Open Ended Dice Game: Use with any of the included targets or your own!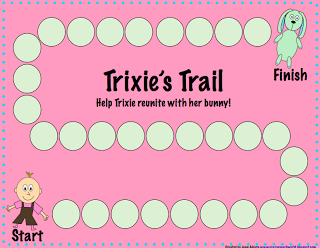 And, Open Ended Game Board: Use with any of the included targets or your own!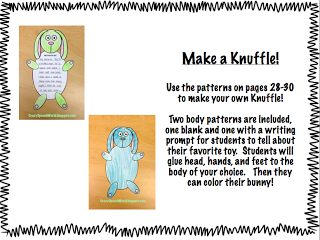 Last is my favorite part!  A Bunny Craftivity! This includes patterns to create two bunnies, one with a writing prompt "My Favorite Toy" and one with a plain body.

I hope you like it!  You can find it in my TPT store!

Today is the last day of my sale over at TPT!  Thanks to all you who continue to support what I do!