This post contains Amazon Affiliate Links
You knew it was coming…I have even had some emails about it…and here it is…My language unit to accompany "There Was An Old Lady Who Swallowed a Shell!" by Lucille Colandro!  I have actually done a post on this book before, back when I first started blogging, with some ideas that you can check out HERE….which includes the kids making a sandcastle!  No worries, there isn't any real sand involved 🙂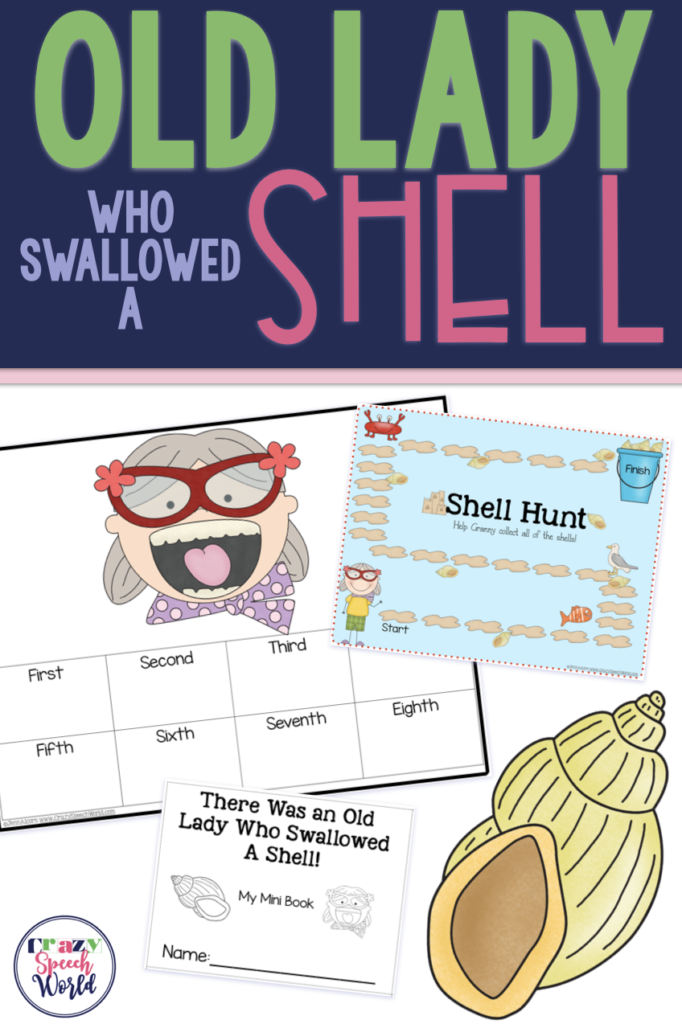 This version of the Old Lady is actually the first one I owned, and since I am a beach girl, it is probably my favorite!  Here is a peek at the activities included in this packet…
Eight vocabulary cards that you can use for sequencing, story retell, compare/contrast (Venn Diagram included), describing, etc.  You can pretty much do anything with these!
An open ended game board to use with any of the included activities or to target your own skill.
Sequencing placemat…print one for each student or one for the group. Students can cut and glue words/pictures for correct sequencing or they can draw the correct answer. You could also laminate and use velcro to match picture/ word cards.  Sequencing cards with pictures and words, to use with placemat, or can also be used for matching. Cut cards you will use (either picture or words) and students will glue to placemat in correct order.
Feed the Granny!  Cut out granny's mouth and glue her face to a tissue box (or another box with an opening) or bag and have students 'feed' her as they complete a task (sequencing, vocabulary cards, etc).
Shell Pails to target past & present tense verbs.  Laminate and use as a sorting page for the students to collect verb shells.  Students will sort the 8 regular present & past tense verbs and 8 irregular present & past tense verbs to the correct pails.  Have them use the different tenses in a sentence!  There are also 16 blank shells to use however you need!
The mini book that has been such a huge hit AND a great learning tool!  Print for each student and use to sequence and retell the story. Students fill in the word and draw a picture for each page, then cut apart boxes and staple together as a book!
Writing Prompt Student Sheet.  Print one copy for each student, and they will draw a picture and write about what they would do if they were the Old Lady!
A Venn Diagram to use to compare & contrast the included vocabulary cards or different Old Lady stories.  I had some folks request this without any graphic on it, so I did  🙂
And last is a vocabulary graphic organizer.  There are some good words to target in this story for vocabulary expansion…'bland', 'hassle', 'scoop', and more!  Use this to further explore those words your students aren't familiar with!
That is it!  I hope you guys like it!  You can check find it in my TPT Store!