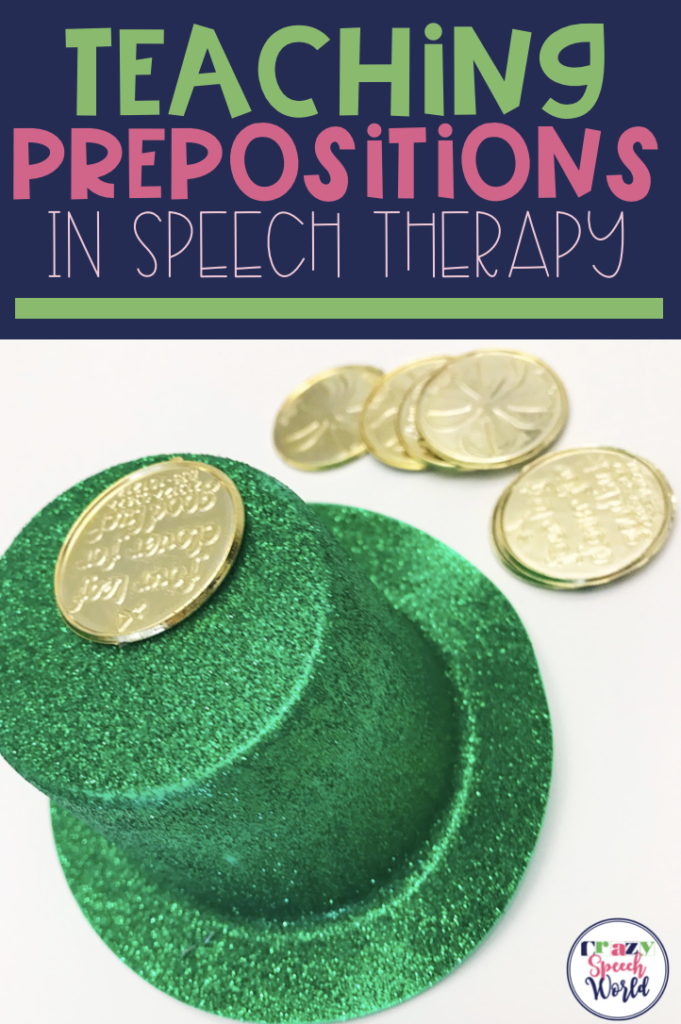 Teaching prepositions is one of those things that allows your creativity to soar…this is mainly because in order to get the most out of it, you need to use your body and some STUFF.  This makes it a wonderful way to incorporate theme based learning!  Since we are right around the corner from St. Patrick's Day, I thought I would share how I am getting the most out of this holiday with some preposition practice.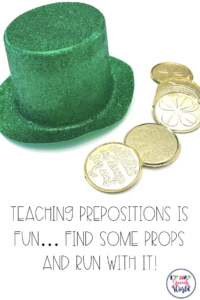 I scored these adorable hats and coins at the Dollar Store.  I spent 2 whole bucks for 5 plastic glitter hats and 30 coins, which is plenty to get me through and, if I'm lucky, will last until pirate day when I need those coins again 🙂  Here's how we will use them for a Preposition Party:
Everyone in the group gets a hat.  It goes ON our head.  But maybe we will try them ON other parts of our body.  Get your kids up and moving and have them practice different position words with their hat.
Once they have warmed up with their body, break out the coins (oh, hey math) and count out some for each student… or even better, have them earn them for demonstrating a preposition or putting one correctly in a sentence to describe a friend's hat.
Practice with the coins and the hats…put the coin IN the hat, ON the hat, BESIDE the hat, UNDER the hat.  You get the picture.
Throw those bad boys in a sensory bin with anything else you have that is green, gold, or black.  I'd suggest these vocabulary cards
Once they get the hang on using their body to demonstrate and describe various positions, bring in reinforcements!  I created this packet of positional words just for St. Patrick's Day themed learning.  It's all about the coin and the pot!  Check it out:
This product has a few different activities to help you teach positional words through pictures.  These cards can be used by themselves, or paired with an additional set for a matching game.  Throw them in the sensory bin, then students can pull one out and demonstrate the preposition with the card and/or objects. There are also black/white versions of these that your students can color (and save you ink!).
Add them to this mini book so students can show that they comprehend various sentence types.
Instead of using the pictures, you can also let your student put their artistry to work by drawing a picture for each page in the book.
This interactive flip book allows students to move pieces back and forth to match each picture.
I hope that gives you some fun ideas for teaching preposition with the upcoming holiday!
Make sure you check out St. Patrick's Day Prepositions in my shop. 
I'm looking forward to planning more fun ideas for the spring 🙂  What are your favorite themes this time of year?