This post contains Amazon Affiliate links.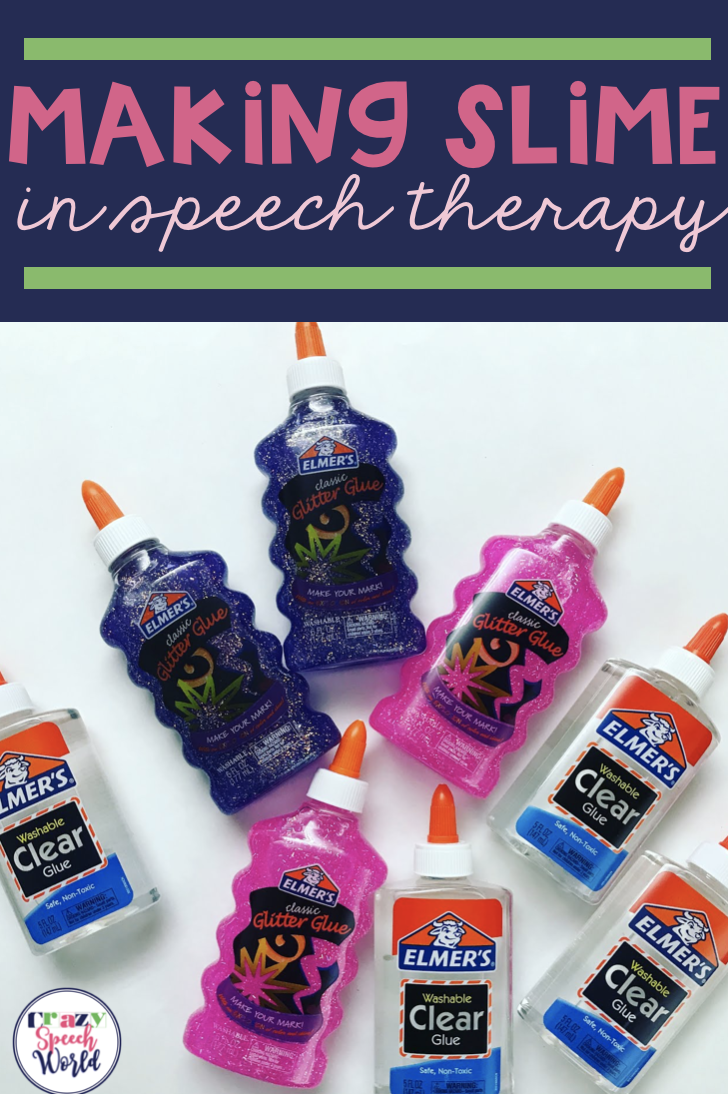 Unless you have been hiding under a rock, then you are familiar with the slime craze.  And I mean it's crazy.  And since I have entered the land of high school teenagers at my house, I no longer have to deal with things such as slime, because… so not cool, duh.
When I was trying to plan for Valentine's Day, I knew I wanted to do something fun and out of the ordinary.  Cue, slime.  I got the idea that we could make it in my language groups, then they could take it home as their gift from me.  Double win.  Here's how it went…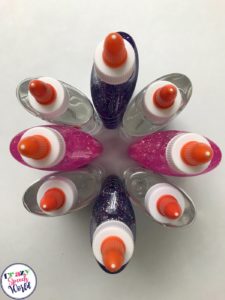 First, I bought a lot of glue.  I made sure that I had two bottles for each group.  After some online research, I chose to go with one bottle of glitter glue and one bottle of clear for each batch, which I scored in these slime kits.  This way, I could avoid all of the crazy of actual glitter and coloring since I was a slime making novice.  Plus, 30 minutes is all I have.  I also texted my husband and told him I would need one bottle of his contact solution.  If you don't have a contact wearing person in your house to steal from, then you will have to add solution to your shopping list.  Along with baking soda.  Which I also had on hand.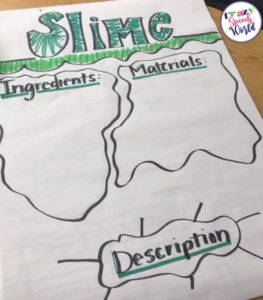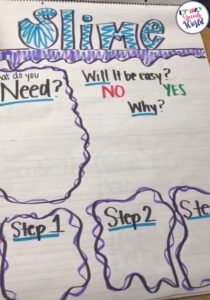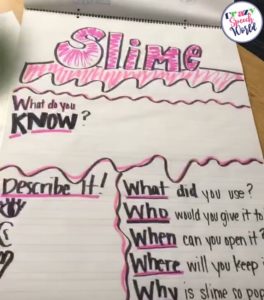 Before the sessions I made some discussion pages, one for each group because they all have different targets.  This helps me to keep on track of what the goals are in each group while we are doing the activity.  Some of them we did before we started, then came back and finished after the slime was done.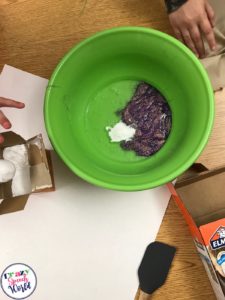 Then I just grabbed a bowl, spatula, and measuring spoon.  I modified a bit of the recipe from Elmer's, this is how it went:
2 bottles of glue (one glitter, one clear)
2 1/2 tablespoons of contact soluation
1 table spoon of baking soda
Mix it with the spatula, then really knead it like crazy so that it gets less sticky.  You need to have some faith here, because you might just have a panic attack when it's all stuck to your hands.  Just keep kneading.  It gets less sticky as you go, I promise.  This is also the one part of the activity that I did myself… you know, cause kids are crazy and my custodian MIGHT kill me if slime was all over the floor.  Once it wasn't super sticky, we divided it up among the group members (oh, hey math!)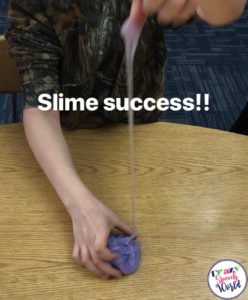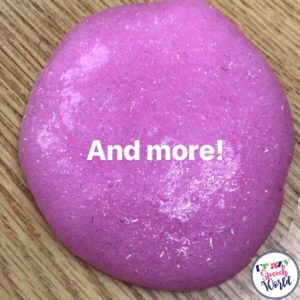 Y'all.  It was great.  I let them do all of the work and the kids had so much fun, I scored some cool points, and we had SO.  MUCH.  LANGUAGE.  Here are some of the goals we were able to target:
Predicting
Answering Questions
Sequencing
Vocabulary
Verbs
Describing
Problem solving
And more /s/ blends than one could ever imagine 🙂
If you are in need of something new and fun and different, give slime a whirl!  Just like cooking, creating something like this gives you a huge opportunity to practice functional language skills.  Plus, all of the math and science you are incorporating in your therapy!