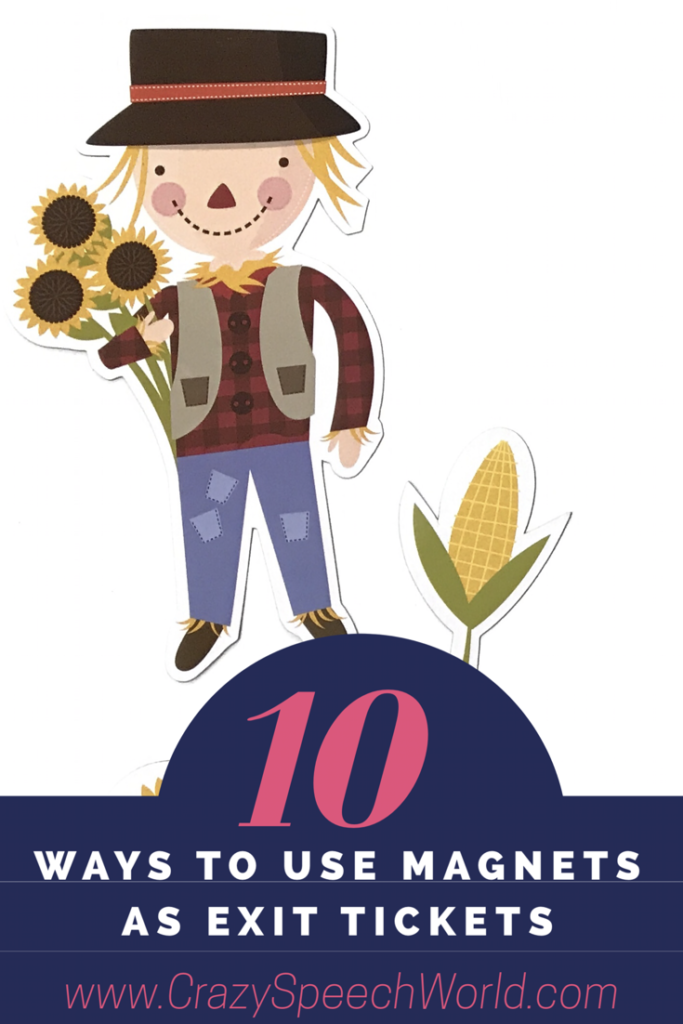 Raise your hand if you have a Dollar Store/Target Dollar Spot/Anything that costs $1 goes in the buggy problem.  I thought so.  Me too, especially when it comes to things like seasonal magnets and stickers, so I end up with all these things that I usually use on my white board or cookie sheets for various skills.So since my kids always like playing with these and my door is metal…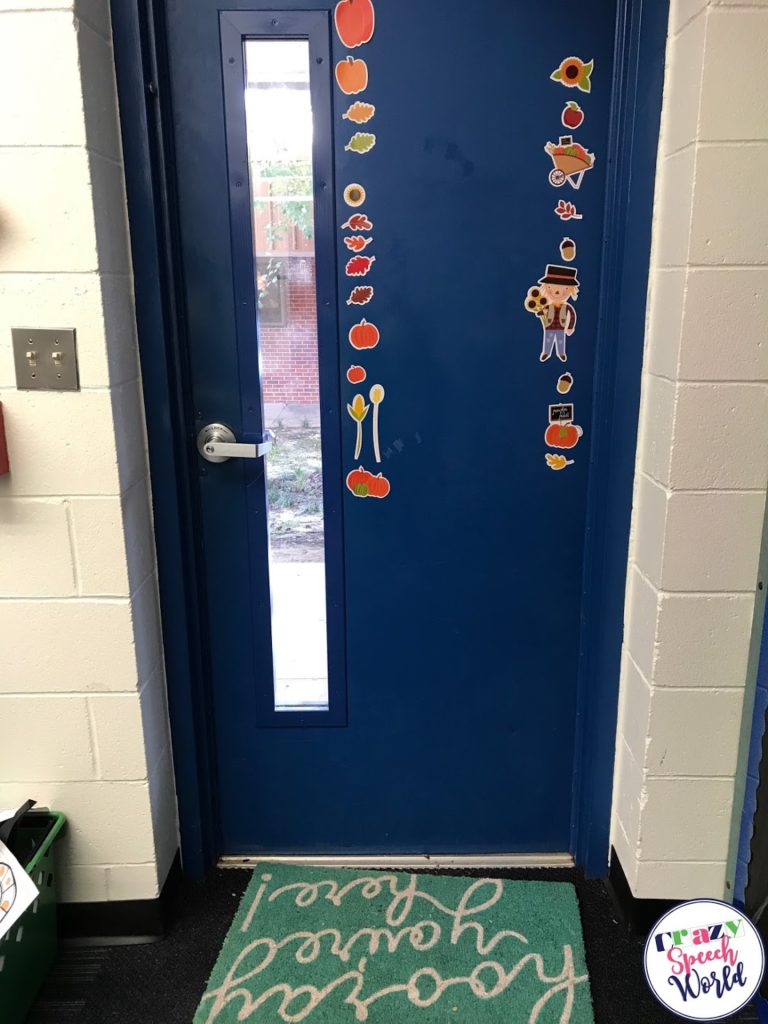 Voila!  Load them up on the door.  I sometimes find myself needing one last thing, so now this can be it.  The kids can easily answer a question or manipulate the magnets as they get ready to head out.  And if one has a couple of extra minutes while I'm finishing up with his peer, this is what he is doing instead of anything else he shouldn't be 🙂
 Superlatives!  I have a few kids that are working on these this year, so I can easily target this without the student even having to touch the magnets.  You can do biggest, smallest, tallest, shortest, fastest, slowest, etc.
Possessives?  Sure!  As long as you have a person or animal included in your magnets, you can give the other objects to them…like for this pic, "The scarecrow's nut"

Pronouns

.  Again, you need a person or animal, but it's a great way to work on personal pronouns 'he' and 'she'…maybe even 'it' and 'they'!  Possibilities are endless.

Carryover

…  Have students practice whatever they worked on in your session with the magnets!
Following directions? This one is a no brainer!  You can target any kind of directions you want by having the students manipulate the magnets by listening to you.  Here you can also target basic concepts!
Narrative language…this one might be a little long for an exit ticket, but you could definitely do a quick first, next, then, last by having the student pick four magnets and use the transition words to make a simple, short story.

Compare/Contrast

two objects to show similarities and differences
Functions… pretty self explanatory and great for your little ones working on vocabulary skills
Sentences.  They can make a sentences about one or all of the magnets.  If the student is working on articulation, have them use at least one word with their sound.  If a student is working on language, you can target subject-verb agreement or verb tense.
Labeling.  Clearly I saved the most obvious for last!  Most of the time these magnets are related to a season or holiday, so you can work on functional vocabulary for students, describe what they look like with colors, size, and shape concepts.
Such an easy way to sneak in some extra practice and my kids have loved it…plus now I have a great excuse to grab those extra magnets in the dollar spot 😉
What do you use these magnets for?