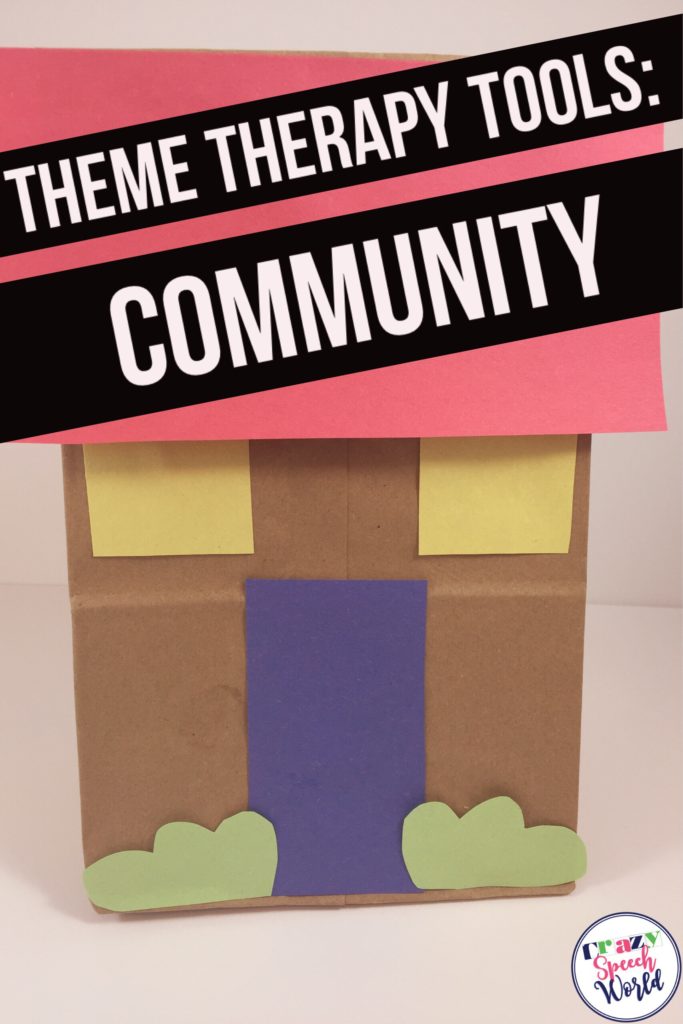 September is coming and it's coming fast!  I spend most of August establishing routines, collecting baselines, and just making my students feel at home in my classroom, so I'm excited to start themes!  If you are following my theme therapy calendar, September is all about community…helpers, transportation, places, and pets!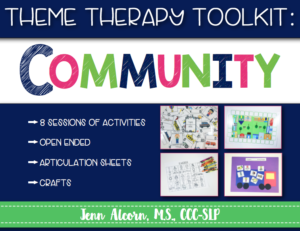 I put together a packet of activities centered around that theme that will help us all get through the month without having to think too hard about planning!  There are 8 different activities… I'm anticipating using one for each session of articulation therapy.  Lots of variety is included!  Wanna see what's inside?  Check it out…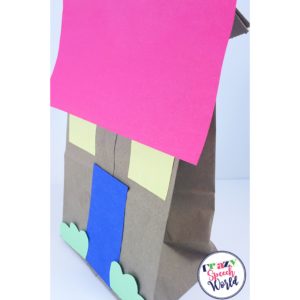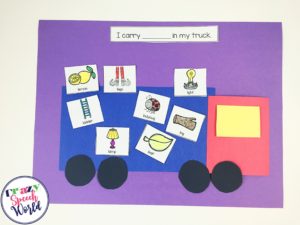 I included two crafts, cause it's me!  A cute little house is a fun craft made out of a paper bag, which also serves as a carrier for anything your students need to practice on the inside.  It includes the templates for all the house parts, just choose your construction paper and glue on.  There is also a sentence stem that you can use, if appropriate for your students.  The other craft included is a truck.  The kids can add things to the back of their truck and take home for carryover!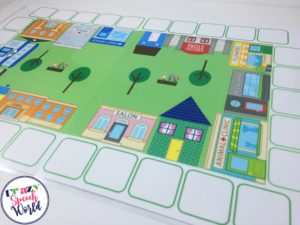 A gameboard, which is two pages and can be laminated together, or put on a file folder.  It's got lots of places around town and you can use it with any goals!  I also included a dice and spinner, but you can use whatever you have lying around your therapy room.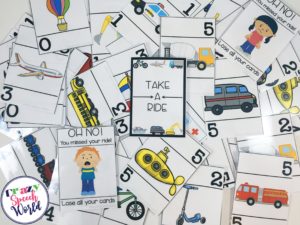 A points card game, my kids LOVE these!  I love them because you can use them with any goals.  All of the cards feature a different mode of transportation.  You just have students draw cards and whoever has the most points at the end wins.  There are point cards from 0-5 and 'lose all your points' cards, which you can include if you want…these always make things more interesting though 😉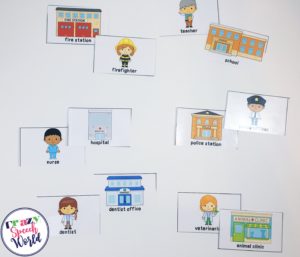 A matching game for community helpers and where they work!  Play as memory or Go Fish or whatever!  Great for language skills, but also open ended enough to use for articulation groups.
Cut, glue, and color for matching community helpers with their tools for the job.  
Pets bingo, which has 4 different bingo boards and 24 calling cards.  You can pair these with bingo chips, daubers, or just have students color their spaces…it's all black and white, so no prep!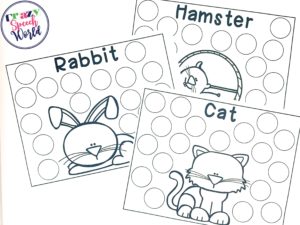 Pets dot pages, which is another great no prep activity.  There are 8 different pets and you can use chips, crayons, or daubers again to cover the circles while you practice any skill!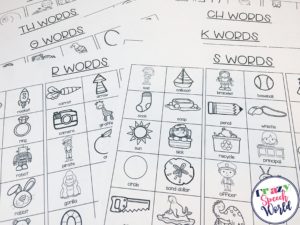 I also included sound pages for the 10 most popular sounds:  R, S, L, K, G, TH, CH, SH, F, V.  You can pair these pages with any of the included activities or use them for whatever you need!
WHEW!  That's lots of material jammed into this packet, all in the hopes of making your job a little easier!
If you haven't signed up for my newsletter yet, please do!  That's where you can get my theme therapy calendar AND exclusive emails from me.  Sign up here!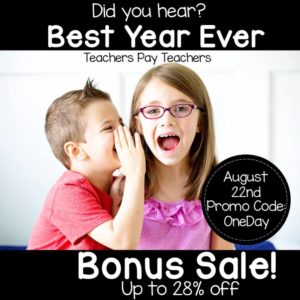 Also, tomorrow is another awesome SALE where you can get 28% off everything in my shop, including this new product!  Make sure you stock up and save with code:  ONEDAY