I am SO excited to bring you a product review this week for Snapdolls!  A sweet SLP friend of mine brought them to my attention and I just knew this would be a great activity for my preschool friends.  Check it out!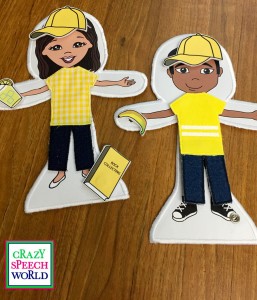 There are four sets of Snapdolls you can choose from:  Caucasian, Asian, Hispanic, and African American.  I have the Hispanic set now, but I will probably add to this due to the diversity at my school.  They are soft material and easy to clean.  The Snapdolls themselves are much bigger than I anticipated, about 11 inches tall.  That makes them easy to maneuver for little hands!
The Snapdolls have snaps on their body so that you can change out their clothes and accessories.  Reminiscent of paper dolls, but a little more sturdy!  The sets come with an outfit, hat, snacks, and two accessories (mine had a volleyball and a book).  
They have two add on sets, one for the seasons and one for careers, which both contain 20 additional pieces that are interchangeable with the Snapdolls.  I got the seasonal set, which is awesome!
Here's how I use them for therapy:
Following directions:  Students can dress the dolls according to your 1, 2, and 3 step directions.
On/Off:  We need basic concepts work in my room, so we worked on using 'on' and 'off' to talk about the dolls
Vocabulary:  Great for labeling parts of the body, clothing, seasons, etc.
Social Skills:  Pretend play with the Snapdolls and practice conversational skills like turn taking
Describing:  The colorful accessories allow my students to practice using colors and sizes to describe
Pronouns:  Easily target subjective, objective, and possessive pronouns
Asking Questions:  Hold all of the pieces and students have to ask for what they want to earn a piece to dress their doll.
Articulation:  Students earn a piece after they practice their target sound
I'm sure there's more, these are just the ways I have used them so far.  Not to mention, it's great for fine motor skills for my friends who need practice snapping.
My kids and I really loving this new activity!  I think you can use Snapdolls in tons of different ways and it's a great addition to any SLPs toolbox.  You can check them out HERE from Kaplan.
I would also love to give one reader their very own set of Snapdolls!  Enter via the Rafflecopter below and good luck!