I'm so excited to start a new theme this week:  Inventors!  I have several things planned so I wanted to pop in and share them with you guys 🙂  I decided to focus on Garrett Morgan and his invention, the stoplight, for my primary students.  This allowed me to get creative with some activities…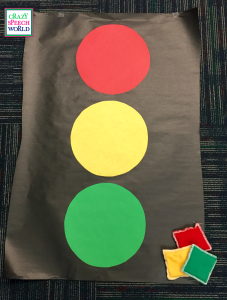 Up first:  Stoplight bean bag toss!  Great for my busy bodies, this was a super easy activity to put together.  I headed over to our copy room and tore off some black, red, yellow, and green craft paper from those giant rolls.  This pic looks small, but this stoplight is about 4 feet.  I plan to have my friends practice, then toss.  I'm sure we will come up with some sort of point system.  Easy and fun…that's my kind of therapy.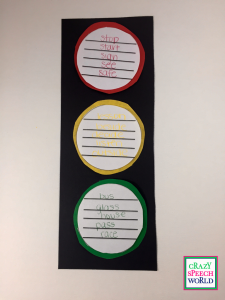 Next up is a craft you can make, that includes a component of practice that students can take home with them..you know that's my jam.  You can snag this freebie HERE, with instructions included!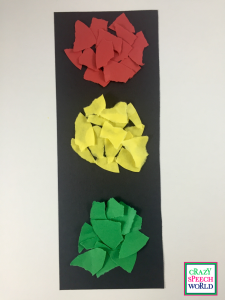 If your looking for something with a little less prep, get your torn paper craft on!  Students can easily rip apart paper to make the different colored circles while they practice.  Great way to spruce up the drill-n-kill and let them have some fun!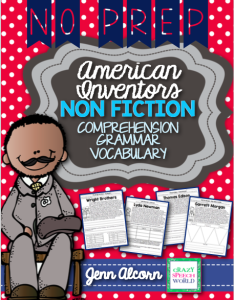 For my older students, we are working on nonfiction text with this packet.  I am able to use these across so many sessions, so it really works great!  I've gotten a few questions about how I use these packets in my sessions, so here's what I planned:
Pick one topic.  This week, we are going to do Garrett Morgan since it ties in with the activities my younger students will be doing.
Session 1 is spent reading the passage with the vocabulary page.  We spend a lot of time looking at the words and figuring out what they mean.  This can take up to two sessions, but that's ok!
The next session is spent on the comprehension page.  We read the passage again, then I really focus on sentences construction with this page as well, because all of our students need to be able to compose written sentences that restate the question, as well as answer the question in their own words.
If I need to spend another session on comprehension, I do, plus the main idea/details page.  I like doing this one with my students in pairs.  So then they do them as a team (hello, collaborative learning) and then we come back together and share…that way they get a couple of perspectives and it leads to great discussion.
The last session on the topic is spent on the grammar page, or I use this one as homework.
Once we have finished all the pages, they have so much information that they can save for their notebook.
This packet is super flexible, you can use for in depth teaching on one topic like I am this week, or you can give all your students in one group the same topic and they can all focus on their individual needs while using the same text.  You can find it in my TPT store.
I'm excited for this week! Leave me a comment if you've ever used this theme, or if your joining me this week in it!
xoxo