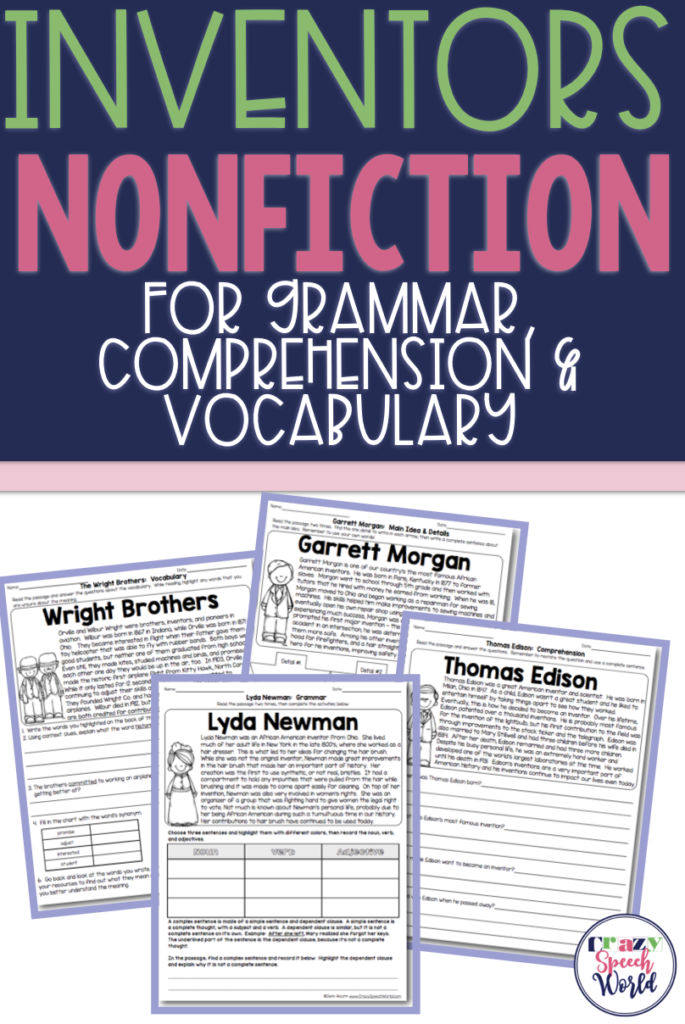 I'm thrilled to have finished this packet so far in advance of inventors week on the theme calendar, which is scheduled for my last week in February!  I knew the theme would be a great opportunity to not only explore my students' creative minds, but to delve into some nonfiction text about some famous creative minds!  This packet is very similar in structure to my winter sports nonfiction unit, but I've added a little 🙂  There are six inventors included…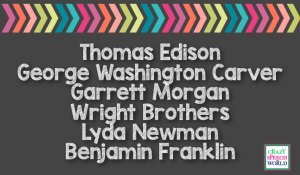 These are some dynamic inventors and I learned a lot myself while researching for this project.  I picked interesting inventions, so hopefully your students will be excited to learn about them!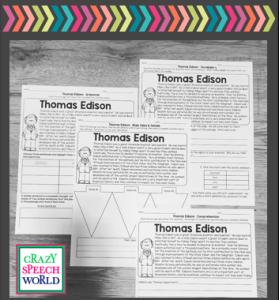 Probably my favorite thing about this packet is this:  you can work on multiple targets while using the same passage!  The text for each person is the same, whether you are working on comprehension, main idea, vocabulary, or grammar.  I have language groups with kids that have different goals and this makes it very easy to target exactly what they need.  You can also cycle through all of the pages, using the same topic to go deeper into the text.  Not to mention the no prep…hallelujah!  I can grab and go for therapy or send it home for practice.  SO easy!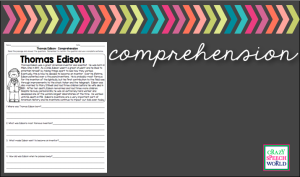 Comprehension is the basic skill majority of my students need help with, for whatever the reason may be.  These pages cover four WH questions about the passage.  We are really working hard on writing in a complete sentence to answer, so there is plenty of line space for them to do that on this page.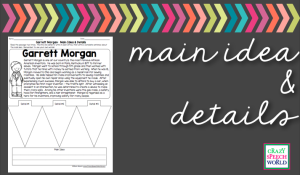 Main idea and details is basically a graphic organizer to help your students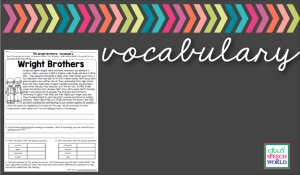 The vocabulary pages focus a lot on context clues, text to self connections, and antonyms/synonyms.  I also encourage my students to identify known words and use their resources to learn the meaning, so that is also addressed in this page.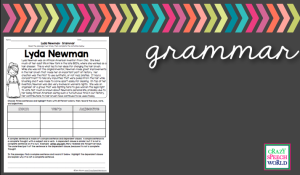 And new this round is grammar!  I am working with some kids who don't understand different parts of speech, or what it means to be a noun, which is impacting their understanding of the text.  The grammar pages all have a noun, verb, adjective sort and an additional activity for complex and compound sentences and changing verb tense.  Basic stuff for some, but I have some kids who desperately need this practice.
This packet really covers all of my language kids really well…and I even plan to use with my articulation students (sneaky!) for read alouds and carryover.  Who says you can't learn while you practice those sounds?  Not Ms. Alcorn!