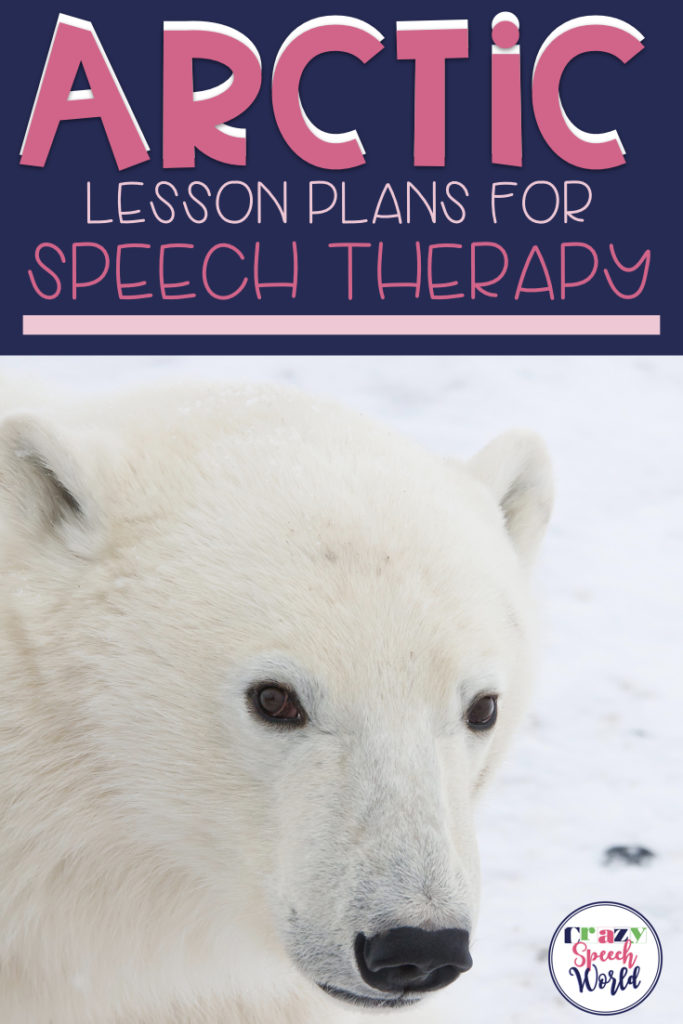 One of my goals for this new year is to be more proactive rather than reactive.  Through that, I'm trying to hold myself accountable by posting my therapy plans ahead of time, which helps both of us (I hope!).  This weeks theme is arctic (and antarctic) animals…which I'm still tying to the winter theme and carrying over from last week.  Here's the agenda…
For my primary students, I plan on making igloos!  I've blogged about these before and you can read the post HERE.  They are a cute and EASY craft, and you can choose to write words on the blocks or glue pictures.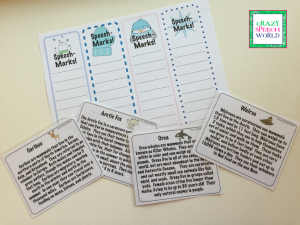 My intermediate students are getting their nonfiction on!  I plan to let them choose passages from my Arctic & Antarctic Animals packet and then record words they find with their sounds  on the winter Speech-Marks!  Sneaky, right?  My past experience tells me they will be excited to do this because it's all about animals…and kids love animals!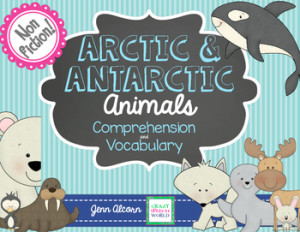 Most everything I am doing for language therapy this week is included in this packet.  It's great for working on all kinds of language goals including comprehension, vocabulary, describing, etc.  You can find it HERE in my TPT store.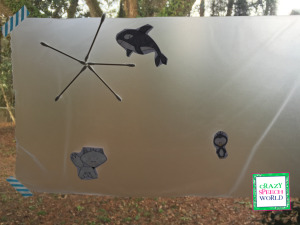 I was super excited to find this pin and I knew this would be a fun, hands on activity for my PK students. I tried it out at home, cause you have to make sure it works, and it does!  Instead of contact paper, I used Glad Press 'n Seal because it's what I had at home.  You can often find contact paper at the Dollar Store!  I used washi tape to put it on the window, leaving the sticky side facing out.  Then you can stick stuff to make your own arctic scene!  This is great for working on those basic concepts, vocabulary, and following directions…which pretty much all of my PK kids are working on!  I used cutouts from my Arctic Antarctic Animal packet, which I laminated so they can be used over and over again.  I got some q-tips to make snowflakes and you could also add cotton for snow…apparently we are out of cotton balls at my house, which is kinda funny because I know I have 3 bags of them at school.  Oops.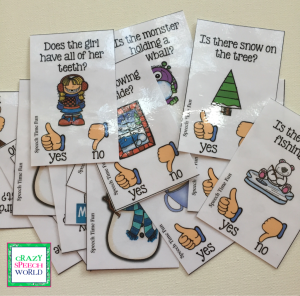 I also snagged this winter yes/no set from Speech Time Fun!  It's going to be perfect for some of my little guys!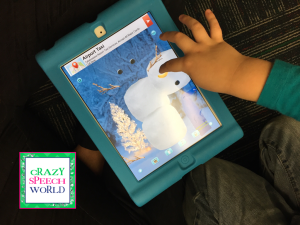 I'm still searching for some fun apps that align with this theme!  I found this Snowman Maker, which I used last week and it was a lot of fun!  I'll probably use it some more this week too.  Do you have any great winter themed apps you love?
Those are my plans!  What's happening in your speech world this week?
xoxo,