This post includes Amazon affiliate links.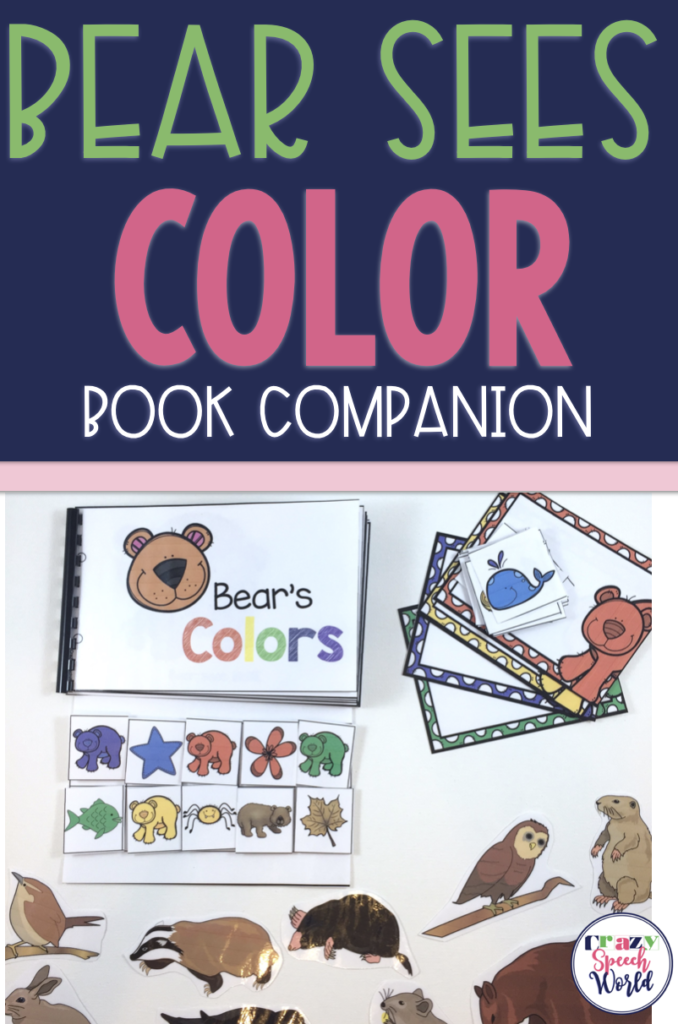 Y'all.  It's been a crazy couple of weeks and I have been dying to get back here to write this post and it's taken FOR. EV. ER.  Shame.  But, nevertheless, here I am!  WOOHOO!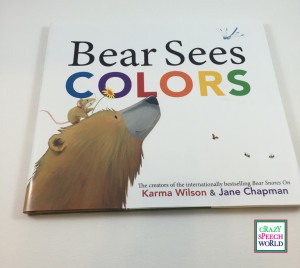 I'm a HUGE fan of the Bear book series by Karma Wilson and Jane Chapman…these books are perfect for therapy due to their simple story lines, great vocabulary, and rhyming!  I snagged a new copy of Bear Sees Color to help some of my preschool friends who are struggling with the concepts, and I couldn't be more happy with this one…but I'm not surprised!  I definitely recommend it if you have students who need to work on their colors!  I created a few materials to go along with the book and I'm here to share with you all our activities for a week of bears!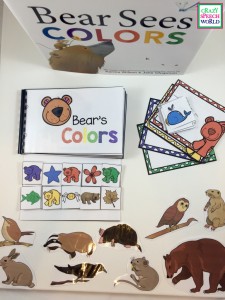 If I need anything for my preschool friends, it's visual and hands on!  Just for that, I made an interactive book, color sorting clips, and story props.
The interactive book is a great review of the colors in the book:  blue, red, green, yellow, and brown.  All the basics!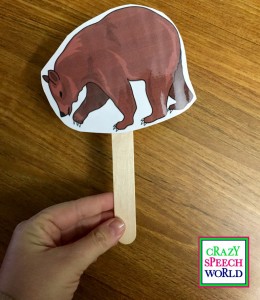 For the story props, I cut and laminated each one, then attached it to a tongue depressor with some velcro.  I happen to have a few hundred of those lying around.  #SLPlife  The nice thing about this is that they can be easily changed out with other visuals when we change stories.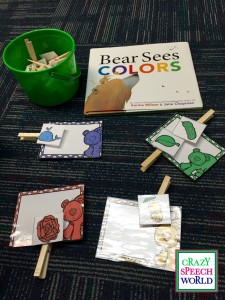 I also did a clothespin activity for sorting the different colors.  There are four color cards and you can clip the objects to each one, based on their color.  I also left the cards blank so that my older students can practice writing their color sight words with dry erase.  I do the same thing with the clothespins as I did with tongue depressor…velcro, so that I can use them with other activities.  This was a favorite activity for the littles…they love clipping, which is great for their fine motor 🙂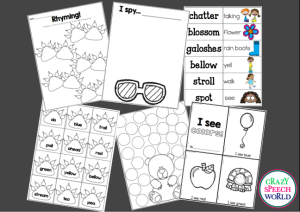 I also included vocabulary cards, rhyming cards and worksheet, colors mini book, dot page, I spy worksheet.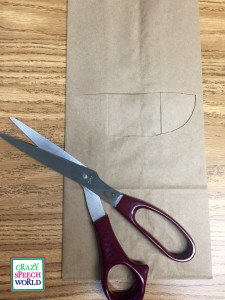 For my students who are working on their articulation, we fed the bear!  I took brown lunch bags and pre-cut some mouths.  Smiling, of course 🙂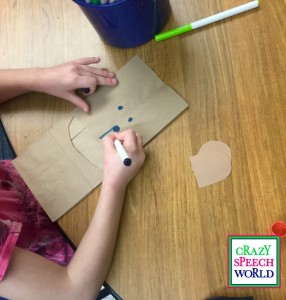 Then they got to make a face and glue on their bear's ears.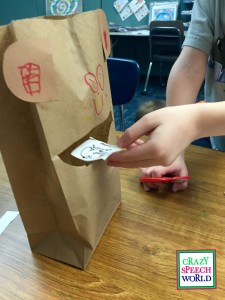 Last, I had a page of their target pictures and they fed their bear while practicing each word.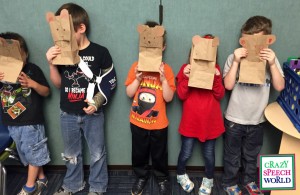 Holy moly, they LOVED this!  I'm gonna have to come up with more of these because it was effective AND a huge hit!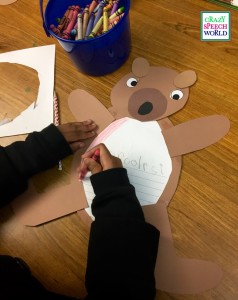 For another follow up activity, I used this bear craft.  We worked on following directions for the bear's assembly, then they wrote a sentence about their favorite color and then drew a picture.  Another hit!
I hope you guys find some ideas you can use in your speech room with the bear theme!  It's a fun one that you do so many different things with!