I know I have said this over and over, but I adore PK therapy.  It's my favorite, I love those little wiggly bodies so much.  I really wish I could spend my entire day in those classrooms…but of course I have 60 other kids that need me too.  Coming up with solutions to time barriers when planning with PK teachers can be tough, we are all so busy!  Luckily there are some great tools to help facilitate this, and The Hanen Centre has graciously shared one of those tools with me!
If you work with early intervention and you aren't familiar with The Hanen Centre, you MUST check them out.  They provide intervention approaches that are research based for educators AND parents. They facilitate trainings all over the world to implement their systems to improve language in children.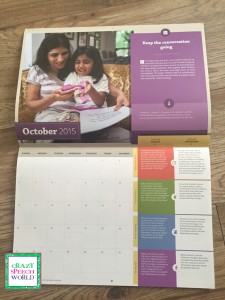 This calendar is a gem.  It cover 16 months and each month gives a tip, supported by a research article.  How's that for your evidence?  There are also 4 tips for parents and 4 tips for educators on how to implement the monthly tip in daily activities, pretend play, book reading, and in the community.    
The cover page also includes information about critical thinking, and why it is so important to develop those skills in children.  Here is an  article from Hanen's website about building critical thinking skills, which aligns with the calendar we are looking at today!
I have taken this calendar to my PK office and shared it with my teachers, who thought it was awesome!  It is one of those tools that we can offer the teams we work with, that will help give ideas about expanding and improving language, without actually having to be there.  That is a time saver for me!  These would be awesome for sending home to parents, or at least sending the information about where to grab it.  It is available in their online store HERE for $9.95 each, with savings if you buy more than one.
I'm lucky enough to be able to give TWO calendars away to my readers!  Woot!  Just enter via the Rafflecopter below!  Good luck 🙂