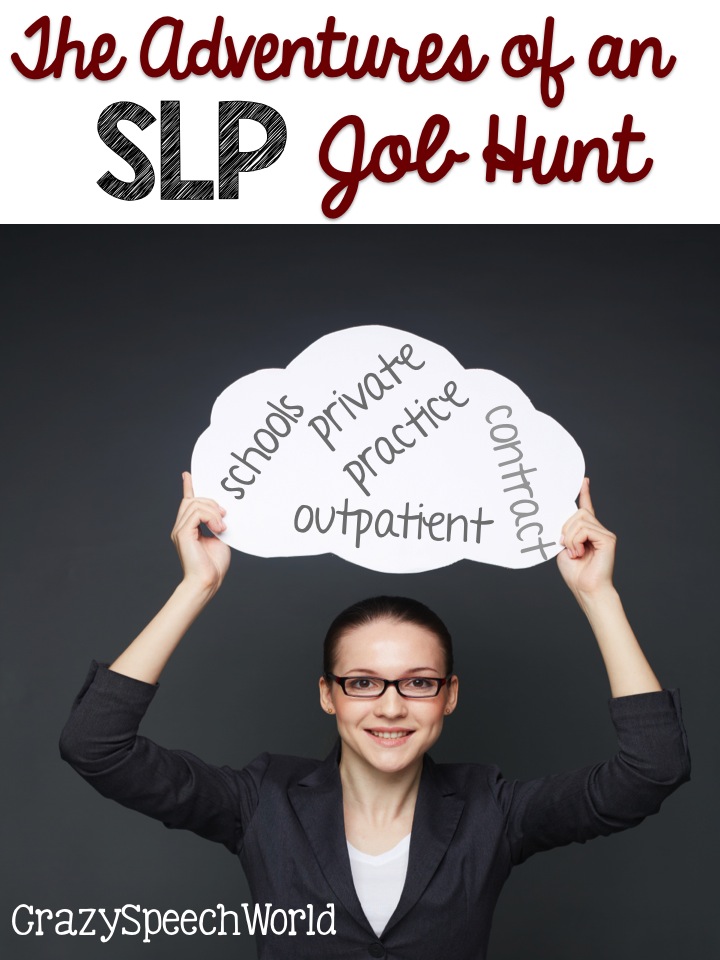 Job hunting is…exciting?  stressful?  annoying?  all of the above?  Yeah, probably.  I've been really working on what I want to do next, and even with my adventurous attitude, I find myself being drawn back into the schools.  What's up with that?
So, here in my neck of the woods, it doesn't seem to hard to find a job in the schools.  Florida is considered a 'critical shortage area', which is probably not good for lots of reasons but it still plays in my favor.  First step of my hunt?  Contact the speech coordinator for the county I want to work in.  The funny thing for me is that I am from this area and went to college there…so I actually did knew this person from a volunteer experience in grad school!
I did briefly consider the whole contract SLP thing.  I know, they make SO much more money.  But, I figure I should go after a district position to get my feet on the ground, then I can look into what else is available.  Since I'm a mom, I gotta have things like health insurance and retirement, which most contract companies don't offer.
Other things I have looked into included the local university, a hospital outpatient clinic, and private practice.  I just really still want the schedule of the schools…I love, love, love having my summers off.  And while I hope to eventually move onto something else, I'm not ready to give them up just yet.  I have a serious case of wanderlust, and I need those months off to get lost.
So far, I've applied for a full time position in an elementary school…eek!  Now I wait.  Cross your fingers and say a prayer for me, friends!    If you have any great tips about job hunting, send them  my way!