I am getting all buggy in my room these next couple of weeks and I was going crazy with boredom of my normal routine.  I wanted something to get my friends up and moving and found this idea for sight words on Pinterest.  So I, of course, adapted it to work for my kids and I couldn't be more pleased with myself.  Ha.  Just kidding.  At this point in the year, I'm just happy I still know how to do therapy.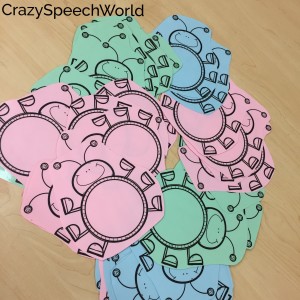 What do you need?  Bugs!  How do you get them?  HERE!  Actually, I got them from Creative Clips for FREEEEEE.  That pleases me.  I paid taxes last week, so free is good…better than normal.  I printed them out on different colored paper, laminated them, and cut their cute little buggy selves out.
Then I write my targets on the bugs.  For this session, we targeted synonyms, but you can target just about anything with this game.  Seriously.  Articulation, vocabulary words, parts of speech…the list goes on.  And yes, your eyes are not deceiving you, I wrote on that with a Sharpie.  But, I have a trick.  I'll share it in a sec…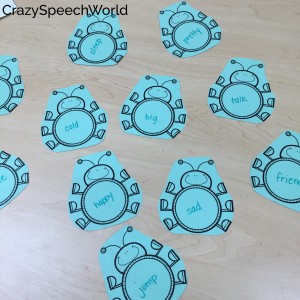 Then, we spread all the little synonym bugs on the table.  I said a word and the students searched for the synonym among all the bugs.  First one to SMACK it, gets it.  Easy, right?  They LOVED it.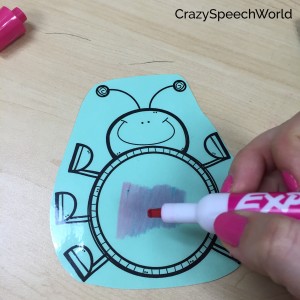 And here's my bonus trick!  Once you are finished with your game and you want to get rid of the words, you can color over it with dry erase marker and it wipes right off.  Like magic.  It's incredible.
Wanna grab the instructions and the bugs to print?  Snag them HERE.
I'd love to hear how you are going to use them, so make sure you leave me a comment 😀
xoxo,