This post contains Amazon Affiliate Links.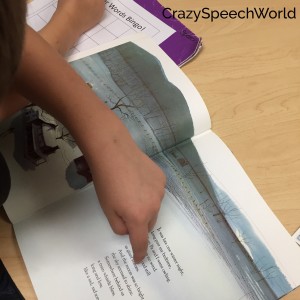 So this week in good ol' Florida, it's Celebrate Literacy Week.  Cool, huh?  Each year we have our kids race to see how many thousands of pages they can read and they love it.  Usually cause it's tied to something ridiculous…like this year, we will be spraying our assistant principal down with 489 cans of silly string.  (I'm exaggerating about the number, but wouldn't that be awesome if it was actually 489?  Hehehehe)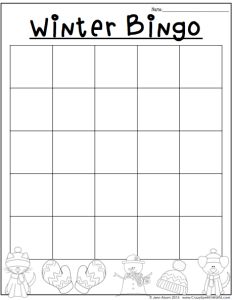 The awesome SLP that I am totally forgot until this morning.  Oopsie.  I needed to come up with something QUICK, so I made this little worksheet for bingo really fast and found every single winter book I have.  The page I whipped up this morning, looks a teensy bit different than this, but only cause I changed the font and clipart!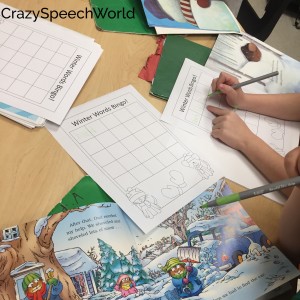 What did we do with this bingo board?  Well, I had my kids each pick their own winter book and while they were reading, they found words with their speech sounds.  Yep.  They got in their pages PLUS got some speech practice.  And when they come back for their second day of speech this week, we shall play bingo.  BTW, I play dice bingo at all times (number the columns 1-5, they roll and pick one in that column, and 6 is a wild) because that makes my life easier.  And I like easy.  Like Sunday morning.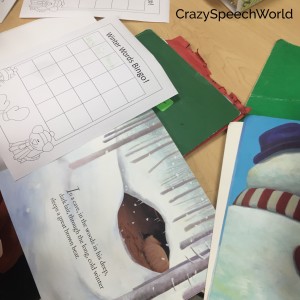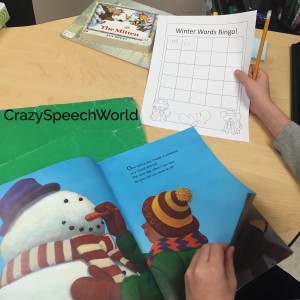 They really loved it.  Which made me happy.  This might become a monthly activity for us!  Some of the books we used were:
Just a Snowman 
Owl Moon
The Mitten
Snowmen at Night
The Little Polar Bear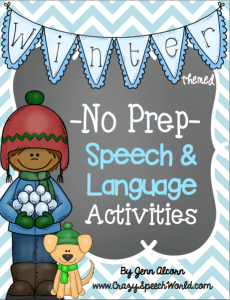 I added this to my  Winter NO PREP packet, so if you already own it, you can just head on over and re-download to grab this extra page 'cause I threw it in there!  Yay you!  And if you don't own it yet…well…you can grab it in my TPT Store!  I keep adding to it, as I create new stuff for my kids, so it's a growing resource for you!
Happy speeching!
xoxo,