I'm knee deep in evaluations that are backed up and IEPs that are due and two new kids that moved into our school with speech….BUT it won't get me down because….
IT'S THE MOST WONDERFUL TIME OF THE YEAR!
Check out all this FUN we are having in my crazy speech world!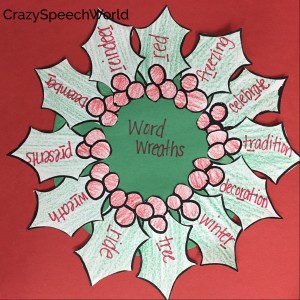 I found some holly leaves with berries and copied multiple sheets and they wrote articulation words on each leaf!  This was great cutting practice for my littles!   We glued them onto a green circle.  I obviously went traditional…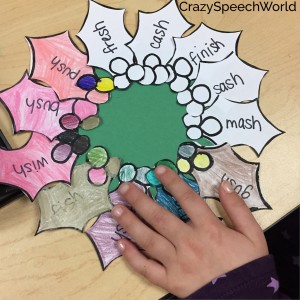 The girls did not 😉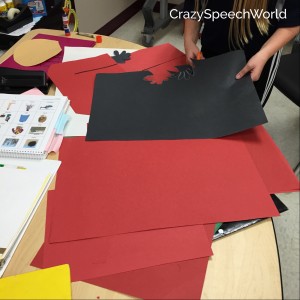 I challenged my 3rd graders to create their own santa after listening to them complain about never making crafts anymore (I typically do those with PK-2).  I gave them red, black, and white construction paper and they worked while I did round robin drills.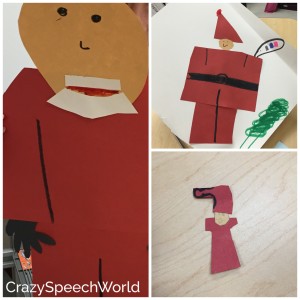 They did SUCH a great job and said it was their favorite speech activity this year…I'm not sure if I'm offended by that yet, but I am sure glad they had fun 🙂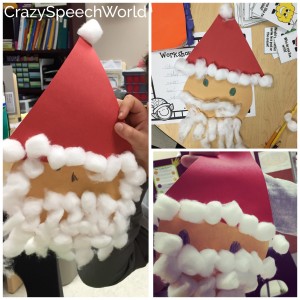 Next is the cotton ball santa….classic right?  I had zero intentions of doing this but was at the grocery store and cotton balls were on sale so I figured I could find something to do with 5 bags of them.  1500 cotton balls later, we have some pretty cute Santas!  All I did was give them a red triangle for the hat and a beige circle for the head.  EASY!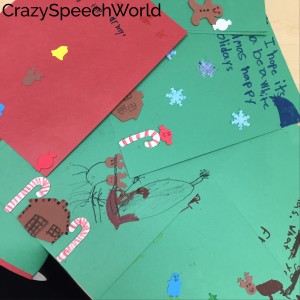 BUT, my favorite activity has been to make cards for a local VA nursing home that is for veterans with dementia.  It was so easy to target everything single skill all my students are working on.  My kids made some of the most beautiful cards for them and it was great to have something for them to do that would have a positive impact on someone else.  Then there was this gem…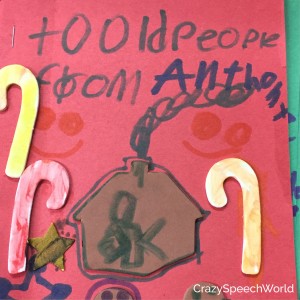 It turned into a great lesson on pragmatics.
I hope you are having some fun in your speech world to get you through these last days until winter break…I know am counting down!  I'd love to hear more ideas!
xoxo,