This post contains an Amazon Affiliate link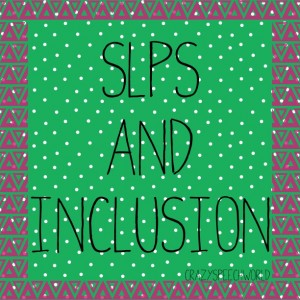 Inclusion is one of those topics that either excites or frightens the involved parties.  I have been exposed to inclusion since I was in grad school and I loved the idea of it!  My involvement in inclusion services varies from year to year, depending on the students and teachers I am working with.  I usually stick to providing language services in this way…I still think that I get the best results for articulation when I pull out.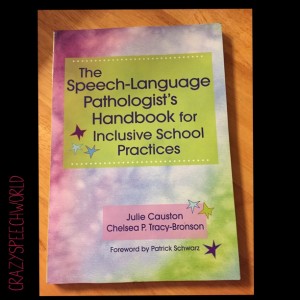 I recently got the chance to review this book:  The Speech-Language Pathologist's Handbook for Inclusive School Practices by Juilie Causton and Chelsea P. Tracy-Bronson.  It is such a great resource for SLPs, especially if inclusion makes you nervous, but also for other educators because it covers an SLPs role thoroughly.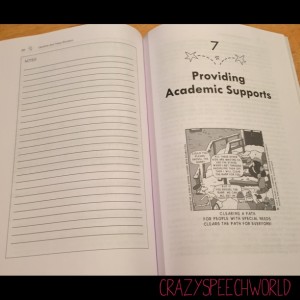 It includes chapters to help you with collaboration, and providing social, academic, and behavior support in the classroom, which are very easy reading.  I love that it includes examples, practical suggestions and ideas, and even some useful forms!  I would definitely recommend it as a starting place for SLPs who are interested in providing inclusive services in their own school.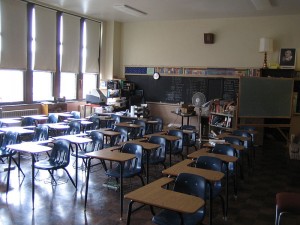 I get lots of questions of how exactly I do this with my own students.  So far this year, I am pushing into Kindergarten, 2nd, and 3rd grade classrooms.  It really varies what I do in each one!  With my kindergartners, I am helping them with group activities and working on building language skills during seat work.  It is so easy to do this with the littles in a very natural way!  With 2nd grade, I push in during writing time, which is my very favorite!  We are able to target so many language goals in that way.  During my 3rd grade time, it's usually science or math.  Very easy to target vocabulary skills and comprehension goals with these subjects.  Sometimes I pull my own group, other times I float around.
I honestly believe that inclusion is a win/win for everyone involved, if all of the stakeholders are on the same page.  It's a fine line between collaborating and just becoming a helper.  Don't let that happen!  You have to communicate with your inclusion teachers to make sure you are all on the same page about your role and goals for when you are in the classroom.  I also have my teachers email me their lesson plans each week (which helps ALL of my kids) so I know what is going on and what standards we are targeting, so I can help my students access those.  Which is why we are all there anyway, right?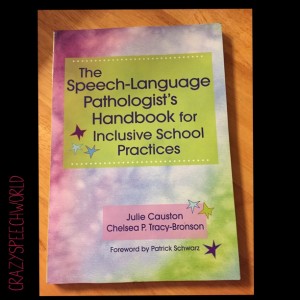 Have you read this book?  If not, you can find HERE on Amazon!
What are your thoughts on inclusion?
xoxo,