This post contains Amazon Affiliate links.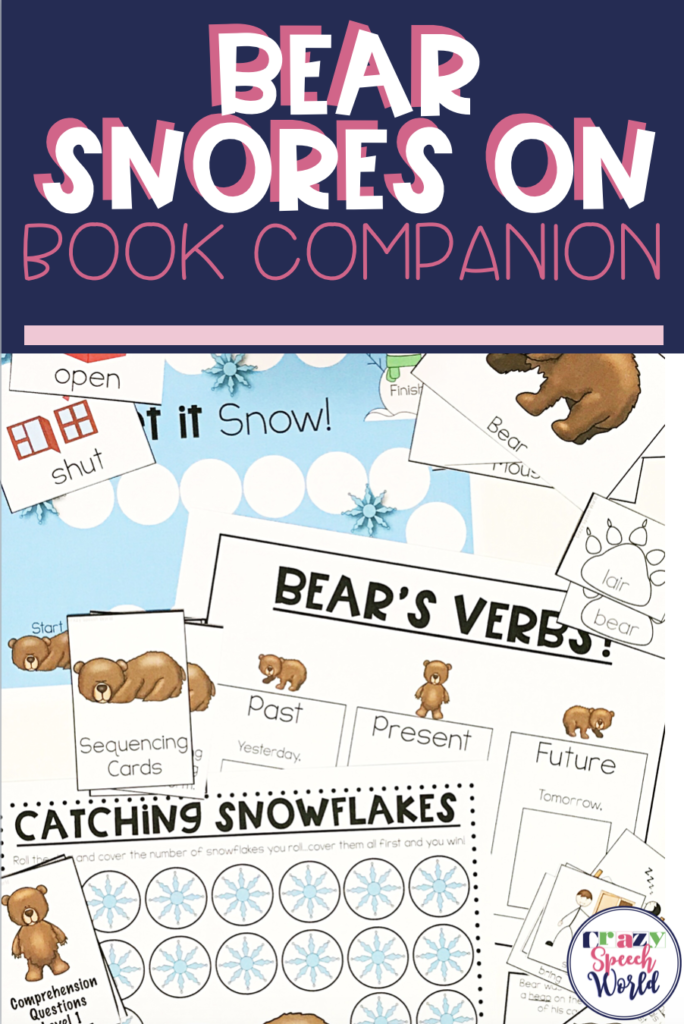 I added Bear Snores On to my library a couple of months ago…I'm not sure how I didn't already own it.  So you know whats next….a packet of awesome activities to go with it!  I did a book companion over winter break and added it to my TPT store, but am just now getting the chance to sit down and blog about it.  You should see my To DO list.  It's cray.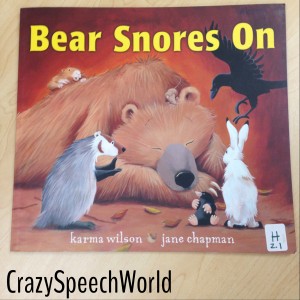 This packet is gonna look similar to the other Bear book companions I have done.  If it ain't broke…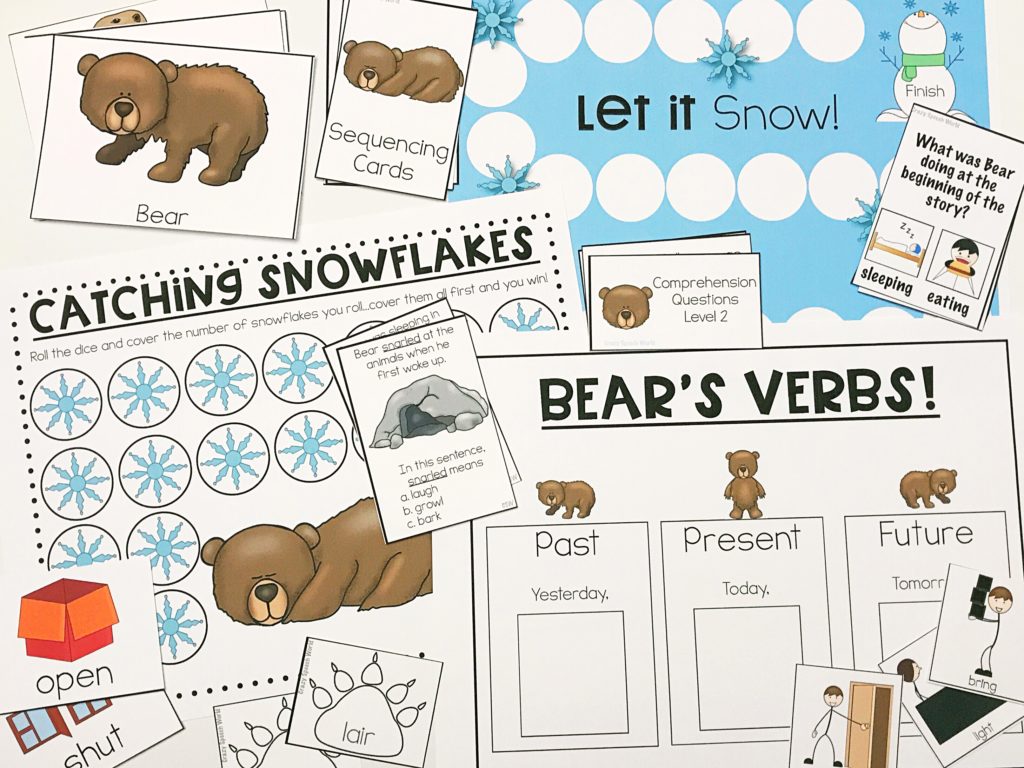 I did make the 9 character cards slightly bigger for this one.  You can use these for describing, compare/contrast, categorizing, retell, etc.
32 Rhyming Cards, plus blank cards so you and your students can come up with your own rhyming pairs!
19 Level 1 Comprehension Cards that include two answer choices paired with a picture, which is perfect for your lower level students.
23 Level 2 Comprehension Cards, plus blank cards.
11 cards to sequence the story with.  I love using this as a group activity and letting the kids work together to put them in the correct order.
8 Vocabulary Cards to target vocabulary from the story in sentences with multiple choice.  Sometimes I read these without giving the student the multiple choice options, just to make it a higher level activity and the student must  explain the word's meaning independently.  You can also have them make their own sentences with the word after completing the card.
18 Antonym Cards to practice opposites with vocabulary from the story.  You could do matching or Go Fish with these for some fun!
Verb Sorting Mat to target production of each verb from the story in the correct tense.  This is probably my favorite activity in the packet.  Always a good challenge!
I included 12 Regular Verbs and 12 Irregular Verbs to practice.
12 Act It Out vocabulary cards…there are some juicy words in this story that you can use to teach meaning by acting out.  This will be a new activity and I am looking forward to using it.  I plan to do something similar to charades.  I also included some blank cards here for additional words you might like to target.
Catching Snowflakes Roll & Cover…this is one of my favorite open ended activities that I can pair with the above target cards.  There is a color version, as well as a black and white.  You could also use it as a roll and color, the kids could just color in the circle with a crayon or marker instead of covering with a chip.
Open Ended Board Game.  Nothing fancy here.
WH Question Cube is fun for practicing asking questions!  You could also use it for answering story elements related to the question word.
The writing page is blank for you to come up with your own prompt.  There is space to write and draw.
 Character Comparison Venn Diagram.  I usually use this with character cards, but you can also use other elements from the story, like seasons, weather, feelings, etc.
Story Retell for your students to work on written narratives.
Story Map for identifying story elements.
That's all she wrote!  I hope you guys like it!
xo,