Amazon Affiliate Links included in this post.
I give my students homework every week.  Every.  Single.  Week.  I have had this frog stamp from Super Duper that I have been using since I started working 7 years ago that said "parent signature" and had a nice line for them to sign.  I need signatures so I know whether or not the kids are really doing their homework.  Well….the frog is tired.  Or I am tired of the frog.  Either way, I wanted something else because I find myself writing the words "Practice your <insert phoneme here> sound in each word/phrase/sentence 15 times" a million times a week.  Yes, I like to exaggerate.  I don't really write 15 times.  I'm not that mean.  Two or three or five…depending on how nice the monsters were to me that day.  Just kidding.  Kinda.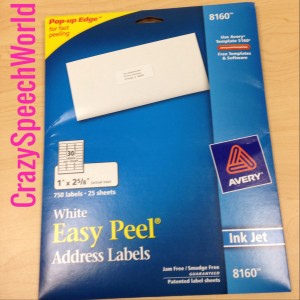 So I found these labels for super cheap at Staples (my secret obsession) and decided I was done with the writing!  Homework labels for everyone!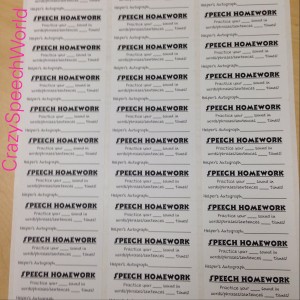 I played with it until I got it the way I wanted, and came up with this!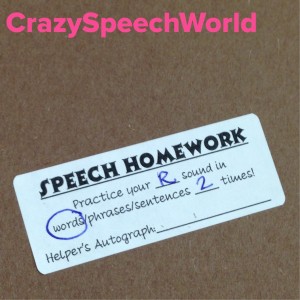 Can I just tell you how nice it is to pull one of these bad boys off the sheet and slap it on whatever they need to take home to practice?  It is life changing.  Seriously.
Want some for yourself?  Grab the template here!  Don't forget to leave me a comment if you grab them!