This post contains Amazon Affiliate links.
I knew after reading though the Superflex Curriculum from Social Thinking that I was eventually going to have to create this activity.  And it gave me a lot of anxiety.  Confession time…I hate jello.  Oh boy, do I hate it.  I can't stand the thought of that stuff.  So you ask me to buy some and create something with and, well…that gives me anxiety.
Confession number two…totally worth it.  Hindsight is 20/20.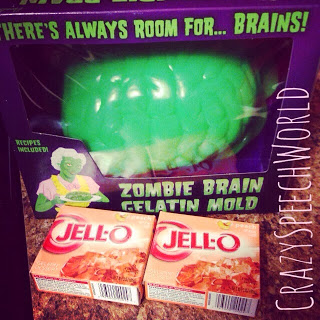 My adventure begins with this brain mold and two boxes of peach jello on the eve of our lesson.  The box has instructions for creating two different molds…one that is the most disgusting shade of gray so it looks like a dead brain and the other is a bright green, clear brain.  Ummmmmmmm.  No thanks.  I went with the directions for the gray brain WITHOUT the food coloring.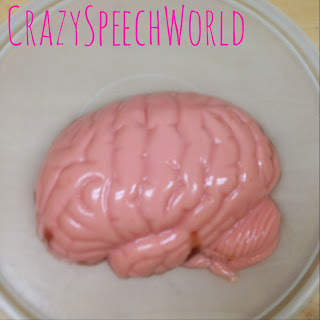 I created this lovely pink, very jiggly, brain.  I got lots of compliments on it's color.  I was pretty proud.  Grossed out, but proud.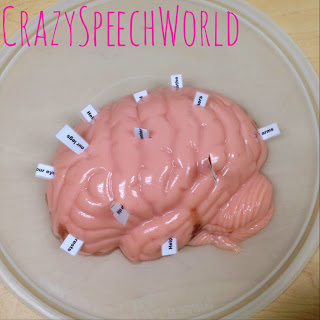 So the point of the lesson is to teach kids that our brain is responsible for lots of things, include being good social thinkers.  So I typed up lots of brain functions…things like "I raise my hand", "I think with my eyes",  and"I study for my test".  I did two sets of strips, one for my younger kids and one for my older.  I 'laminated' them with packing tape and stuck them in the brain.  P.S. if you didn't know you can 'laminate' small things with packing tape, now you know.  It's pure genius when you don't want to waste expensive laminating sheets.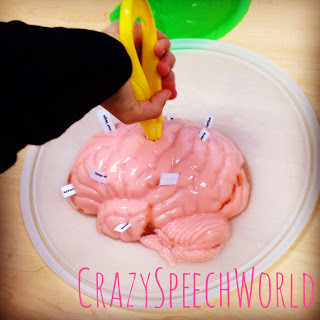 We talked a lot about the differences in the flexible jello brain and and hard brain mold.  All the kids thought it was SO cool and they took turns poking and wiggling the brain around.  I provided them with gloves, in case they wanted them.  Then they took turns using the tweezers (thank you Fruit Avalanche!) to pull the papers out.  Then we read them and talked about what kind of smarts each brain function used.
Overall, Superflex won me over with the jello.  He is pretty powerful 😉
Have you tried this lesson with your students?  What did they think?