I am late to the party, getting my planning done, but I have pushed through a couple of more products that I knew I wanted to do for this week's Superhero theme.  Luckily (or not luckily at all!) I have been sick, so my weekend plans included sitting on the couch…giving me plenty of time to work on these!  Happy to report, I am feeling MUCH better…just in time for school tomorrow 🙂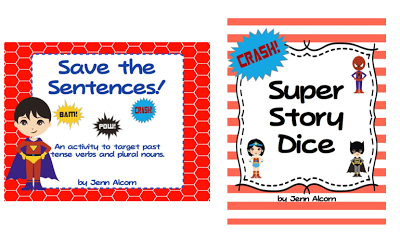 I have a TON of kids working on plurals and past tense verbs and another half ton of kids working on narratives, so I created these two downloads to target those skills!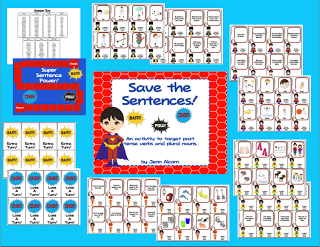 Up first…Save the Sentences!  These superheroes need some help with regular/irregular past tense verbs and regular/irregular plurals.  I have included two levels to target each skills…one for your non-readers with pictures and one for your readers with sentences.  Each card features a superhero (both male AND female) with a speech bubble containing the target.  I also wrote the target skill on each card, to make staying organized a little bit easier.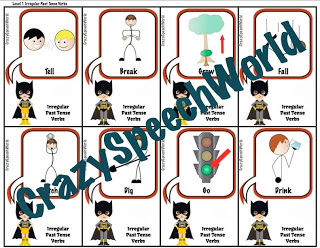 This is an example of the Level 1 cards targeting irregular past tense verbs.  I included the present tense of the word on the card…mostly just because I wanted to.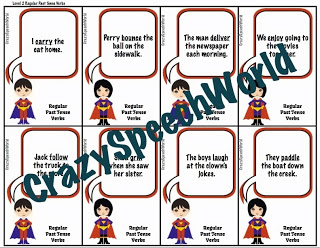 The Level 2 cards have a sentence with an underlined verb in the present tense and students will change it to past.  There are 16 cards for each skill, at each level.  So, 128 stimulus cards in total.  I also added 8 bonus cards, 8 penalty cards, a game board, and an answer key.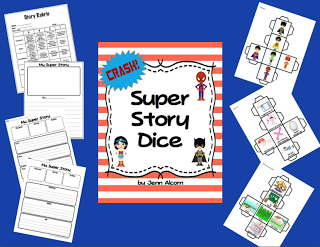 Next is Super Story Dice!  I'm so excited about this one, mostly because it will unleash the creative juices for my kids!  It includes 7 dice templates (2 character dice, 2 settings dice, 2 problems dice, & a blank), graphic organizers, writing page, and a rubric.  The dice are super easy to put together…just print, cut, fold, and glue!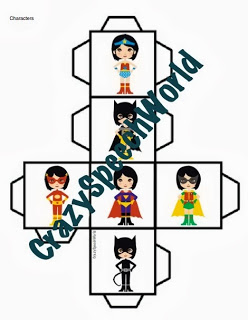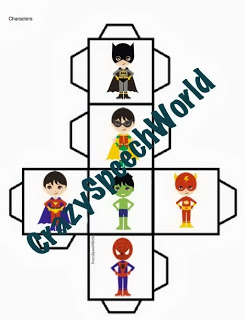 I made one dice with males and one with females…so everyone is happy 🙂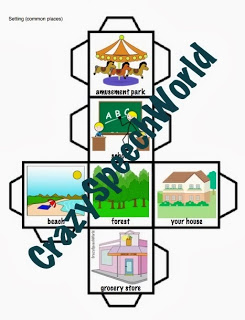 There are two settings dice, one is common places and the other is famous landmarks.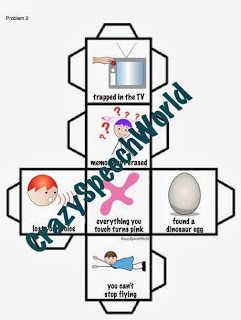 And two problems dice…some are typical problems and some a super silly!  To play, you will choose one of each kind of dice (character, setting, problem) and have your students roll them all to create their own original story.  You can do this as an oral language activity, or use it to target writing.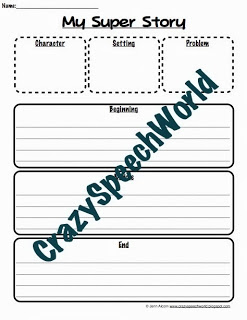 There are two graphic organizers to help students create their story, one focuses on beginning, middle, and end and the other on first, next, then, and last.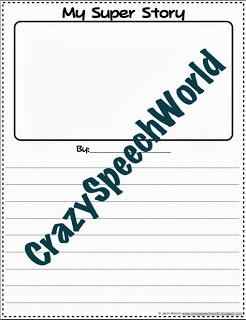 Then there is this writing page, which also has a picture box for students to draw their ideas!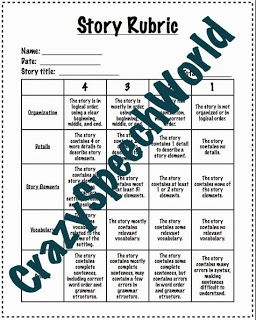 And finally, I included a rubric so that you can take data on your students story telling skills!  You can use this to establish a baseline and progress monitor!
WHEW!  What a weekend.  I hope you guys like these new activities!  You can find them in my TPT store:
Superhero Sentences:  Past Tense & Plurals

Superhero Storytelling!

Feeling lucky?  Leave me a comment that includes your email and I will pick two people to win one of these products tomorrow (9/3/13).