Slow and steady wins the race.  Right?!  I know a few of you have been waiting for these, so I am happy to get them done!
In case you haven't seen my other posts for the K-5 and 6-8 versions, I've created these to help determine current levels of functioning as it relates to the Speaking & Listening Common Core Standards.  These are also very helpful to determine educational impact of a communication disorder.  You can fill them out yourself, have general education and special education teachers complete them, or even have students rate their own skills!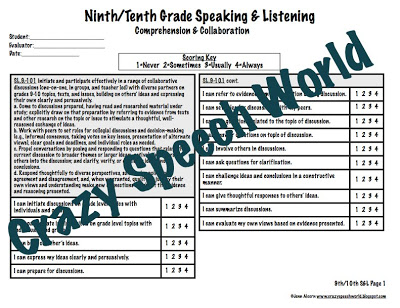 Each standard is broken down by "I can"statements, which will be rated on a scale from 1 to 4. All skills are easily observable in the classroom setting and a scoring key is provided on each page. Ratings for each skill are added and divided by the total to yield an overall score, the goal being 75%. This goal was established based on a rating of at least '3' for each skill in the standard, which would indicate the student is demonstrating the skill most of the time.  These are a little different from the K-5 and 6-8 in that the standards for high school are combined for 9/10 and 11/12.   There are three pages of the ratings for each.  I also added an example of a completed rating scale that you can use for reference.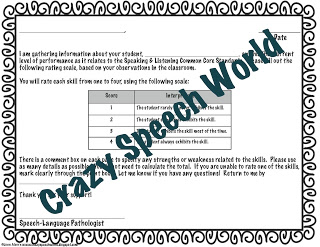 There is a letter template that you can use to attach to the standards when giving them to teachers.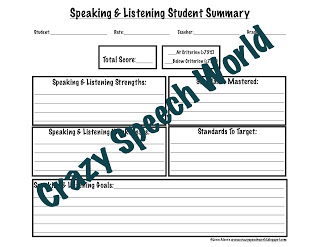 As well as a student summary form to summarize all of the information gathered from the ratings.
You can find this in my TPT Store!