I love when I get to try new stuff for you guys!  Michelle from SpeechPages.com asked me to take a look at some of their products and I was excited…I had never used any of it before!  She sent me three of different products to share with you all!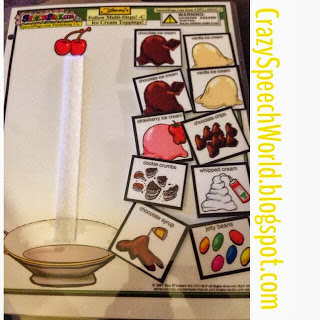 The first set is Language Listening to Multi Steps, which comes with 4 different boards:  Ice Cream (above), Burger, Sandwich, and Salad.  Each page has a strip of velcro to build your meal, plus tons of toppings to add.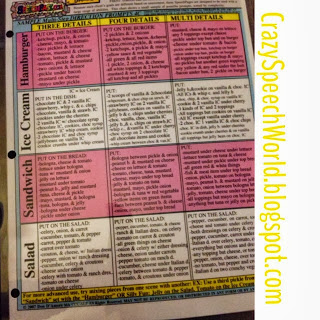 The set also comes with a page of sample directions to give for 3, 4, and multi details.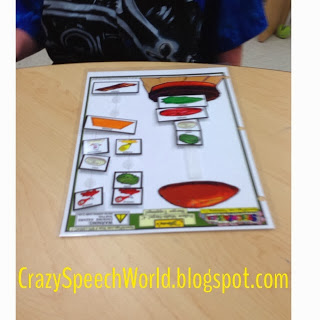 To play, I gave each of my kiddos a page and we talked about all the vocab on each of their pages and then we played restaurant!  I gave them an order I wanted and they had to create it by adding the toppings to the velcro strip.  They had so much fun!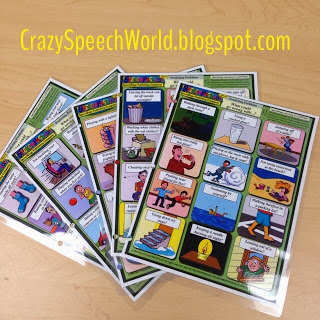 The next set I got was Life Skills Predicting Problems, which includes six pages of 12 situational prompts paired with pictures.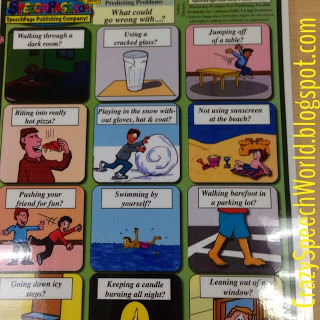 I was able to use these for both artic carryover and language groups.  They were good conversation starters to discussing real life situations that students may encounter, as well as for targeting problem solving skills.  While I did pair this with a game for reinforcement, I do wish there was a more active component to this activity so that it could be used on it's own.  For one group I used the top three for examples/teaching targets, and then we covered those up and used the 9 left to play tic-tac-toe.  Also, I'd like it if the cards could be separated.  Many of my students had trouble focusing on just one square, the other pictures were visually distracting.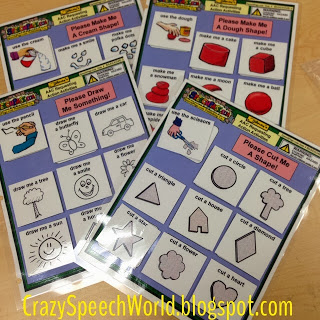 The last set I got was AAC Ask For Outcomes, which includes 4 boards with velcro cards and a page of possible suggestions for use.  The activities include play doh, shaving cream, scissor skills, and drawing.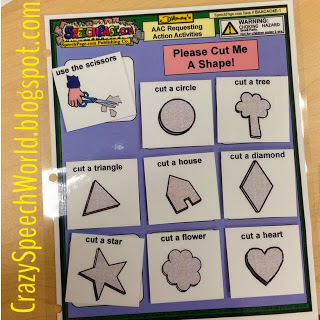 You could use this to work on requesting via picture exchange or pointing.  You could also pair these with a student's AAC device to work on various communication goals.  I do not have any kids on my caseload that I could use these with as intended, but I was able to use the drawing and play doh set as a independent following directions task for some of my littles.  I even thought about how I could use the scissor set for following directions and maybe a barrier game once all of the shapes were cut.  I didn't get a chance to try that yet, though!
All pages for each set are laminated, three hole punched, and come in a clear, plastic zip bag for storage.
 Have you ever used any Speech Pages products before?  What do you think?