I love finding unique ways to work on the same old skills….and this product is definitely one of those!  The author of Silly Sets:  Minimal Pairs for Maximum Progress, Kim Patterson, contacted me to review this set for you guys AND give one away to reader!  I am so excited!  Let's check it out…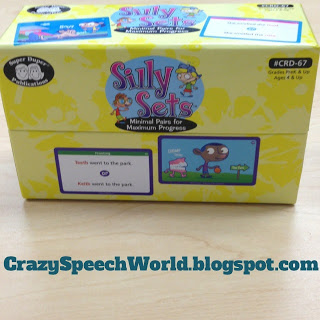 The cards come in a box, similar to other Super Duper products.  It is designed for PreK and up to target 4 phonological processes:  Final consonant deletion, cluster reduction, stopping, and fronting.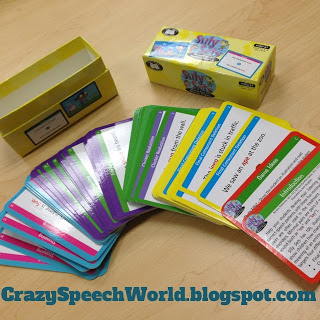 There are 100 cards included, color coded by target.  Each card is 3×5 and laminated.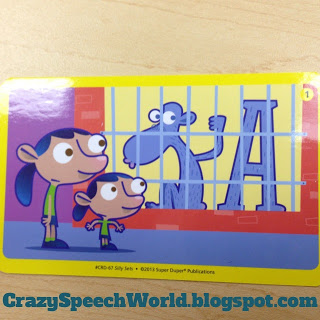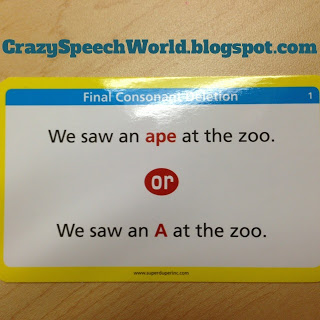 One side of the card has a picture and the other side has two sentences, one of which is silly.  The picture depicts BOTH sentences, so they are pretty funny.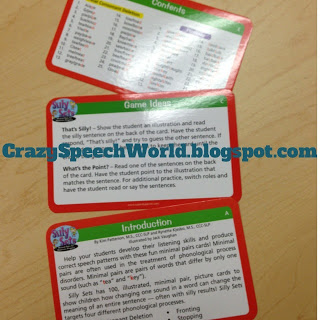 The box also includes cards with an introduction, contents, and game ideas.
So how did I use it?  Well, I'll tell ya…
I showed the picture to each student and had them point to the part of the picture that matched what I said.  I was able to do that for each sentence on the card.  
I showed the picture to each student and they had to figure out what the minimal pair was….this was a challenge, but turned out to be a great activity!  I also had them come up with their own sentences, then I shared the sentences that were actually on the card.
I read the sentences and had the students draw their own pictures to depict them…then we compared them to what was on the card.
We discussed what was silly on the pictures and why.
After discussing a card, the students made up their own silly sentences with the minimal pair targeted.  
I really love these!  They were great for targeting listening AND production, plus the pictures really got the kids talking…which equaled TONS of practice.  It was really awesome!  I would definitely love to see more cards and more processes targeted.  

You can find the Silly Sets from Super Duper for $21.95 (at the time of this post).

Interested in your own copy???  Kim is so kind to offer one to a reader!  Enter below via the Rafflecopter and GOOD LUCK 🙂

a Rafflecopter giveaway