I have had a rough week.  Rough.  For example, I broke a vase at Target today, which by the way, is very embarrassing.  Then came home and made my very last K-cup of iced green tea and spilled the ENTIRE cup out on the counter.  Where I my purse was.  Sigh.  Nothing seems to quite be going my way…however….I FINISHED THIS: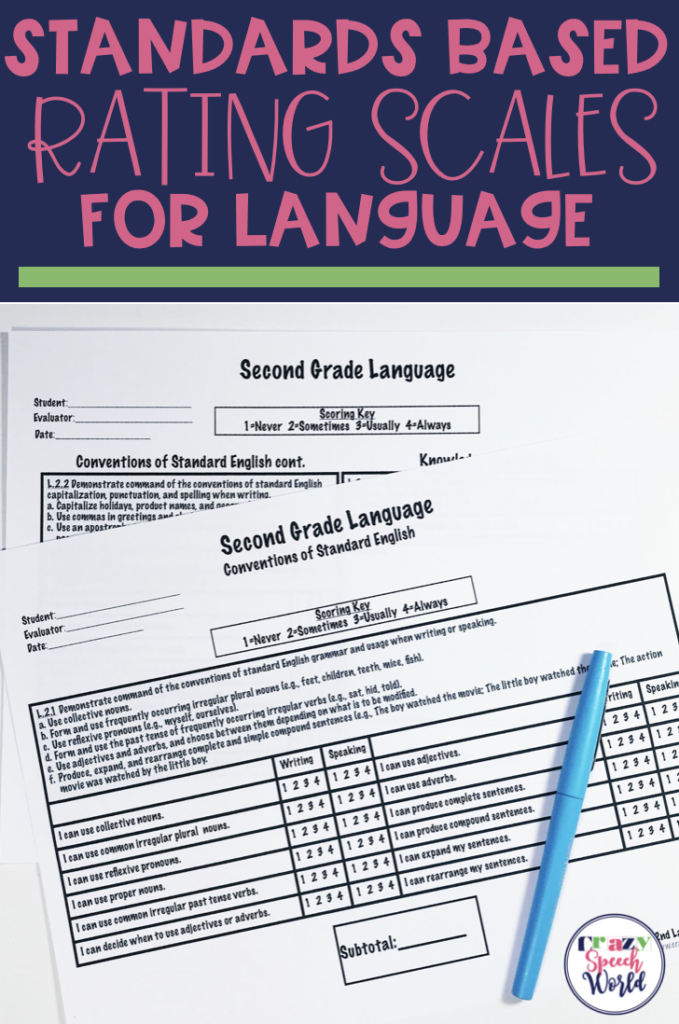 WOOHOO!  I have had several emails about you guys wanting these and I have finally managed to focus for long enough to get them done.  These were more of a challenge than the Speaking & Listening Rating Scales, as the writing component of the Language standards threw a wrench in the system.  But I figured it out with lots of trial and error.  And error.  🙂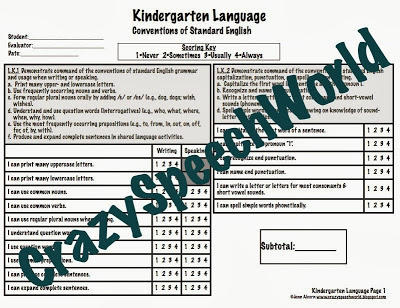 So for L.1, the standard reads for writing AND speaking.  I really wanted to make sure to separate out the writing from speaking, since those skills can vary quite a bit, so I was able to create two columns for rating…one for writing and one for speaking.  L.2 is strictly a writing strand, so if you are not looking at those skills, you can simply cross that box out and skip it…you just won't add those into your total score.  L.3 doesn't exist until 2nd grade…that standard is just skipped in K-1 standards.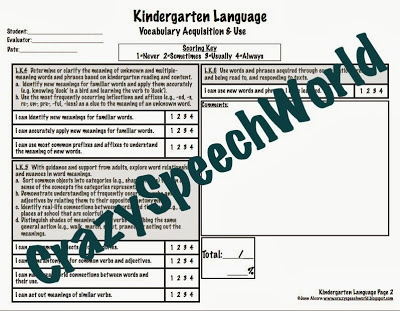 The rest of the ratings look very similar to the Speaking & Listening version.  Each standard is broken down by "I can"statements, which will be rated on a scale from 1 to 4. All skills are easily observable in the classroom setting and a scoring key is provided on each page. Ratings for each skill are added and divided by the total to yield an overall score, the goal being 75%. This goal was established based on a rating of at least '3' for each skill in the standard, which would indicate the student is demonstrating the skill most of the time.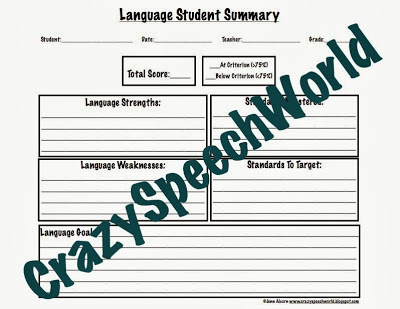 The summary form is great for giving an overall snapshot of the data collected in the ratings completed.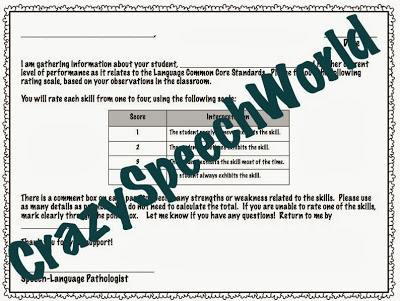 Last is the teacher template letter that you can use to accompany the scales when giving them to teachers to complete.
I have found the Speaking & Listening Scales really useful for gathering data about new students referred to me, as well as for determining present levels for my current students before IEP meetings, so I am super excited to add the Language Scales to my toolbox!   It is great information and I feel like I really know how my students are doing as related to the standards…and that's always impressive!
You can hop over to TPT and find the Common Core Language Rating Scales.