So there is one thing I really miss when I am not working.  No, not IEPs.  Ick.  I miss construction paper and glue and crayons…craftivities!  I am going through serious withdrawal!  Lucky for me, Jacqueline found a WONDERFUL idea for an emotions craft…which was one that even stumped me.  So excited about this post…check it out…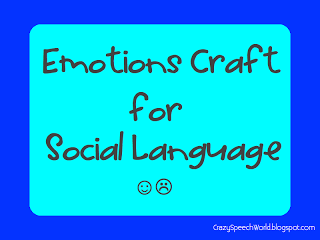 This summer I have been staying busy with work. Although I work in the schools during the school year, I've had a pretty full schedule this summer. I work for a private clinic in central Ohio called Flourish Integrated Therapy as well and have had the pleasure of doing three, yes three, social skills groups. I run the groups with an amazing music teacher. We have a 2-3 year old group, a strong music focus, a 4-6 year old group with a phonemic awareness focus, and a 7-9 year old group. All back to back! I am enjoying them so much. 
In our 7-11 age group we have been focusing on asking/answering questions directly, using appropriate eye contact and body positioning, and interpreting and understanding emotions.  For one of the sessions, we really wanted to focus on facial expressions and feeling words. As you know, interpreting facial expressions can be a difficult skill to learn. I wanted the kids to do something hands on and creative. First I got on the Crazy Speech World blog because she has so many creative craftivities. Unfortunately, she didn't have one that matched my vision. So of course I went to Pinterest. I typed in "feelings crafts" and found this fantastic inspiration. 
I immediately went to the store with my fellow SLP friend, Angela, who is also running a 10-13 age social skills group at the same clinic with our other SLP bud, Megan. Angela and I couldn't wait to make samples for the craft. Here are our creations. Can you guess the emotions? 
Construction paper
Straws
Scissors
Glue 
During the session, we started off by showing the kids our models. We talked about how the one that looks "surprised" has wide eyes and an open mouth. We talked about how "angry" has deep angled eyebrows, etc. The kids pleasantly surprised us with how many great emotion words they came up with. Next, we went around the room and gave each kid a scenario that would elicit a specific emotion. For example, "You are watching your favorite TV show. Your little brother comes in and changes the channel. How do you feel?" We did this for two reasons: 1) to help the kids think about many different emotion words for ideas for their craft and 2) to think about what causes different emotions. After this activity we got to crafting! We also put out pictures of various emotions on the tables so the kids could look at the different facial expressions.
It was a huge, fun mess!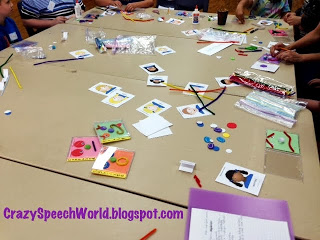 They did such a great job! Check out their work: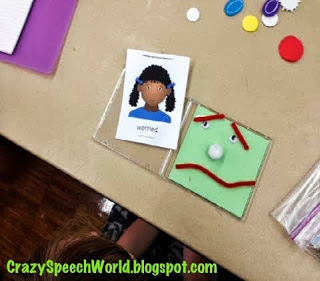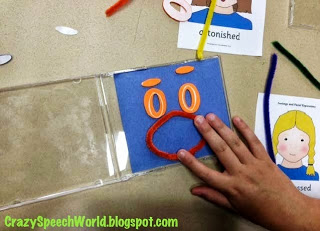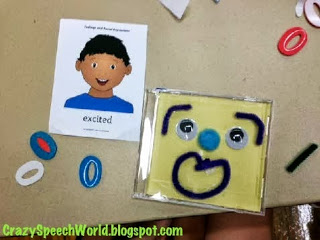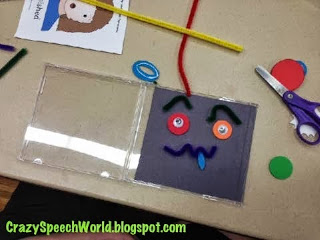 The kids seemed to really enjoy it!! I will most definitely be doing this craft in my social skills groups at school during the 2013-2014 school year! 
Jacqueline Whitney M.A., CCC-SLP
Columbus, OH