Hey friends!  Happy Saturday!  Can you believe that this is my LAST weekend of summer vacay?  Agh.  I can't believe how fast it went by.  I am in full 'back to school' mindset at this point and have seemed to shaken off my summer brain.  Funny how that comes and goes 😉  Anyways….last month I shared my Common Core Rating Scales for K-5 and now I am happy to share the 6-8 version!!!!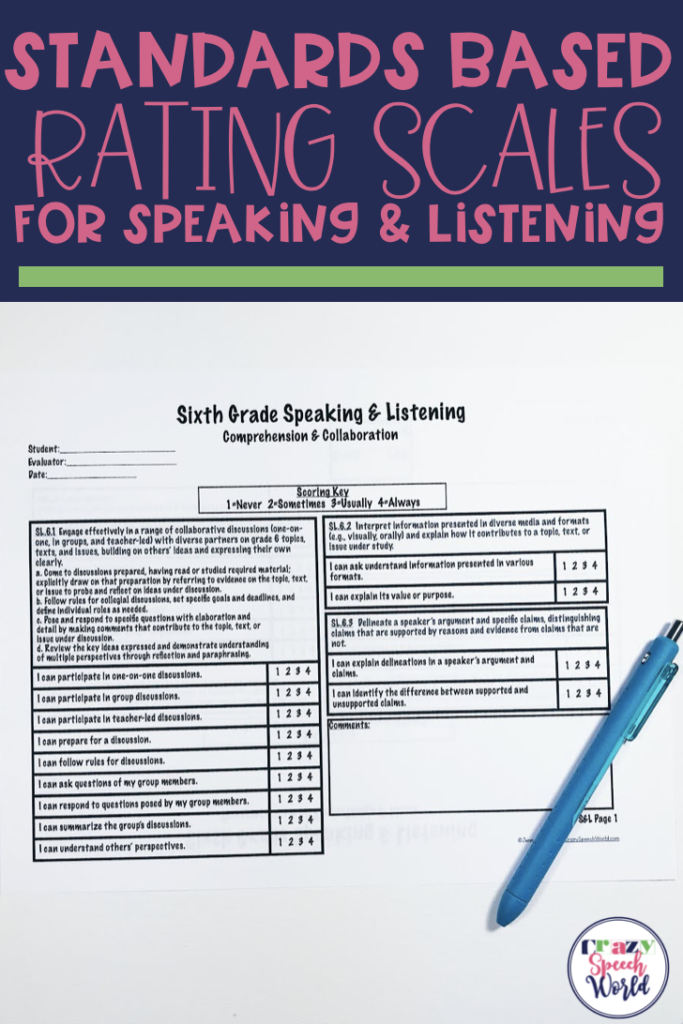 I'm excited for the 6-8 for many reasons… not only for getting input from teachers, but I think this will be a wonderful tool for the students to rate themselves on each skill and gain a better understanding of their own communication skills.  After looking it over, my SLP buddy Natalie Snyders had this to say about it:
I LOVE it.  Seriously.  This is perfect for school-based SLPs, and it really helps put what SLPs are looking for in teacher-friendly language, plus it gives you a way to measure a student's progress over time without having to rely solely on standardized tests.
This was so great to hear, since that was EXACTLY what I was aiming for!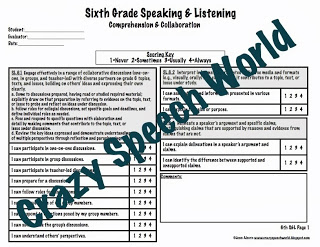 Each standard is broken down by "I can"statements, which will be rated on a scale from 1 to 4. All skills are easily observable in the classroom setting and a scoring key is provided on each page. Ratings for each skill are added and divided by the total to yield an overall score, the goal being 75%. This goal was established based on a rating of at least '3' for each skill in the standard, which would indicate the student is demonstrating the skill most of the time.  There are two pages for each grade level.  I also added an example of a completed rating scale that you can use for reference.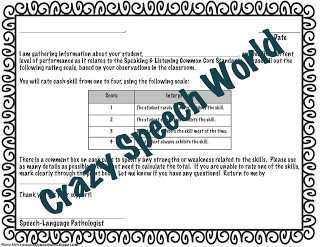 I also included a teacher letter template, which you can use to give to teachers with the ratings forms.  It is a good reference for directions, as well as a reminder about when to return it to you.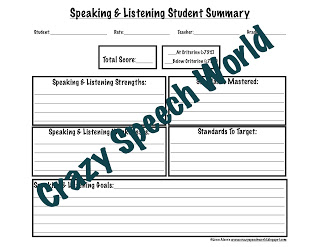 Last, is a student summary page to summarize all of the information gathered on the ratings scales.  This is great for IEP meetings, conferences, and RtI team meetings.
This packet is perfect for the start of a new school year to help determine baselines for your students, documenting educational impact for potential new students to your caseload, and progress monitoring.
Plus…how impressed your school staff and administration be with your use of Common Core as it relates to SLP?!?!?  Brownie points!
You can find this in my TPT Store!
P.S.  Here are the Elementary and High School versions if you need them 🙂