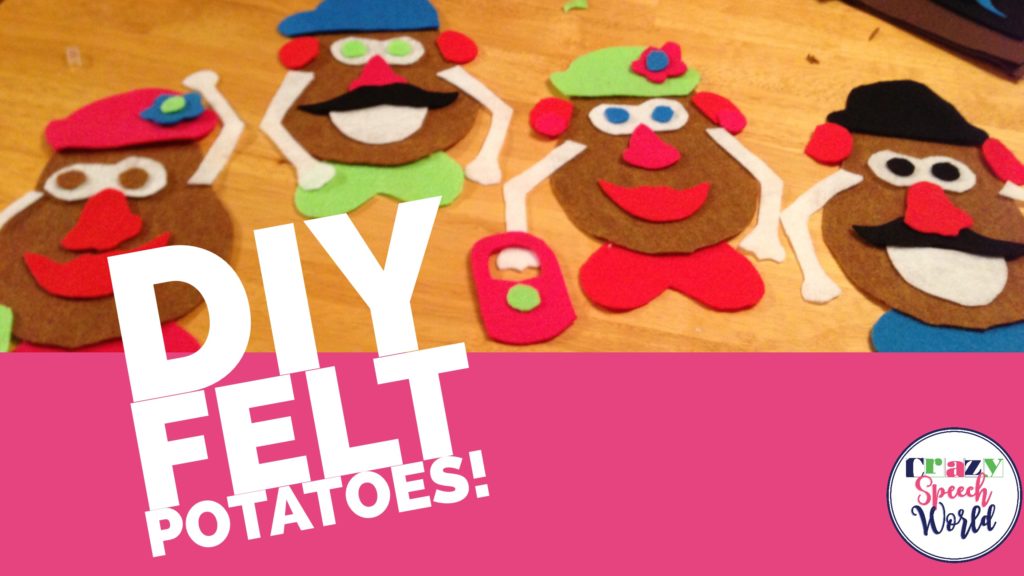 I discovered felt in grad school…I was doing a practicum at this great preschool program where the SLP did circle time every day and she used a lot of felt boards, which created some really awesome language opportunities.  You can easily find ready made felt characters from various vendors, but I was perusing my Pinterest boards and discovered a pin that I was excited to get working on…Potato People!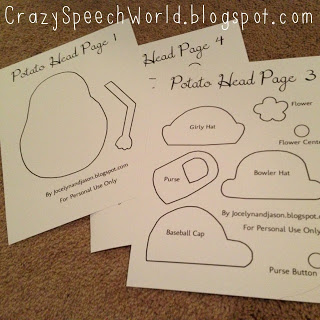 I found these awesome patterns from Sunshine, Lollipops, and Rainbows to make "Quiet books".  I don't sew, but I knew just cutting them out would serve my purpose.  Jocelyn offers a ton of patterns for different books…but I settled quickly on my favorite spud for my first felt project 🙂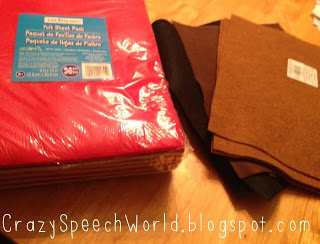 I went to Michael's and got tons of felt…that stuff is cheap!  I got all this for less than $7…I used a 40% off coupon for the big pack.  It was WAY more than enough to complete this project, I can probably do every one from Jocelyn's templates!  This is a great way to get some cheap therapy materials!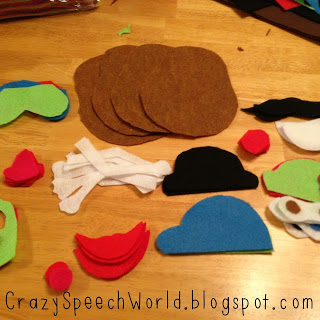 Then I got to cutting!  I cut about four of each different pattern, with some color and size variety, on purpose.  The instructions indicate that you need two of each piece to sew together, but if you are like me and don't sew, I just skipped that step.
How cute are these guys????  I can't wait to take these back to school for my little friends to play with.  We can target so many language concepts…temporal concepts, size/color concepts, body parts, labeling, functions, following directions, turn taking, prepositions, pronouns, the list goes on and on!  You could even use for artic or fluency by letting students 'earn' a piece of their potato after producing a target skill.  I really think these will be multi-functional for me, which is the BEST kind of therapy material!
I think I will keep going with my felt projects…next up…cars!
Do you ever use felt in your therapy room?  What other ideas do you have?
SaveSave