Ok, seriously, Katie over at Playing with Words 365 couldn't be more of an inspiration.  She is a mommy to her kids (who are super cute!), an SLP, an advocate for Juvenile Arthritis, and just happens to also be an amazing blogger.  Her blog is FULL of great information and I am always feeling like I learn from her.  I am SO excited to have her on CSW to share with you!
First of all, I have to thank Jenn for having me here. When she asked me be a part of her blog anniversary, I was seriously thrilled. There are a LOT of SLP bloggers out there now a days, and I can honestly say that Jenn is one of my favorites and I have loved getting to "know" her over this last year with you all! If you don't know me, I am Katie and I blog over at playing with words 365. I started my blog with the intention of providing parents and other professionals information about speech and language development and disorders as well as tips and ideas on how to work with children with delays. Over the last 1.5 years that I have been blogging, my blog has morphed a bit into a place that really brings together people of all backgrounds in the same of speech and language development. Today, I am going to write something a little different then I usually do on my own blog. In case you don't know me, I recently made the decision to resign from the schools and work privately. Because I am always getting asked, I am going to share with you all the pros and cons of working for myself, and why I did it.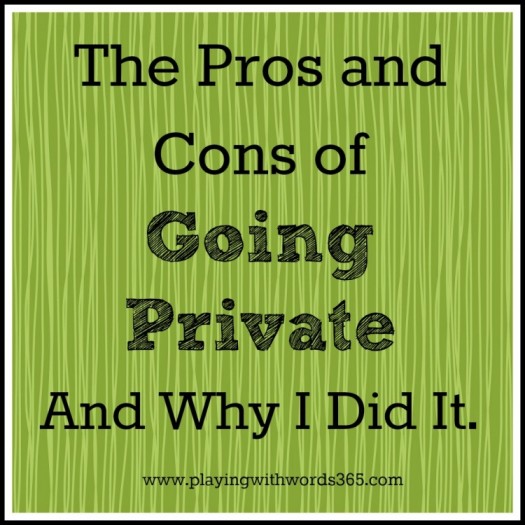 Going Private was Always my Plan
I have been working as a speech language pathologist for 8 years, mostly in the schools. But when I graduated, I knew that I would one day work for myself. Which is why, year after year I stocked up on materials using my own money, so that I would have a good "stock" when I decided to go private. I never really had a plan as to when I would go private….I thought maybe when my kids were all in school. But you know how life doesn't exactly work out as you plan right? When I was 9 months pregnant with my son (I am talking like days before my due date) my daughter, then two, was diagnosed with an autoimmune disease that was attacking her joints. She was having a very hard time walking and had inflammation in a knee and some fingers. At the time, I was on maternity leave from my part time (40%) position at a school district. Suddenly, my daughter needed procedures and therapies and blood work and doctors appointments. My district allowed for staff to take an additional year of "child rearing leave" while saving your position, so I took that next year off to focus on my daughter and my new son. When the time came to decide if I was going to go back, my husband encouraged me to just work for myself. I decided if my district couldn't give me the position I wanted (preschool) I would resign. And sure enough, the preschool numbers were not high enough to need me. I'd be at a new elementary school. So, I thanked them for the time I was there and resigned. And was on my own.
Why I Wanted to go Private
There are a few reasons I wanted to work privately:
I felt it would allow me to be home the most with my family
Job flexibility….again to go along with being home with my family
A less stressful work environment
Less paperwork, more actual THERAPY and helping children and families (30-40+% of my job in the schools was paperwork and meetings)
Ability to connect with families and really have the time to educate them so they can best help their child
The Pros of Going Private
I've been working for myself now for almost as long as I've been blogging, 1.5 years. I currently only work 1 day a week and have kept my caseload very small.
I LOVE IT!!
There are SO many pros to working privately. Here are some:
You are your own boss. You don't have to "report" to anyone else, except yourself.
Job flexibility. You make your schedule. You work when you want, and take off when you want.
You don't have to deal with some of the red tape that comes from working in the schools. You don't have to PROVE to some nameless face that a child needs therapy the way I know some SLPs have to do in the schools. I was very fortunate enough to work for EXCELLENT districts where I never had to do this, but I know this can be an issue for many SLPs. Though the educational model and the private model ARE different, it is nice to know I don't have to justify my professional judgement.
The money you earn is 100% yours (except of course, taxes and such).
You can make more money privately (*can* but not always when you include benefits and retirement).
You are able to make some amazing connections when you work directly with families. I feel like my clients make great progress because of the simple fact that the family has me all to themselves for so-many-minutes a week and I can really focus on parent involvement/training which REALLY helps with carryover and progress. If you read my blog, you know how passionate I am about parent education. It was a lot harder (though not impossible) to to when I was in the schools.
The Cons of Going Private
As much as I LOVE being a private SLP now, I can't sit here and pretend that there are no cons. There are. No job is "perfect" just maybe perfect for that individual. Here are some cons:
You are your own boss. Yup…this is a pro AND a con. You have to be responsible enough to keep yourself on track. You are in charge of billing, collecting money, and providing receipts. You are responsible for paying your own taxes and social security. It is ALL you and that can be stressful.
There is a start up cost. Even if you are like me and have a lot of materials, I doubt you have all the assessments that you were using in your last job. And those assessments are expensive. I shelled out quite a bit in the beginning on assessments and then added as I went. (And this is where, having a speciality is a good thing…if you are the SLP who will see adults AND children with ALL speech issues, you will need a LOT of assessments! Being only pediatric allows me to stay focussed on the little ones and keeps my costs down as opposed to seeing adults as well).
There is still paperwork when you are private (though to me it beats IEPs!!). Don't think going private means you no longer have paperwork. You still need to document and provide receipts/statements and write reports. But you won't have to deal with IEPs!
You don't have colleagues to bounce ideas off of in person. It can get a little lonely. BUT….I am part of several wonderful online groups for SLPs (including some just for private SLPs) and this is a GREAT way to get ideas and brainstorm. I also keep in touch with SLPs I have worked with in the past.
You don't have benefits or retirement. Now…when I was in the schools, I had a GREAT benefits plan at one district, but TERRIBLE ones in another…so even in the schools you aren't guaranteed great benefits. BUT, you are given decent retirement. That said, you can invest your income into retirement accounts and still have a great nest egg when you retire…it is just a different way of doing things.
No paid sick days. If you are sick, you don't get paid.
It isn't always a steady income. I think this one can be the scariest part of working for yourself, regardless of your profession. If a client cancels, you don't get paid. When a client graduates….you stop getting paid (unless you have a waiting list).
Why it Works for Me and My Family
Going private simply isn't the best decision for everyone. You may have noticed there were actually more cons listed above, but for me, the cons were weighted much less in importance than the pros. But the level of weight YOU put on a pro or con will be different from me, and different from the next SLP. We all live different lives with different needs and priorities. For me, the connection I have with my clients and their families far surpasses any of the cons.
Will I Do it Forever?
I have to say, that I cannot imagine not working privately at least part time in the future. At the same time, there ARE things I miss about the schools. Someday, I think I can see myself doing a little of both. But for now, it works for me. So that, in a nutshell, is a little about why I went private and the pros and cons I have found with my experience working private vs. in the schools. Have YOU thought about going private? Why or why not? 

  Katie is a a mom to two little ones, E (4.5) and Ev (2.5) and a licensed and credentialed pediatric speech-language pathologist (when she finds the time). She blogs over at Playing With Words 365, sharing information about speech and language development, intervention strategies, therapy ideas and tips, and shares a little about her family and their life too. You can follow along on Facebook or Pinterest for more speech and language ideas and tips.