I am so excited to share this post from Miss Speechie of Speech Time Fun with you guys!  I have been following this girl for a long time and I love her blog…she is always so enthusiastic and full of great ideas for therapy!  This is an intervention strategy that I use in my room and have had great success with, PLUS, she has a freebie for you!  
Answering Questions With POQ
Have you heard of POQ?  It stands for "part of question."  I teach my speech and language students to always use POQ when writing or verbally answering questions.


Benefits of POQ:
Expands utterances of responses
Helps students heard wording from questions again
Way of checking for clarification
Gives students time to process without forgetting the question asked
Gives students a natural prompt
How do I teach it?  I use index cards for readers and picture symbols for non-readers.  I make visuals with the questions and answers.  I color code to show which part remains and which parts is only the question or only the answer.  Look below at the picture of my index cards.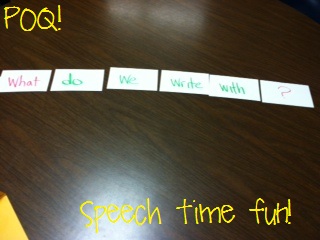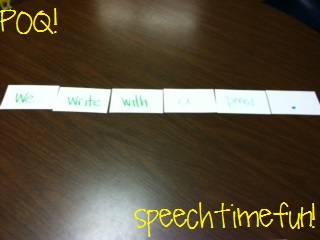 Here is an example of how I taught my 5 year old student to cover up part of the question to prompt himself to give the answer with an entire sentence using my McDonalds French Fries Drilling Activity:


Now it is time to practice!  Grab any wh- question game or activity and you are ready to practice using POQ!  Working on written expression?  I like to start with pictures with questions to write answers using POQ.  See below one example of these worksheets.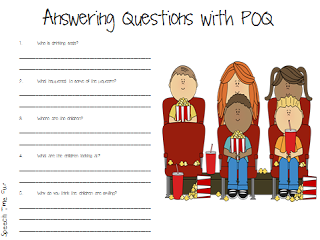 You can access this freebie worksheet I used by clicking HERE!
Do you use POQ?  How do you teach it?  What impact has it made in your therapy rooms?!

Miss Speechie, M.S. CCC-SLP is a licensed Speech-Language Pathologist and author of the blog Speech Time Fun.  She currently works with elementary students and private clients in a home care setting.  Find her on Facebook, Twitter, Pinterest, and TeacherspayTeachers.