Ok, I'm going in a different direction for this post, so get ready!  This topic is SO very important, and it continues to be something that myself and fellow bloggers are faced with.  Please stick with me through this one because it is CRUCIAL for you to understand this stuff, just as I am having to learn it all myself!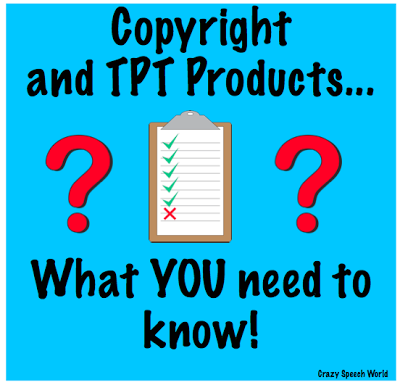 What is copyright?
Copyright laws go way back and are in place to protect intellectual property of authors.  That can be me, you, or anyone else who can create a piece of work of their own idea.  Work is copyrighted from the moment it is created!  

Why is copyright important to me?
I work really hard.  It is a lot of time and energy to create the materials that I make.  The thought that someone could steal my ideas or share them without giving proper credit, really hurts me.  Everything that I have written and/or created on this blog or in my TPT store is my intellectual property (unless otherwise stated) and I own the copyright to it.  I go through the process of securing my documents to protect my work, but I can only do so much.  

Why is copyright important to you?
Plain and simple?  It's the law.  Violating someone's copyright is illegal.

What is a violation?
Copying, sharing, claiming someone else's work as your own to name a few.  You can have special permission to share or use someone's work, but it must be expressed directly from the author.  Let's take an example of something that you purchased from my store.  You bought it, you love it, and your co-worker says "I'd love to have that!".  You CAN direct her to my store to purchase a copy herself.  You CAN NOT print a copy it for her or send her the file.  You also cannot copy text and/or images from my products to put into a new document to 'tweak' them.  Each of my files says this statement:  

"This product is for individual use only.  You may not copy, share, or resell."


To violate this, would be copyright infringement, which again, is illegal.  When you buy something, it doesn't give you the rights to the product.  It only gives you the ability to use it.  TPT has a wonderful multiple user license you can purchase if you have the intentions of sharing.  The same way that you wouldn't copy a book from Super Duper and give it to someone.  You would say "I got it from Super Duper, go order one, I love it!"  

Why in the world is Jenn lecturing us on copyright?
I'm not lecturing, am I??? 🙂  But this is serious.  I was recently asked why my products are password protected.  It came to my attention that many people may not exactly understand the terms of use when it comes to TPT products.  That my work and the work of my bloggy buddies is protected the exact same way that any major company is protected.  I do password protect my work from editing and copying as a way to secure the document.  I also must do that to comply with the terms of use for most of the clipart I put in my materials.  It is only password protected to keep someone from editing or copying.  That is all. 

How can I learn more?
Copyright is rocky terrain.  It can be very confusing and I am still learning.  Here is more information on copyright that you might be interested in reading:
My friend Katie, over at Playing With Words 365, has done a great blog post about blog content that you can check out HERE. 
AND Katie did another post on all the work that goes into blogging that you can read HERE.
The U.S. Copyright Office has it's own website you can read HERE.
The bottom line is, please don't.  Please don't share, copy, resell, or change my work… or any other person's work.  Would you want that done to you?  

If you have a question, ask!  I am always happy to answer a question you might have regarding this stuff.  

I would love to hear your thoughts on this…please share your comments with me!