This post contains Amazon Affiliate links.
A couple of days ago I posted a question to my Facebook page about your favorite therapy games…and I got a TON of great responses.  I have ordered quite a few and am excited to get them!  But I did notice that one of MY favorites wasn't mentioned much…and so of course I feel inclined to share with you guys a super awesome language game that I love…BLURT!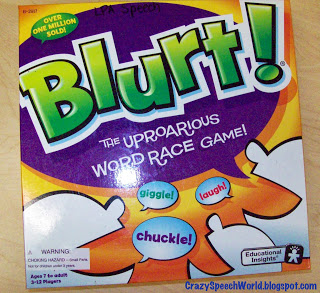 Blurt! is a board game that is for ages 7 and up, and you can play with 3 to 12 players (if you use teams, 6 if playing individually).  The general premise of the game is to identify words by definition…hello vocabulary and word recall!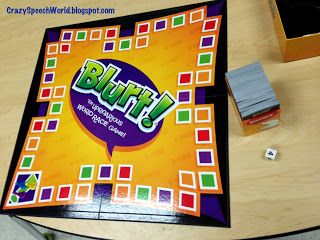 All players take turns rolling the dice, and the dealer reads a clue that corresponds with the number rolled.  The first person to answer with the correct word first, gets to move the number on the dice.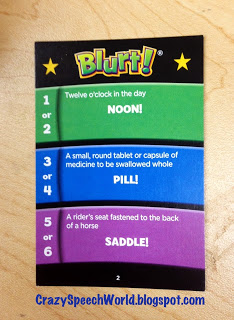 The clue cards have two sides.  I usually always use the green, blue, purple side for my kids (it's easier).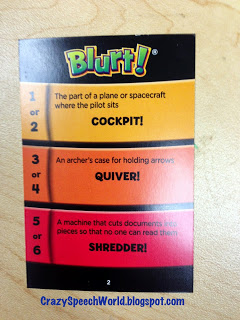 But there are more challenging words on the other side!
This game is fabulous for building vocabulary skills and word retrieval, but I also use if for artic and fluency carryover.  They can take turns being the clue giver, and for some I read all the clues.  It just depends on your group and what you need to target.  My kids love it!  They get so into it!
Check it out over at Amazon…
Do you even use Blurt!?  I would love to hear what you think about it!
P.S. Make sure to follow me on Facebook so you can keep up with these great threads!  I got some awesome suggestions!  You can 'like' me to get all the updates by clicking HERE 🙂