I've been knocking things off my to-do list like crazy this week!  We ended up having a really nice staycation for spring break instead of a vacation…wasn't what we planned, but it worked out great!  I have gotten so many things accomplished and have managed to fit it some fun too 🙂  One of the projects I have had was something to target emotions…I have a few little guys who are working on this and I am sure some of you do too!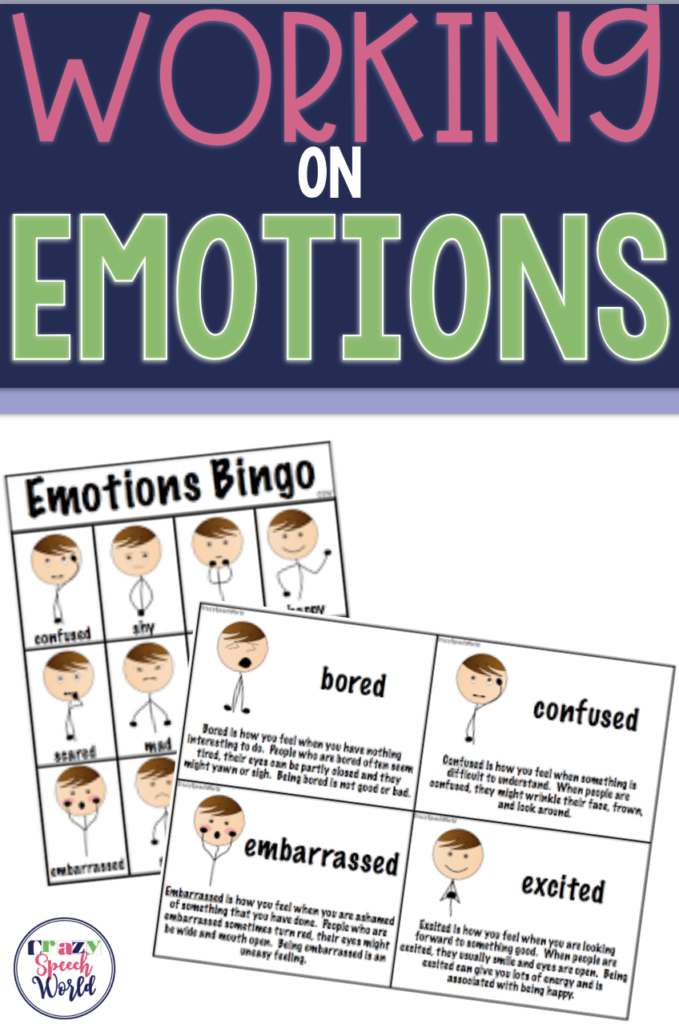 I have target 12 basic emotions in this packet:  bored, confused, embarrassed, excited, frustrated, happy, mad, sad, scared, shy, surprised, and worried.  The beauty of it is that since they are basic, it is good for your younger ones, but I didn't make it cutesy, so you can use with older students who might be lower functioning.
There are 12 cards with icons and descriptions for each emotion.  These are pretty flexible for your use.  I thought of making a copy for each student to have a mini book reference for themselves…just cut apart and staple together as a book.  You can use them for discussion and practice of facial expressions and body language, or use as conversation starters about exploring situations that make them feel a certain way.  I am sure you could think of even more ways to use them!
Emotions Bingo!  Everyone loves bingo and it is such a great way to reinforce learning targets. I included three different bingo boards.  You can see above the most basic version, with the picture and emotion named.  But I also included boards that just have the pictures…this makes it a little more challenging and students must discriminate the emotions independently.  I also added in blank boards, which you can customize for your kids.  They could even write the words or draw pictures themselves!
 For the cards, I created three different version of varying difficulty: Picture plus word, picture only, and word only.  These can be used as calling cards for the bingo game, but you can also use them for matching,  memory, and Go Fish games by printing two copies.  You could match the word to the emotion picture or just match two of a kind!  Very flexible!
The next activity is to target identifying other's emotions, based on situational examples.  This is great to target perspective taking and the great Theory of Mind, which is so difficult for many of our students with social language difficulties.  There are 48 cards, 4 for each emotion targeted.
Last thing I included was a student worksheet.  This gives the students opportunities to define, describe, and draw each emotion.  You could make 12 copies and have each student make a workbook for each emotion, or you could also have them complete this as a carryover activity.I hope you guys like it!  I am pretty excited to use it after break and I feel like it is something that I can keep in my therapy toolbox for years to come.