I have been holding out on this app review for Reading Comprehension Camp from Smarty Ears for a few weeks, but I am ready to spread the good news!  I love this app!  I like to wait a little bit on reviews so that I can really use them with my students and decide what I love about them.  I am sure some of you already have this app or have read reviews on other blogger's websites about it, but now you get to hear what I think…and for those of you who don't have it, there is a chance to win it!  Let's go camping…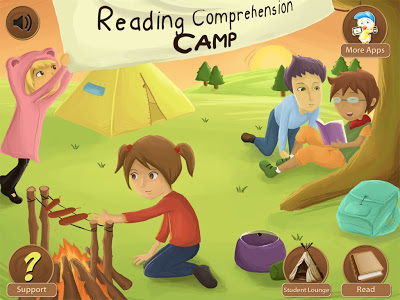 This is a shot of the home screen when you first launch the app.  I love the camping theme…this opening scene got one of my little guys excited because he is a boy scout and loves camping!  Camping is an adventure that gets a lot of kids excited, so I think it was a great choice.  From this menu, you will choose Student Lounge to check out progress or Read to play, both on the bottom right.  You can also toggle the sound on or off in the upper, left corner and read more about Smarty Ears Apps in the upper right corner.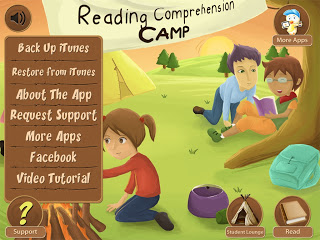 One of the most important buttons on the main screen is the Support in the bottom left corner.  Here you can back up or restore from iTunes, read about the app, get support, see more apps, see Smarty Ears' Facebook Page, and….VIDEO TUTORIAL!  This is always what I look for first in an app, so I can get to know it from the developer before I start using it.  It launches within the app, which I really like.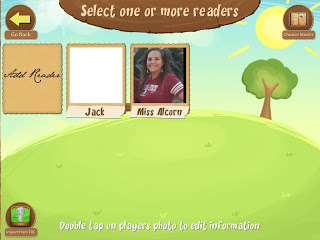 When you go to Read, you will be prompted to select one or more readers.  You can play with up to four players at one time.  Another feature that I really like is the option to import students from Therapy Report Center, as well as export student data to TRC.  I actually put all of my students back to TRC before reviewing this app for you guys.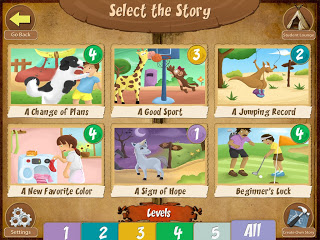 Once you select your reader(s), you will be prompted to choose a story.  There are five levels to choose from, with 50 stories in all.  Level 1 is for early readers (about 2nd grade) and each level gets a little harder for your older students.  Really, you should check out each level yourself to determine what would be appropriate for your student.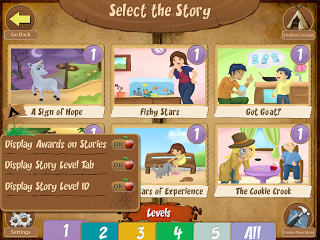 You can view the stories by level and choose your display settings.  You can choose if you want the Awards to appear on the stories…these are little medals with the percentage the student got on the story quiz once they complete it.  YOu can also turn off the story level tab and the level ID.  This can help with those students who are below level and self conscious about it.  I don't know about you, but I think this is such a fabulous feature for my kids with low self confidence about their reading.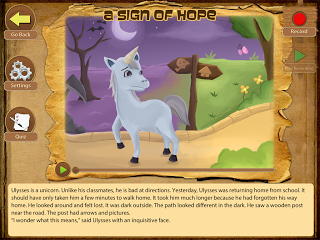 Once you choose a story, you have MORE options.  You can have the story read to them, students can record themselves reading the story, three different font size choices, and two image size choices.  Once they complete reading the story, there is a quiz available on the left side of the screen.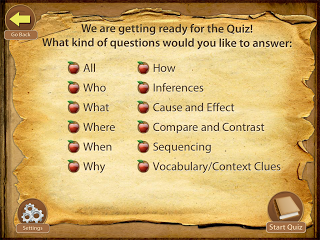 You can choose what kind of questions you want them to answer!  This is SO awesome for targeting individual goals.  Look at all the options!!!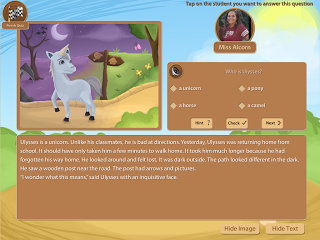 In taking the quiz, you can hide the picture or text from the student, or leave them both available.  The quiz also has a Hint feature….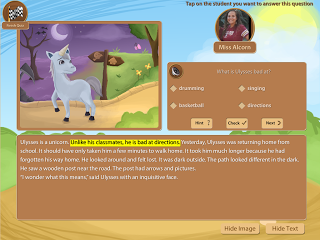 Which goes back into the text and highlights a hint to help the student answer the question.  This is great for reinforcing the students going back to look for answers, which I am constantly stressing to my kids.  The app also has the ability to read the questions to the students by tapping the speaker in the question box.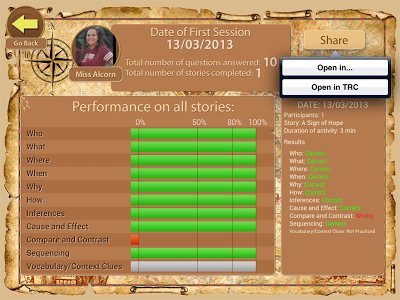 Once your students finish a quiz, you can find all of their performance records in the Student Lounge.    The app gives you a nice breakdown of performance based on question type.  This is where you can export to Therapy Report Center, but you can also print, save to Dropbox, or Email the data.
Think that's it?  NOPE!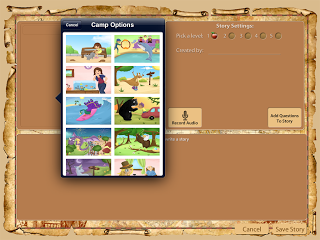 One of the BEST features of this app is the ability to create Custom Stories!  When I saw this, I was so excited!  So many of my students are working on oral narratives and this is perfect to another wonderful way to target that skill.  You can choose from Camp Options (a series of pictures within the app) or use your own pictures.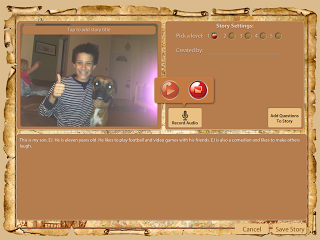 Here is my story about my little boy that I made as an example.  You can pick a story level, and it gives you space to type out the story.  I haven't had my students do that much themselves yet, but I have typed for them as they told me their story.  You can record audio, add a title, AND add questions!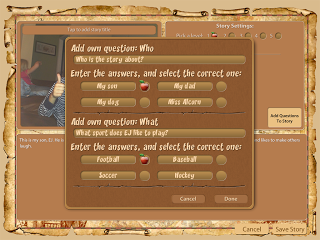 You can choose which question types you want to use and you fill in the answers.  You just choose the correct answers.  My kids got a kick out of this…they loved making up questions to quiz me and their friends.
Overall…this app is probably my new favorite!  It comes just in time for practicing the dreaded state test, but in a more fun, engaging way for the students.  I absolutely love all the options that are available and it makes it really customizable for my kids.  I can use this app with students across my caseload, with varying levels of skills.  I really like that students can work on their own stories, incorporating expressive language skills, in addition to comprehension.  I would absolutely recommend it to any SLP working with school-age students with language disorders that impact reading success.  It would also work great for RtI interventions and classroom instruction!
Reading Comprehension Camp is available in the iTunes Store for $19.99 (at the time of this review).  BUT you can also enter to win a copy!  Enter via Rafflecopter below and GOOD LUCK 🙂
a Rafflecopter giveaway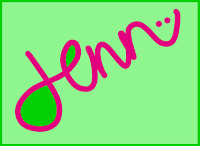 Smarty Ears provided one copy of Reading Comprehension Camp for me to review and one to give away.  No other compensation was provided.