I only have two PKers that I work with right now…my school doesn't have a PK program, so I get a few walk-ins each year.  Between me and the other SLP at my school, we have 5 total.  I kinda wish I had more little guys to play with, but I must settle for my current cuties.  I actually made the time in my schedule to see mine one-on-one…one has a more severe phonological delay, the other simple /k, g/.  One more behaviorally involved, the other can sit in a chair for 30 minutes straight (WHAT?!).  One is 3 and the other is 4.  They are as different as night and day.
My behaviorally challenged friend is a firecracker.  I adore him, but he has an attention span of about 5 minutes, likes to always be moving, could care less about my iPad, and hates crafts.  This is a challenge for me.  However, when I can hook him, he is a sweet as pie and absolutely melts my heart with huge blue eyes.  Today was one of those days that everything went perfectly right…why?  Because of Monster Trucks!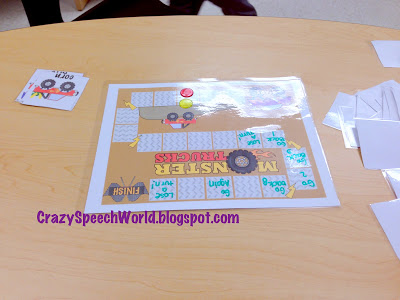 This is the kiddo who is the reason I made this download.  If you have monster trucks enthusiasts in your speech room, you can check it out HERE.  Anyways, the look on his face the first time I showed him this was priceless.  The power of using your students' interests in undeniable.  This worked for me for a session without any modifications.  Today, I whipped it out, kinda hoping for the same response…not so much.  But I did pull out a dry erase marker to make the game board more 'tricky' and I had his attention.  I let him tell me where to put the 'lose a turns', 'roll' agains', etc.  He even chose to do one space as 'Go back 8 spaces'.  Wellllll this was AWESOME….why?  It took us almost 20 minutes to finish the game.  He was so tickled when he landed on those spaces he picked!  It was awesome.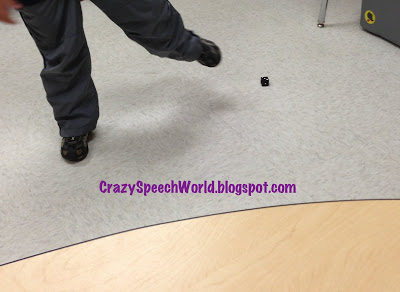 Another thing I let him do is roll the foam dice on the floor.  These are the dice from Chipper Chat, that are little and foam and can't hurt a fly.  Why do I let him throw it?  Cause he has to go pick up…getting more of that movement that he so desperately needs to stay focused.  And he gets a little thrill out of me letting him throw it.  We do have rules…it has to land in a certain area and it must be an underhand throw 🙂  But it works for us.  I don't think I could do this if I wasn't seeing him individually.
Do you have walk-ins at your school?  Do you get to see them together or separately?  Do you have any simple modifications that help with the movers and shakers?