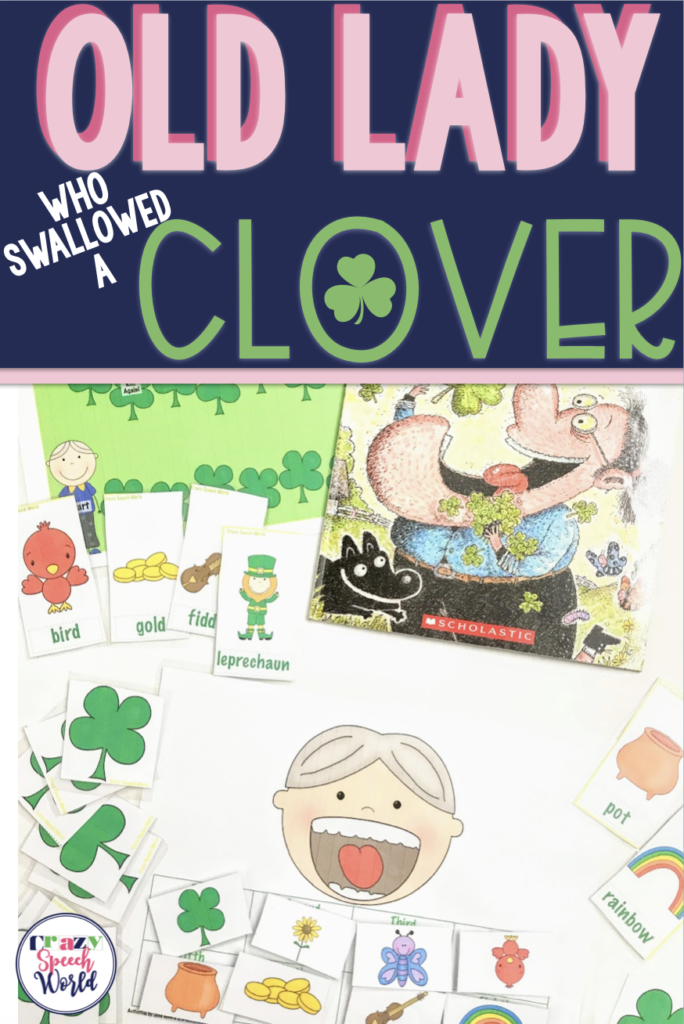 Aaaaaaand she's back!   Except…this packet has actually been in my TPT store since January…and I am just now realizing that I never did a blog post about it…whoopsie!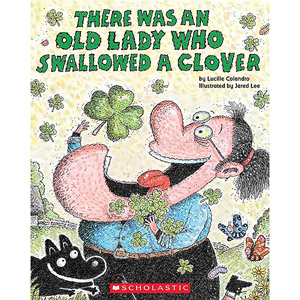 There Was An Old Lady Who Swallowed A CLOVER by Lucille Colandro is another one of my favorites!  Now, our favorite old lady is back to help us get in the green mood…as in St. Patrick's Day!  I don't know about you, but I love anything that has to do with rainbows, gold, and silly little leprechauns!  So, now I have an awesome packet of activities to share with you for this fun story…
This book companion is just like my other "Old Lady" units…short and sweet!  I mostly use these books for targeting holiday vocabulary, sequencing, story retell, and rhyming…so that is what is included.  Check it out…
First are 10 vocabulary cards to review.  You can also use these to target describing,  compare/contrast, sentence structure, etc.
Next is the sequencing mat, which I have used a couple of different ways.  I have one copy that is color and laminated with velcro.  We use the pictures and/or words to sequence the story (as well as work on ordinal numbers).  I have also printed out this page and give one to each student with their own set of pictures/words to sequence.  I can only print in black and white at my school and the pictures turn out ok that way too.  Obviously, they are prettier in color, but let's face it…it's public school and we are broke.  Once they get their pictures sequenced in the right order, they can retell the story!  If they have their own copy, they can take it home to share with their families!
You can also use the sequencing pictures and words to match, which works on important reading skills.  I try to incorporate as much decoding in my sessions as possible since so many of my students are struggling readers.
Next are rhyming clovers.  These are all rhyming pairs from the stories, which you can use for matching or memory.
I also included blank clovers, which you can use for targeting anything!
Next, is an open-ended game board, which you can use with the story or without!  I plan on using this with lots of activities the week of St. Patrick's Day!
I have again included the

mini book

, which my students LOVE making!  We have been doing it for each Old Lady story and it is a great way to incorporate story telling and vocabulary.  I like these a lot because they take them home, which gives them more practice with their language skills!
A writing page is included for students to share what their favorite part of the story was…they always have a favorite thing the Old Lady swallows!  Another great activity for carryover!
Last is a compare/contrast page for finding similarities and differences between the Old Lady and the Leprechaun!  I love challenging my students to find more than me…they love beating me, which is always a great motivator!  I clearly like including student pages for these book companions…I love seeing them produce something that they can go on to share with others, be it teacher or parent or whoever.
That's it!  These little units are my favorite and I hope you love this one as much as my others!
You can find it in my TPT Store!