You know it has happened to you…a kid says something that leaves you bewildered or smiling wide and you think "I wanna remember this".  I have some pretty hilarious kiddos who say great stuff.  About 2 years ago, I decided I was gonna document all of those great quotes and started this…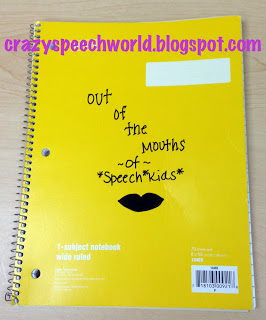 So now, when one of my kids suggests 'beer' as a final /r/ word or tells me that 'awesomer' is a word in their world, I write it down.  I keep this right next to my table and my students don't even flinch when I whip it out and record a funny.  On the rough days I can pull this out and I guarantee a smile.  I bet by the end of my career this little yellow book will be full of amazing memories that I can keep forever.
Do you have a way to keep track of funny speech-isms? I would love to hear!