Why not start out a Monday with an awesome app giveaway?!?  Technically, I should be back at work today…but I continue my brawl with bronchitis, so I'm at home.  Not exactly how I envisioned the new year starting, but I will survive 🙂
I have another great app for you guys from Mobile Education Store…this one is targeted for the hard-to-find-good-materials-for crowd, middle & high school.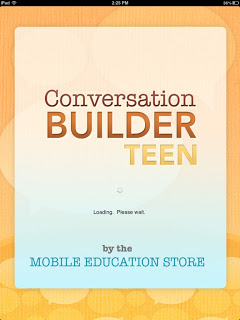 I already reviewed Conversation Builder, which is the elementary version of this app.  The apps are similar, but they differ in many important ways.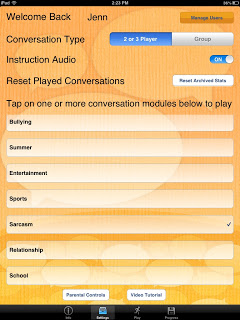 What's simliar?  Well the menu looks much like all Mobile Education Store apps.  Here you choose your user, conversation type, audio, conversation modules.  The modules are geared towards teen topics…
Clothes
Bullying
Summer
Entertainment
Sports
Sarcasm
Relationship
School
You can also choose to randomize all available modules.  There is an info option at the bottom of the screen which gives good directions for using the app and there is also the video tutorial available in the menu.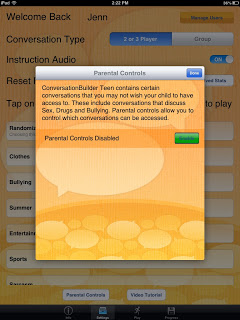 At the bottom of the screen, you will notice a parental controls button.  Conversation Builder Teen contains some topics that are sensitive…sex, drugs, bullying.  While these topics make some people uncomfortable, I am happy to see them here.  These are topics that some of our kids need the most help with handling with their peers.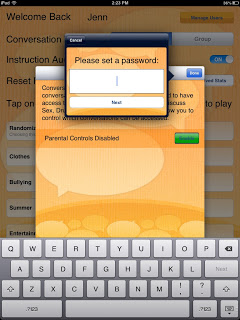 You can set a password, which will enable/disable these topics to be addressed in the app.  I set a password for mine, because while this may be something that needs to be addressed with one student, it doesn't mean it is appropriate for all.  You should always have parent support when working on these types of situations as well.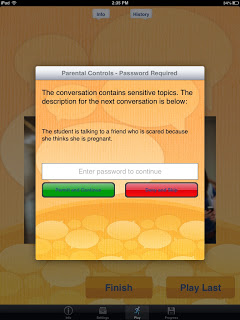 When the password is enabled and you encounter these topics, you will be prompted to either enter your password to proceed or skip the conversation.

Now that you have your options set, it is time to get started!  You will press 'play' at the bottom of the main menu…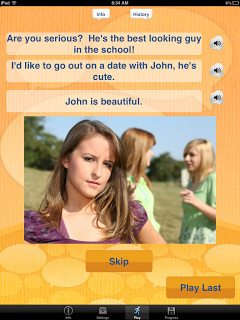 For this example I am using a single player, but there is also a group option, which is great for group therapy!  When you start, there is a prompt, either to start a conversation or respond to an initiation by someone else.  For this one, I am responding to someone else's statement.  There are 3 options, each of which can be read to the student by tapping the speaker icon next to the statement.  I love that this option was included for our kids who have reading difficulties.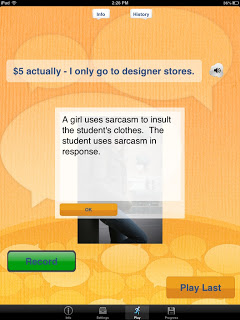 Another thing I really like is at the top of the page, there is an 'info' button.  When you push this, there is an explanation about how sarcasm is being used in the conversation.  I think this is great because you can use these to really talk through responses with your students and work on their metalinguistic skills.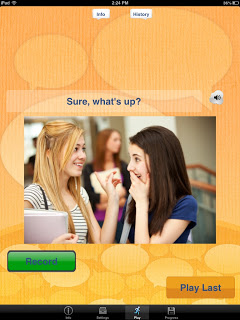 Students will make their choice and receive an audio prompt as to whether they were correct or incorrect.  If incorrect, an explanation is given as to why that response is not the best choice and the student is prompted to try again.  Once they make the correct choice, students will record their answer.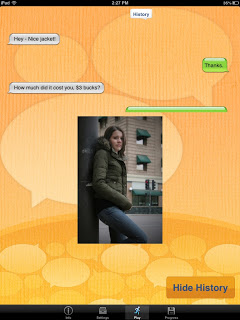 At any time during the conversation, you can always see the flow by pressing the 'history' button at the top of the page.  This can be helpful when students get confused or have incorrect responses, to go back and listen to the conversation from the beginning.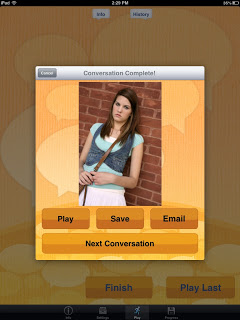 Once you complete an entire conversation, you can play the audio, save to the student's progress file, or email it.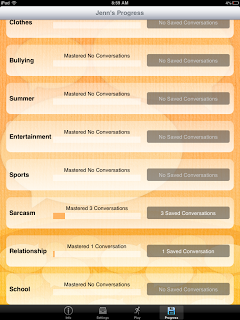 All conversations that you save are maintained in the student's progress page.  This is a great way to keep track of students progress on their conversation goals!

Here's what I love about Conversation Builder Teen:
Relevant topics for teens
Options for discussing sensitive but important topics
Real photo and voice prompts
Option to read text for low/non-readers
In-app explanations of background for each conversation
Constructive audio feedback for incorrect responses
Keeps progress
The only option I would like to see is the ability to choose who is initiating the conversation, which is available in the other version of Conversation Builder.  Some students need to work specifically on initiating conversations, so being able to have that option only would be really helpful.
Overall, I think this app is a must-have for SLPs or parents working with students in middle and high school that have pragmatic deficits.  You can find Conversation Builder Teen in the iTunes Store for $29.99…but we wanna give one a reader a free copy!  Enter via the Rafflecopter below and good luck!